Ferrari 500 Mondial – Key Details
The Ultimate Guide to the Ferrari  500 Mondial
Ferrari 500 Mondial – Photo Gallery
Ferrari 500 Mondial – Technical Specifications
Ferrari 500 Mondial – Registry & Videos
Ferrari 500 Mondial – Key Details
| Ferrari 500 Mondial | Detail |
| --- | --- |
| Launched: | 1953 |
| Engine: | V4 – Front Engine |
| Power: | 125 kW (170 hp) at 7000 rpm |
| Torque: | TBC |
| Top Speed: | 236 km/h |
| 0-62 mph (0-100 kmh): | TBC |
| Replaces: | TBC |
| Fiorano Lap time: | TBC |
| Did you know: | TBC |
The Ultimate Guide to the Ferrari 500 Mondial
FERRARI 500 MONDIAL – AN INCREDIBLE 4-CYLINDER FERRARI
Despite being powered by a small four-cylinder engine, the 500 Mondial is an iconic model from the annals of Ferrari racing history. Introduced in 1953 to replace the 625 TF, the 500 marked the third model within the Monza series of cars that were inspired by the 553 F1 race car that used a 2.5-litre four-cylinder engine. The Monzas marked a change in philosophy at Ferrari as the company began replacing the Colombo V12s in favour of a new, smaller line-up of Aurelio Lampredi-designed engines for use in the World Sportscar Championship. Even though they don't hold the same cachet as the iconic V12s, these small engines proved to be as reliable as they were lightweight, and ultimately this philosophy paid off for Ferrari with a string of wins for the 500 Mondial.
A detuned version of the 500 F2 engine, the Mondial's front-mounted inline 4 produced an impressive 170 bhp. That power, combined with a feather-light 1590 kerb weight resulted in a top speed of 236 km/h: not bad for a 4-cylinder! While the car may have lacked a mighty 8- or 12-cylinder engine under its bonnet, it did receive a sophisticated-for-its-time suspension setup. The independent wishbone suspension up front was complemented by a de Dion tube rear configuration that gave the designers more freedom to align the rear wheels for track use. This design meant the car handled extremely well, allowing drivers to compensate for its lack of top-end speed with speed and composure through the corners.

The Mondial name, meaning "worldwide," was assigned to the new model to mark Alberto Ascari's first-place finish at the World Sportscar Championships. Initially, 500 Mondials only came in coupe versions designed by Scaglietti, but later Pininfarina created a second run of about 15 models sporting the iconic spider body style. For 1954, the 500 Mondial was replaced by the very first Ferrari to sport the "Testa Rossa" moniker; the 500 TR. Notably, one pristine example of the 500 Mondial won the Gran Turismo trophy at the 2012 Pebble Beach Concours d'Elegance.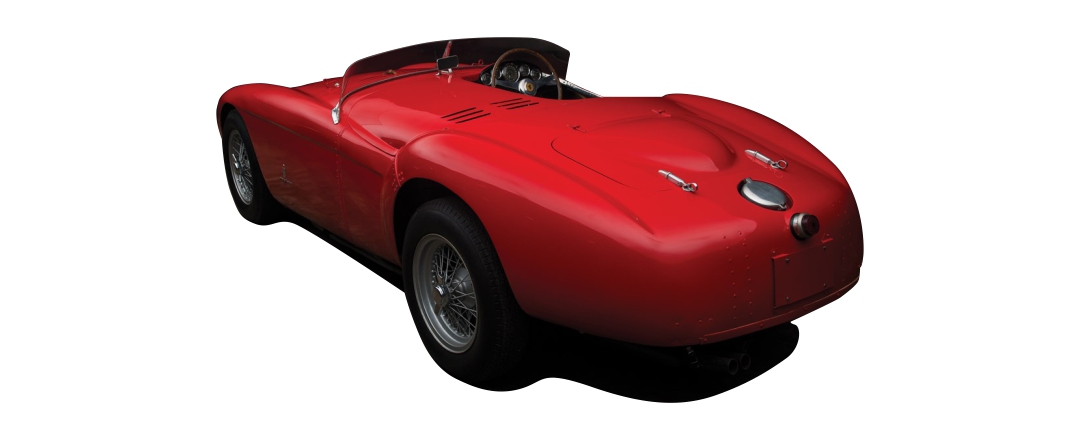 Ferrari 500 Mondial​ – Photo Gallery
Ferrari 500 Mondial – Technical Specifications
| Technical Specification | Detail |
| --- | --- |
| Performance | |
| 0-100 km/h | TBC |
| 0 -200 km/h | TBC |
| Max. speed | 146 mph / 236 km/h |
| Engine | |
| Type | longitudinal in-line-four |
| Overall displacement | 1984 cm3 |
| Max. power output* | 125 kW (170 hp) at 7000 rpm |
| Max. torque* | TBC |
| Dimensions & Weight | |
| Length | TBC |
| Width | TBC |
| Height | TBC |
| Dry weight** | 720 kg |
| Fuel Consumption | TBC |
| Co2 Emissions | TBC |
Ferrari 500 Mondial – Registry & Videos
If you enjoyed all this but want more, check out these additional resources.
If you like this, you'll love these: