Ferrari 712 Can Am – Key Details
The Ultimate Guide to the Ferrari 712 Can Am
Ferrari 712 Can Am – Photo Gallery
Ferrari 712 Can Am – Technical Specifications
Ferrari 712 Can Am – Registry & Videos
Ferrari 712 Can Am – Key Details
| Ferrari 712 Can Am | Detail |
| --- | --- |
| Launched: | 1971 |
| Engine: | V12 – Rear Engine |
| Power: | 500 kW (680 hp) at 7000 rpm |
| Torque: | TBC |
| Top Speed: | TBC |
| 0-62 mph (0-100 kmh): | TBC |
| Replaces: | TBC |
| Fiorano Lap time: | TBC |
| Did you know: | TBC |
The Ultimate Guide to the Ferrari 712 Can Am
FERRARI 712 CAN AM – FEATURING THE BIGGEST FERRARI ENGINE. EVER.
Built for Ferrari's ill-fated run in the Canadian-American Challenge Cup race series, the Ferrari 712 Can Am is noteworthy for sporting the largest engine ever made by Ferrari. That engine was a 6.9-litre V12 (rounded up to 7 litres for the car's naming convention) that made a healthy 680 bhp. Raced in the 1971 and 1972 seasons, the 712 would enjoy very limited success but will forever have a place in Ferrari fans' hearts thanks to its gigantic, screaming V12.
A one-off version of the 512 M, the 712 Can Am actually won the first race it was entered in, the 1971 Interserie Imola with Arturo Merzario at the wheel. Things sort of crumbled for the 712 thereafter, however, with its best finish being a fourth-place result achieved by Mario Andretti at the Watkins Glen track in New York state. Ferrari was in good company at the bottom of the scoreboard at least, with Ford also struggling to find success with its GT40-based cars. Aside from Porsche and McLaren, lesser-known manufacturers like Lola and Frissbee enjoyed the most success in the series.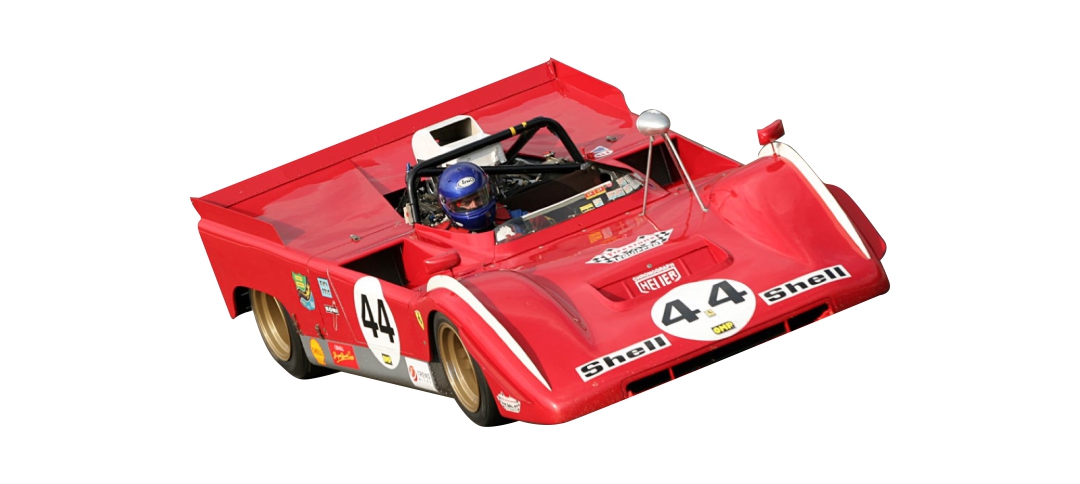 The Can Am racing series, discontinued after 1987, is best remembered for the insane-looking race cars such as the Chaparral cars that were the result of the series' loose regulations. The 712 Can Am was Ferrari's attempt to compete with the giant, 8+ litre Chevrolet engines McLaren was running in their early Can Am cars, such as the M6A. High-torque engines were necessary to cope with the demanding courses, so manufacturers were creating ever-bigger engines to outclass their rivals. That is, until Porsche decided to use turbocharged 5- and 5.4-litre flat-12s in their 917 cars and leave the competition in the dust. Those 900- to 1580-horsepower beasts would go on to dominate the field for the 1972 and 1973 seasons. So, you can see why Ferrari's 680-bhp 712 wasn't able to keep up with the competition, despite its massive displacement V12.
Ferrari 712 Can Am – Photo Gallery
Ferrari 712 Can Am – Technical Specifications
| Technical Specification | Detail |
| --- | --- |
| Performance | |
| 0-100 km/h | TBC |
| 0 -200 km/h | TBC |
| Max. speed | TBC |
| Engine | |
| Type | V12 |
| Overall displacement | 6860 cm3 |
| Max. power output* | 500 kW (680 hp) at 7000 rpm |
| Max. torque* | TBC |
| Dimensions & Weight | |
| Length | TBC |
| Width | TBC |
| Height | TBC |
| Dry weight** | TBC |
| Fuel Consumption | TBC |
| Co2 Emissions | TBC |
Ferrari 712 Can Am – Registry & Videos
If you enjoyed all this but want more, check out these additional resources.
If you like this, you'll love these: