Ferrari F50 – Key Details
The Ultimate Guide to the Ferrari F50
Ferrari F50 – Photo Gallery
Ferrari F50 – Technical Specifications
Ferrari F50 – Registry & Videos
Ferrari F50 – Key Details
| Ferrari F50 | Detail |
| --- | --- |
| Launched: | 1995 |
| Engine: | V12 – Rear Engine |
| Power: | 382 kW (520 hp) at 8500 rpm |
| Torque: | 471 Nm (48 kgm) at 6500 rpm |
| Top Speed: | 325 km/h |
| 0-62 mph (0-100 kmh): | 3.87 sec |
| Replaces: | TBC |
| Fiorano Lap time: | 1:27.00 |
| Did you know: | TBC |
The Ultimate Guide to the Ferrari F50
THE FERRARI F50 DESERVES ITS DAY IN THE SUN
The Ferrari F50 is a car that, unfortunately, finds itself constantly compared to its predecessor. Perhaps this is because the F40 represents Ferrari's last unfiltered raw performance car, or it could be because Ferrari didn't give the press access to the car when it debuted, forcing journalists to make a seat-of-the-pants comparison to the car it was replacing. Either way, it feels a bit unfair to the F50 that it may forever live under the shadow of the F40 and the succeeding Enzo, when in reality the F50 is more than capable of standing on its own merits. It's such a good car, in fact, that Evo magazine named it the superior car when compared against the 288 GTO, F40, and Enzo.
Technologically speaking, the F50 was lightyears ahead of its predecessor. A carbon-fibre tub served as the backbone of the chassis, enabling the car to weigh in at just 3080 lbs. And a trick electronic adaptive damping system monitored the car's speed, steering inputs, and braking pressure to adjust its rates accordingly. Even with all that gadgetry, however, the F50 remained a beast on the road and track, proving to be a challenge for even seasoned drivers.

After the turbocharged F40, Ferrari returned to its roots with the F50's 513bhp, 4.7-litre, naturally aspirated V12. The 109bhp per litre output was a staggering figure for the 90's and remains mighty impressive to this day. Of course, being a naturally-aspirated engine, the F50's V12 produced less torque than the F40's twin-turbocharged V8, although it more than makes up for this deficit with the absolutely epic noise that accompanies its exploits. That V12 soundtrack might not make up for the fact that the F50 wasn't substantially faster than the F40, however. At least, that's one theory as to why Ferrari denied access to a press car that would have allowed independent performance testing of the F50. Even though later tests have shown the F50 to achieve faster lap times on some tracks, as well as a quicker 0 – 60 time, this stigma is still attached to F50 today.  A 6-speed manual transmission featured a dry, twin-plate clutch.
Only 349 F50s were produced, the vast majority painted the iconic Rosso Corsa hue. That rarity still doesn't do much to help the F50 overcome its reputation as the ugly duckling when compared to the F40 and Enzo, a reputation that seems almost entirely undeserved. Hopefully the F50 will soon get its time in the spotlight, it sure deserves it.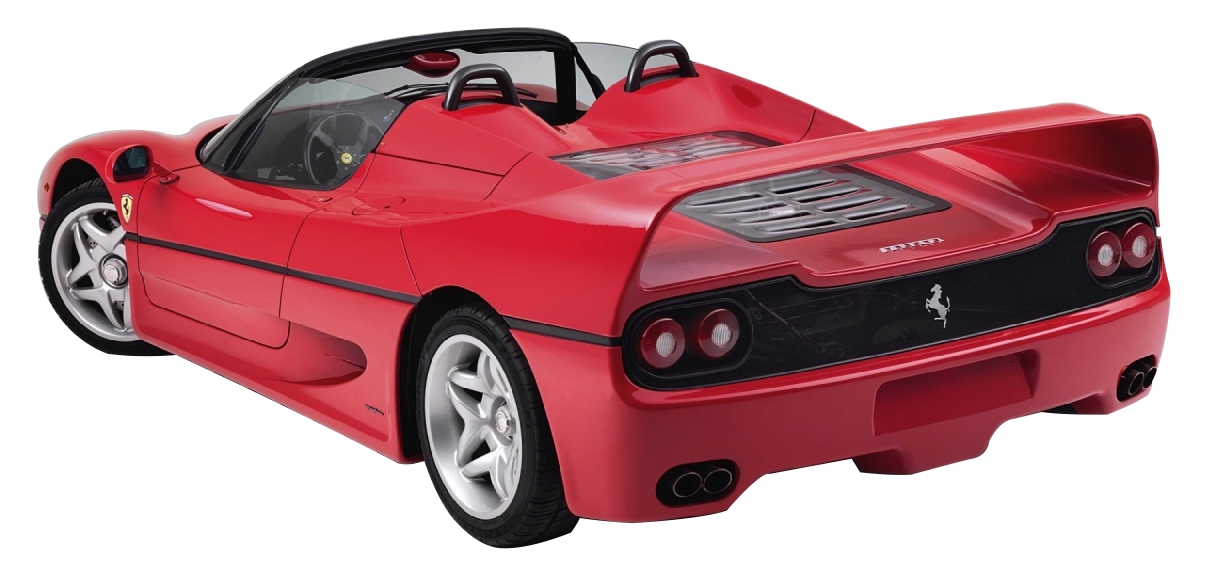 Ferrari F50 – Photo Gallery
Photo Credits: RM Sotheby's
Ferrari F50 – Technical Specifications
| Technical Specification | Detail |
| --- | --- |
| Performance | |
| 0-100 km/h | 3.87 s |
| 0 -200 km/h | TBC |
| Max. speed | 201 mph / 325 km/h |
| Engine | |
| Type | V12 |
| Overall displacement | 4698 cm3 |
| Max. power output* | 382 kW (520 hp) at 8500 rpm |
| Max. torque* | 471 Nm (48 kgm) at 6500 rpm |
| Dimensions & Weight | |
| Length | 4480 mm |
| Width | 1986 mm |
| Height | 1120 mm |
| Dry weight** | 1230 kg |
| Fuel Consumption | TBC |
| Co2 Emissions | TBC |
Ferrari F50 – Registry & Videos
If you enjoyed all this but want more, check out these additional resources.
If you like this, you'll love these: