The Ultimate Guide to the Ferrari FF
Ferrari FF – Photo Gallery
Ferrari FF – Technical Specifications
Ferrari FF – Registry & Videos
| Ferrari FF | Detail |
| --- | --- |
| Launched: | 2011 |
| Engine: | Front Mid-Engine V12 |
| Power: | 660CV @ 8000 RPM |
| Top Speed: | 208 MPH |
| 0-62 mph (0-100 kmh): | 3.7 secs |
| Replaces: | Ferrari 612 Scaglietti |
| Fiorano Lap time: | TBC |
| Did you know: | FF stands for Ferrari Four – Four seater and Ferrari's first Four wheel drive road car. |
The Ultimate Guide to the Ferrari FF
THE FERRARI FF REVIEW – THE PERFECT ALL-ROUNDER?
The trouble with an Ferrari FF review is that if Ferrari had sore thumbs, this one would stick out! When Ferrari launched the Ferrari FF, they announced it was to be the first four-wheel-drive car to wear the prancing horse emblem. That's right, this is a Ferrari you can drive right up to your ski chalet, with luggage and three passengers. That doesn't mean that the FF is a lumbering, sloppy-handling troglodyte of a car, however, as its 660 CV, 6.3 litre V12 engine propels this hatchback to a staggering 208 mph, flat out.
FF stands for Ferrari Four, but the "Four" in this case refers to more than just the number of driven wheels. Underneath its shooting brake profile, the FF boasts seating for four full sized adults. Ingress and egress can be a bit tricky, but the rear seat is surprisingly spacious once bum is placed firmly inside. The rear seats can also be folded down to increase cargo capacity from 450 to nearly 800 litres, should your shopping trip result in more bags to carry than you anticipated. There is even a pass-through in the rear seat so you can fit your skis inside the car, although I would probably opt for a roof rack to keep the interior looking lovely.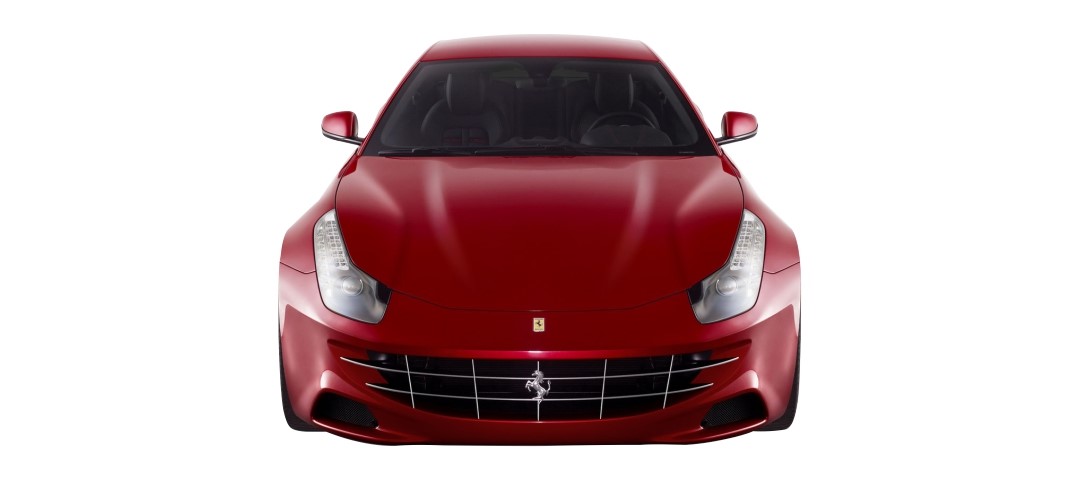 The car is fitted with a seven-speed dual-clutch transmission, but they invented a truly revolutionary system to give the Ferrari FF its four-wheel-drive capability. Consisting of an additional transmission housed in front of the engine that sends up to 20 per cent of the torque to the front wheels, this system was designed more for all-weather excursions than track days.
THE FERRARI FF REVIEW – THE JOURNALIST'S VIEW
To prove that, the Ferrari FF review was different. Journalists were invited at the debut in 2011 to drive the Ferrari FF in various snowy venues, such as at the top of a ski lift. Almost every reviewer found the FF to be not only extremely capable in low-grip situations but also immensely fun, exhibiting less understeer than expected. And when the roads dried out, the FF proved to be just as enjoyable, out handling and staying more composed than its predecessor, the 612 Scaglietti.

he Ferrari FF is capable of much more than to only skid around corners. Ferrari mixed enough comfort features into the suspension and interior that, unlike some sportier Ferraris, you could realistically drive this car all day without tiring. It seems then that Ferrari created a perfect all-rounder with the FF, and with such a winning formula its successor, theGTC4Lusso, carries on in that tradition.
ANDY'S THOUGHTS – FERRARI FF REVIEW
Unlike most I am a huge fan of the four-seater Ferraris, having owned five of them. In fact I would say I have owned the most beautiful one ever made, the 456M, which I would say is one of Pininfarina's best ever designs. When the 456M was replaced with the 612 Scaglietti I was a little disappointed, And still feel that the 456 is an overall better car.
I stuck with my 456M and used to used it as one of daily cars. Commuting and shopping became a regular thing, so when hints came out that the FF would be more practical, I was sure it would be a winner. But the car needed to be better looking than the 456, and at launch you can imagine my horror.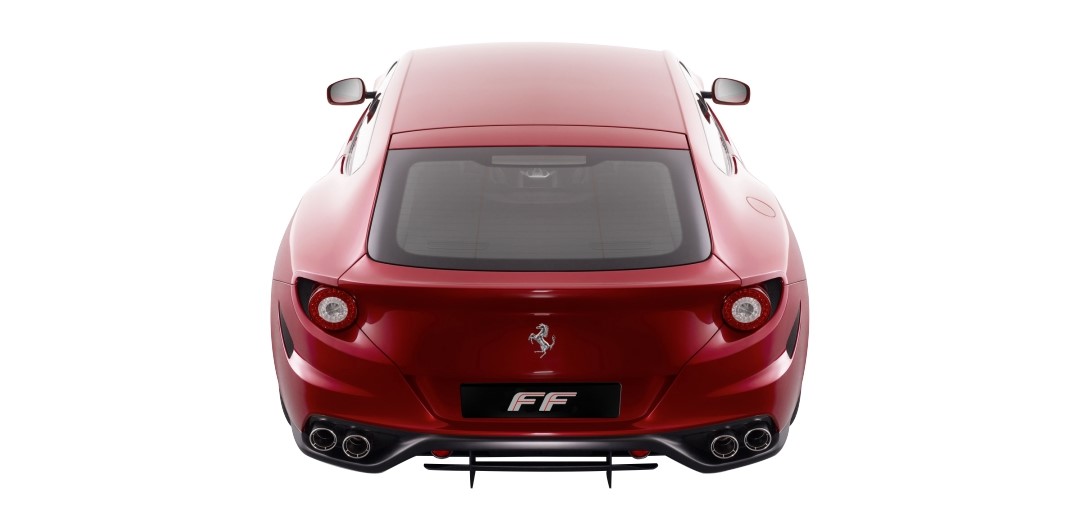 A lot has been said about the looks of the Ferrari FF, and despite my initial reservations, this car has just grown on me. I completely get it now, and I think over time the looks have aged really well. If anything the GTC4 Lusso looks a little too soft in comparison, almost like a beautiful woman who had a little too much botox. Still good looking, but less personality comes through.
There was a lot of comparisons made with the Bentley Continental GT, and although on paper they are similar offerings, the W12 Bentley is no match for the V12 Ferrari. The Ferrari FF is not compromised through its clever front gearbox, allowing the engine and the centre of gravity to stay low. The Bentley in comparison uses old tech, and although very capable, it is ultimately disadvantaged as a sports car.
The FF is a thoroughbred Ferrari, a proper driver's car, with the V12 engine up front. But unlike any Ferrari that came before, you can take masses of luggage, carry four grown adults, and drive safe in the knowledge that all four wheels are working for that last bit of grip. It took me a few years to come around, but the FF is a better car than the 456M. Maybe not in looks, but in every single other measurable way possible.
Ferrari FF – Photo Gallery
Photo Credits: RM Sotheby's
Ferrari FF – Technical Specifications
| Technical Specification | Detail |
| --- | --- |
| Performance | |
| 0-100 km/h | 3.7 sec |
| 0 -200 km/h | 11 sec |
| Max. speed | 208 mph (335 km/h) |
| Engine | |
| Type | V12 |
| Overall displacement | 6.262 cm3 |
| Max. power output* | 486 kW – 660 CV at 8.000 rpm |
| Max. torque* | 683 Nm – 504 lbft( 70 kg)m at 6.000 rpm |
| Dimensions & Weight | |
| Length | 193.2 in (4907 mm) |
| Width | 76.9 in (1953 mm) |
| Height | 54.3 in (1379 mm) |
| Dry weight** | 3946 lb (1790 kg) |
| Fuel Consumption | 15.4 l/100km |
| Co2 Emissions | TBC |
Ferrari FF – Registry & Videos
If you enjoyed all this but want more, check out these additional resources.
If you like this, you'll love these: