Koenigsegg Agera S – Key Details
The Ultimate Guide to the Koenigsegg Agera S
Koenigsegg Agera S – Photo Gallery
Koenigsegg Agera S – Technical Specifications
Koenigsegg Agera S – Registry & Videos
Koenigsegg Agera S – Key Details
| Koenigsegg Agera S | Detail |
| --- | --- |
| Launched: | 2012 |
| Engine: | V8 |
| Power: | 1,030 PS (1,016 bhp; 758 kW) at 7,100 |
| Torque: | 1,100 N⋅m (810 lbf⋅ft) at 4,100 |
| Top Speed: | 439 km/h (273 mph) |
| 0-62 mph (0-100 kmh): | 2.9 s |
| Replaces: | TBC |
| Did you know: | TBC |
The Ultimate Guide to the Koenigsegg Agera S
KOENIGSEGG AGERA S – KOENIGSEGG EXPLORES A NEW MARKET
Koenigsegg designed its 2012 Agera S to serve a market that the mighty Agera had previously ignored. Specifically, the S was built to handle low-octane fuel so that those of us who live in countries without the good stuff can still enjoy this beast of a car. It is also made to appeal to markets without E85 biofuel, so that the model can be sold in countries such as Malaysia. The rest of the car was based heavily on the amazing Agera R, meaning this vehicle is a technical masterpiece.
WORSE FUEL, MORE POWER?
As you would expect, the low-octane Agera S can't quite match the power of the Agera R upon which it is based. But as you probably didn't expect, that's because its twin-turbo 5-litre V8 actually develops more power than it does in the R. That's right, when both models are running on the same fuel, the Agera S develops maximum power output of 1,016 bhp (758 kW), meaning the S enjoys a 69-bhp advantage over its sibling. Meanwhile, torque stays the same at 810 lb-ft (1,100 Nm). Which, let's be honest, is plenty of torque.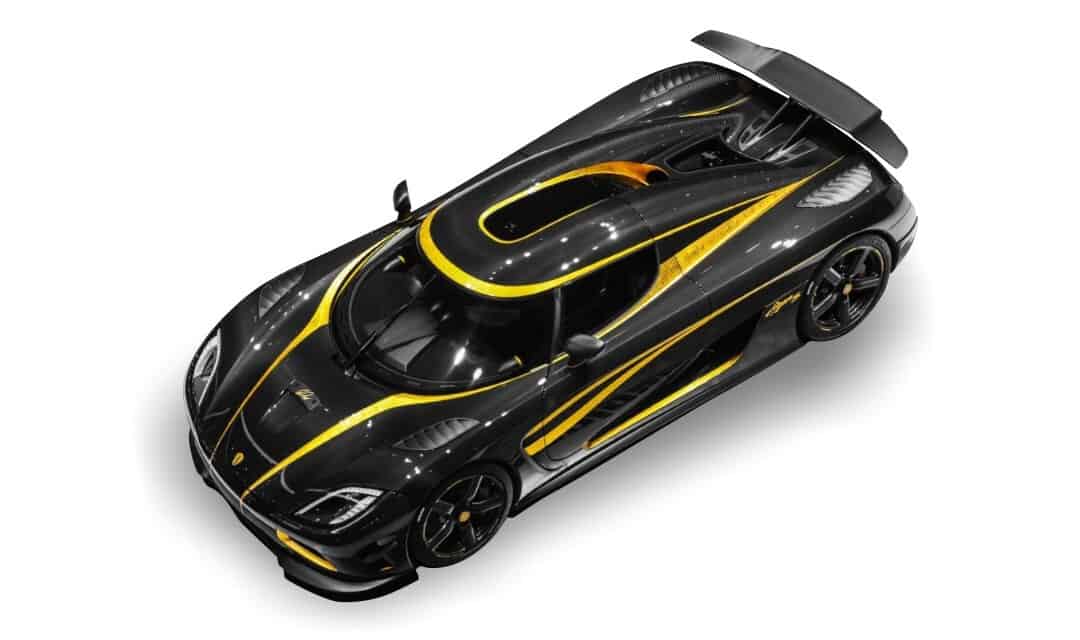 While the rest of the car keeps most of the elements introduced on the Agera R, there are some unique features that set it apart. Of those, the most interesting are the new "Hollow Space Carbon Fibre Aircore" wheels. These high-tech wheels are made entirely out of carbon (except for the valve stem), resulting in an incredibly light wheel. All the more impressive when you consider that these wheels have to stand up to the Agera S's 273-mph top speed.
PRODUCTION
In total, just 5 Agera S models were produced through model year 2014. And that figure includes one very special car that represented Koenigsegg's 100th car ever produced. Nicknamed "Hundra," this model features special gold inlays to commemorate the event. Upon its introduction to the Malaysian market, the Agera S came with a RM5,000,000 price tag, equivalent to around £920,000 or $1.2 million. And, with taxes, that figure skyrocketed to RM15,000,000. No wonder so few were made -that's some serious cash!

Koenigsegg Agera S – Photo Gallery
Photo Credits: Koenigsegg
Koenigsegg Agera S – Technical Specifications
| Technical Specification | Detail |
| --- | --- |
| Performance | |
| 0-100 km/h | 2.9 s |
| 0 -200 km/h | 7.9 s |
| Max. speed | 439 km/h (273 mph) |
| Engine | |
| Type | V8 |
| Overall displacement | 5.000 cm3 |
| Max. power output* | 1,030 PS (1,016 bhp; 758 kW) at 7,100 |
| Max. torque* | 1,100 N⋅m (810 lbf⋅ft) at 4,100 |
| Dimensions & Weight | |
| Length | 4293 mm (169") |
| Width | 1996 mm (78.6") |
| Height | 1120 mm (44.1") |
| Dry weight** | 1330 kg |
| Fuel Consumption | 14,7/100km |
| Co2 Emissions | TBC |
Koenigsegg Agera S – Registry & Videos
If you enjoyed all this but want more, check out these additional resources.
If you like this, you'll love these: