The Lamborghini Countach LP400 S
Lamborghini Countach LP400 S – Key Details
The Ultimate Guide to the Lamborghini Countach LP400 S
Lamborghini Countach LP400 S – Photo Gallery
Lamborghini Countach LP400 S – Technical Specifications
Lamborghini Countach LP400 S – Registry & Videos
Lamborghini Countach LP400 S – Key Details
| Lamborghini Countach LP400 S | Detail |
| --- | --- |
| Launched: | 1978 |
| Engine: | V12 |
| Power: | 261 kW (355 PS) |
| Torque: | 356 N⋅m (263 lb⋅ft) at 5,000 rpm |
| Top Speed: | 254 km/h (158 mph) |
| 0-62 mph (0-100 kmh): | 5.9 s |
| Replaces: | TBC |
| Did you know: | TBC |
The Ultimate Guide to the Lamborghini Countach LP400 S
LAMBORGHINI COUNTACH LP400 S – THE COUNTACH FINDS ITS SHAPE
While it was the second version of the car, the 1978 Lamborghini Countach LP400 S was the first Countach to wear the famous body style that made the model so famous. Massive flared wheel arches and 345-millimetre-wide tyres meant that the LP400 S oozed aggression and machismo. Compared to the sleek design of the original car, this new model had been completely transformed. While not everyone loved the new look, everyone in 1978 could all agree on one thing: this model was considerably slower than the first Countach.
SLOWER BUT STABLE…ER
That's right, the new "S" version was significantly slower than its predecessor. For one thing, the engine was down 20bhp, for a grand total of 350bhp. Another factor affecting performance was the body kit. The extra drag created by the various exterior additions had a negative affect on not only top speed but acceleration as well. The LP400 S could reach 62mph from a standstill in 5.9 seconds (.4 seconds slower than the LP400), while the top speed of was over 20mph slower than the original Countach could achieve when outfitted with no rear wing.

Not everything was gloomy on the performance front, however. Those wide 345/35R15 tyres gave the car more grip and stability during high-speed cornering. The optional rear wing was a popular option, even though it reduced the top speed by 16 km/h (10mph). That's because the added downforce it created made for a much more stable ride at high speeds. As far as the dynamic new styling, it seems that it won over the public, as it mostly stuck around on every subsequent Countach that was made. To tell this model apart from those later cars, look for the cheeky "S" emblem after the "Countach" badge on the right side of the rear end.
PRODUCTION AND LEGACY
From 1978 through 1982, Lamborghini made three separate series of the Countach LP400 S. While there were no major mechanical differences, the different series all sported different wheels and suspension heights. Between all of the series, just 237 Countach LP400 Ss were manufactured. Today, these vehicles can command up to £1,000,000 (or even more) at auction.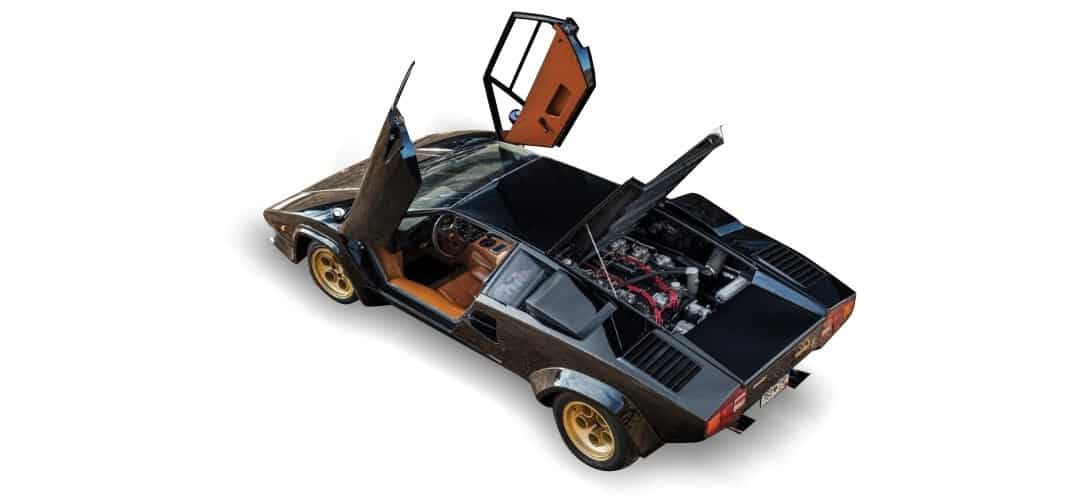 Lamborghini Countach LP400 S – Photo Gallery
Lamborghini Countach LP400 S – Technical Specifications
| Technical Specification | Detail |
| --- | --- |
| Performance | |
| 0-100 km/h | 5.9 s |
| 0 -200 km/h | TBC |
| Max. speed | 254 km/h (158 mph) |
| Engine | |
| Type | V12 |
| Overall displacement | TBC |
| Max. power output* | 261 kW (355 PS) |
| Max. torque* | 356 N⋅m (263 lb⋅ft) at 5,000 rpm |
| Dimensions & Weight | |
| Length | TBC |
| Width | TBC |
| Height | TBC |
| Dry weight** | TBC |
| Fuel Consumption | TBC |
| Co2 Emissions | TBC |
Lamborghini Countach LP400 S – Registry & Videos
If you enjoyed all this but want more, check out these additional resources.
If you like this, you'll love these: