The Lamborghini Countach LP400
Lamborghini Countach LP400 – Key Details
The Ultimate Guide to the Lamborghini Countach LP400
Lamborghini Countach LP400 – Photo Gallery
Lamborghini Countach LP400 – Technical Specifications
Lamborghini Countach LP400 – Registry & Videos
Lamborghini Countach LP400 – Key Details
| Lamborghini Countach LP400 | Detail |
| --- | --- |
| Launched: | 1974 |
| Engine: | V12 |
| Power: | 276 kW (375 PS) |
| Torque: | 361 N⋅m (266 lb⋅ft) at 5,000 rpm |
| Top Speed: | 288 km/h (179 mph) |
| 0-62 mph (0-100 kmh): | 5.4 s |
| Replaces: | TBC |
| Did you know: | TBC |
The Ultimate Guide to the Lamborghini Countach LP400
LAMBORGHINI COUNTACH LP400
You might be tempted to assume the name Countach LP400 is derived from a fighting bull. After all, this is the case with so many famous Lamborghinis throughout history. The Countach is unique in this regard, though, with a name originating from a Piedmontese exclamation of amazement. It is a fitting designation for this glorious 80's V12 supercar, too. Even though it went out of production in 1990, the Countach lives on today in the hearts of so many Lambo fans thanks to its wild styling and V12 exuberance.
PERFORMANCE
Even though they wished to use a 5.0-litre V12, the designers of the Countach LP400 were forced to go with the 3.9-litre unit from the Miura due to reliability issues with that new engine. Unlike in the Miura, however, the V12 in was mounted longitudinally the Countach. In fact, that's where the "LP" in the name comes from – longitudinale-posteriore (meaning longitudinal, rear-mounted). Later iterations of the car would receive larger engines, but even this smaller unit was a powerhouse, with 370bhp on tap. A space frame chassis was a very rare technology for the 1970s. The sole transmission option was a 5-speed manual.

DESIGN
Bertone designer Marcello Gandini, he of Miura fame, was responsible for the Countach's striking design. Unlike the curvy Miura, the Countach LP400 was an amalgam of sharp creases and angular bodywork. This style came to typify 1980s supercars, even though it originated in the 70s. In fact, many see the Countach as the single best example of both the styling and excesses of its era.
You can identify the LP400 models by their lack of badging – only the make and model appear on the rear of the car. Subsequent generations would feature badges declaring the engine displacement. It is also noticeably tamer in appearance than all other Countach models.  As the model aged, the design became wilder, with wheel arches, spoilers, and vents being added.
CONCLUSION
The Lamborghini Countach LP400 was manufactured from 1974 to 1977, at which time the LP400 S took its place. During that time, only 158 models rolled off the factory line. In total, Lamborghini would make nearly 2,000 Countaches, making the LP400 a fairly rare model. And the auction prices have lately started to reflect that fact.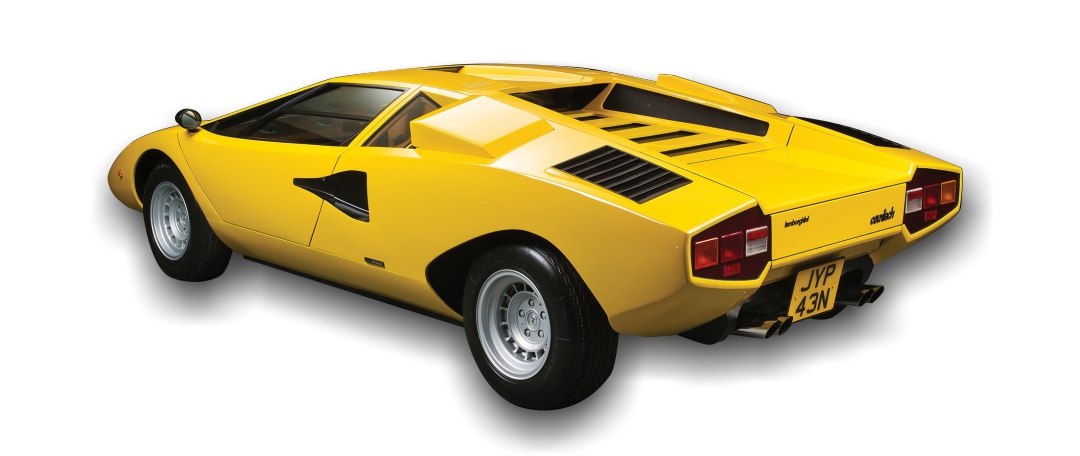 Lamborghini Countach LP400 – Photo Gallery
Photo Credits: Lamborghini
Lamborghini Countach LP400 – Technical Specifications
| Technical Specification | Detail |
| --- | --- |
| Performance | |
| 0-100 km/h | 5.4 s |
| 0 -200 km/h | TBC |
| Max. speed | 288 km/h (179 mph) |
| Engine | |
| Type | V12 |
| Overall displacement | TBC |
| Max. power output* | 276 kW (375 PS) |
| Max. torque* | 361 N⋅m (266 lb⋅ft) at 5,000 rpm |
| Dimensions & Weight | |
| Length | TBC |
| Width | TBC |
| Height | TBC |
| Dry weight** | TBC |
| Fuel Consumption | TBC |
| Co2 Emissions | TBC |
Lamborghini Countach LP400 – Registry & Videos
If you enjoyed all this but want more, check out these additional resources.
If you like this, you'll love these: