The
Ferrari F40
is simply one of the most classic, iconic, unforgettable cars, ever. The last Ferrari to be given the green light by Enzo Ferrari himself, the Ferrari F40 was a fitting send-off for
Il Commendatore;
a gorgeous yet brutal, performance-at-all-costs exotic car. Just over 1,311 F40s were built, a very high number for a top-tier Ferrari (compare that to only 499 total LaFerraris). This was in large part due to Ferrari ramping up production to in response to the astronomical prices being paid for used Ferrari F40s in the late 1980s.
Note: SupercarTribe.com is not affiliated with Ferrari SPA.
Famously, the F40 uses a 2.9-litre, twin-turbo V8 producing 478 horsepower. This engine was borrowed from the 288GTO, although it featured plenty of enhancements. The only transmission offered was a 5-speed manual. Other mechanical details include a double-wishbone suspension setup that allowed the driver to raise the car for manoeuvring over speed bumps and the like.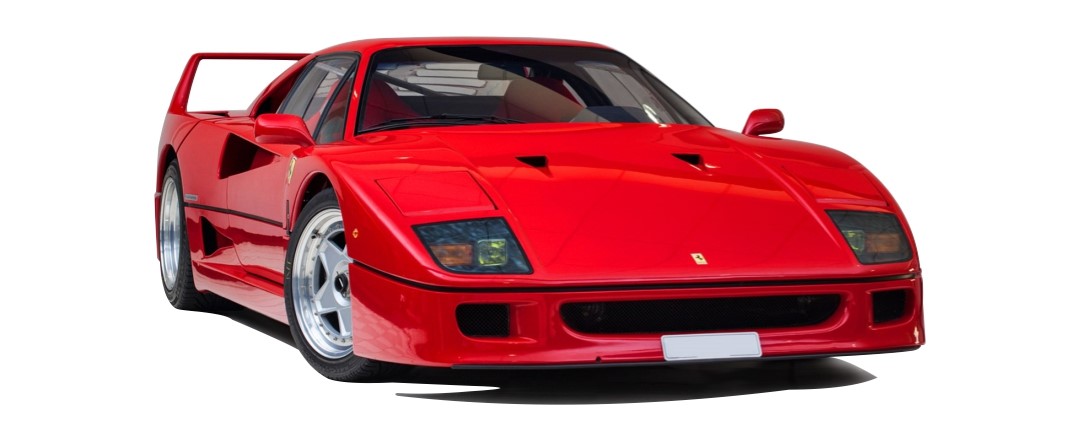 The F40's exterior is quite possibly Pininfarina's most exemplary effort. A plethora of scoops and ducts on the bodywork not only add visual appeal but also serve to reduce drag and aid in cooling that powerful V8. The back window even has vents of its own.  In pursuit of lightness, the F40's interior is a bare-bones affair, offering as few luxuries as possible with a pull-cord instead of door handles, no map lights, no radio, and no glovebox. In addition to saving weight, these measures really lend the F40 a stripped-out, race car feel. Ferrari's attempts to keep the weight low were successful, with a resultant curb weight of just 3,018 lbs.  Even with its lofty horsepower rating, the F40 relied heavily on its advanced aerodynamics to aid its performance. The result was a low 0.34 drag coefficient, enough to enable this exotic car to reach a top speed of 324 km/h.
Built for the most passionate (and wealthy) Ferrari owners who desired nothing more than an all-out performance machine, the F40 has only gained in popularity as carmakers, including Ferrari, venture further away from this type of car and more towards technologically-laden, safety-oriented vehicles each year. When it debuted, it marked the fastest and most expensive Ferrari ever built, and while that designation has been taken over by its successors, the F40 is still special enough to retain its exalted status. In fact, the F40's immediate successor, the F50, struggled to climb out of its monumental shadow, even though it is a better car.
30 years on and for many the F40 is still King. That just shows just how good the F40 really is.

Andy's Thoughts
For me the F40 is the one. Faster cars have come out since, but in my opinion the Ferrari F40 is the greatest car ever designed by any car manufacturer. The car is perfect from every angle, and is everything that Ferrari has ever stood for in the past 70 years. The fact that Enzo himself was involved as one of his last tasks, just adds to the mystery of just why the F40 is so perfect.
I've seen at sat in many F40s since they launched, but for me the one memory that sticks out is when I was about 15 years old. I was on a school trip into London, and came across a Ferrari Showroom just off Piccadilly. As I got talking to the salesman, he told me he had brand new F40 being delivered that day, and if I stuck around I could watch it be delivered. I had never seen one before so knew this was a unique opportunity!
Despite waiting around for an hour, we just didn't know how long the driver was going to be, and I had to leave and go home. This was of course pre-mobile phone days. I never got to see that F40 and it was a few more years before I got to see one in the flesh. I remember that day too.
Amazingly I have just realised I have never experienced a drive in a Ferrari F40. Maybe I'm too afraid of meeting my Hero.
Images Copyright of Graypaul Classic Cars