Ferrari 488 Spider Wiki
This wiki page captures all the key information you need to know about the Ferrari 488 Spider.
FERRARI 488 SPIDER: A CASE OF ARACHNOPHILIA
Many people view the convertible versions of sports cars as the soft, flashy version of the car, not for the hardcore drivers. Ferrari is making this a hard position to take, with the 488 Spider. The 488 GTB proved that the carmaker isn't messing around with this new turbocharged version of its mid-engined supercar, and they continued in that vein as they designed the top-down version as well.
As in the GTB, the heart and soul of the 488 Spider is a 3.9 litre V8 twin turbo pumping out 661 bhp and 760 Nm of torque. Now, the engine and exhaust sound is of supreme importance for every Ferrari, but even more so for the open-air versions. Ferrari took great care to engineer the forced-induction V8 with as much sonorous noise as possible, knowing this would be a huge point of concern for natural aspiration enthusiasts. The result is a guttural, fierce-sounding engine that should please even the most strident of aural enthusiasts.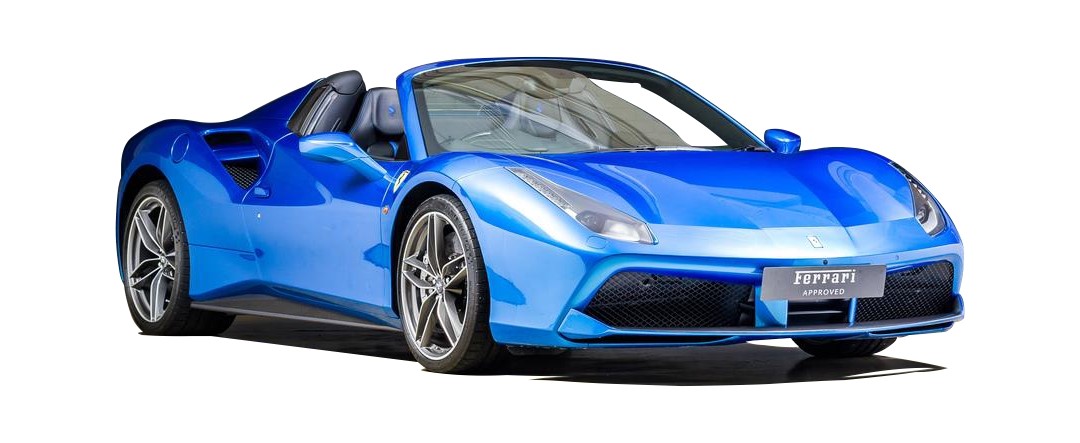 Moving from the GTB to the Spider entails a 50 kg penalty, mostly due to the rood folding mechanism and some underfloor bracing. About that top: the 488 Spider uses a metal hardtop that folds its two parts flat within 14 seconds, and at speeds of up to 25 mph. When up, the car is as quiet and serene as the coupe version. Lower it, and the effect is somewhere between a Targa and a full-on convertible, while the car's structure remains commendably stable. It's clear that Ferrari put a great deal of engineering effort into this top, and it has paid off.
Suspension-wise, the springs and dampers are the same units used in the GTB. This isn't a result of Ferrari being lazy. No, the carmaker found, after much research and testing, that the GTB's suspension setup was also the optimal arrangement for the Spider, a testament to the system's flexibility. All of Ferrari's efforts to keep the Spider's performance on par with that of the GTB resulted in some impressive performance measures: the 0 – 100 km/h time remains the same (3.0 seconds), while the Fiorano lap time has dropped by less than a second. These are remarkable feats, considering the huge weight and stiffness disadvantage most other convertibles are forced to deal with.

ANDY'S THOUGHTS
There was a time when even Ferrari Spiders were considered hairdressers cars, and if you wanted a serious Ferrari, it had to be the best for the track. Ferrari have proved that you can have your cake and eat it with a Spider, as 9/10th of us will not be able to push the GTB hard enough to be faster anyway.
We recently did a Podcast interview with a multi Ferrari owner, who among other cars owned a 488 GTB and a 488 Spider. On thing he mentioned as a huge advantage over the coupe, was that in the Spider you could lower the rear window to bring in that engine noise into the cabin. A huge advantage over the closed version.
FERRARI 488 SPIDER WIKI – KEY DETAILS
Launched: 2015
Engine: V8 – Mid Engine
Power: 492 kW (670 cv) @ 8000 rpm
Torque: 760 Nm @ 6750 rpm in 7th gear
Top Speed: 202 mph
0-62 mph (0-100 kmh): 3.0 secs
Replaces: Ferrari 458 Spider
Fiorano Lap time: 1:23 mins
Did you know: The Ferrari 488 Spider is only 50 kg heavier than the Ferrari 488 Coupe, although it is 10 kg lighter than the Ferrari 458 Spider it replaces. The 0–100 km/h sprint is remains the same as the Coupe @ 3.0 sec, although the 0–200 km/h acceleration takes slightly longer at 8.7 seconds. Top speed is also likewise lower @ (only) 202 mph.
Ferrari 488 Spider Wiki – Technical Specification
PERFORMANCE

0-100 km/h
3.0 s
0 -200 km/h
8.7 s
Max. speed
325 km/h / 203 mph

ENGINE

Type
V8, turbo-charged
Overall displacement
3902 cc (238.1 cu. in)
Max. power output*
492 kW (670 cv) at 8000 rpm
Max. torque*
760 Nm at 6750 rpm in VII gear

DIMENSIONS AND WEIGHT

Length
4568 mm
Width
1952 mm
Height
1211 mm
Dry weight**
1420 kg

FUEL CONSUMPTION/CO2 EMISSIONS

11.4 l/100 km
260 g/km
Source: Ferrari SPA
Ferrari 488 Spider Wiki – Photo Gallery
Ferrari 488 Spider Wiki – More Resources
If you enjoyed looking at the Ferrari 488 Spider wiki page but are looking for more, check out these additional resources.
If you like this, you'll love these: