Ferrari 812 Superfast Wiki
This wiki page captures all the key information you need to know about the Ferrari 812 Superfast.
FERRARI 812 SUPERFAST: OUTRAGEOUSLY POWERFUL, TREMENDOUSLY AGILE
As if the dramatically curved bodywork and screaming V12 didn't clue you in, Ferrari decided to name its replacement for the F12berlinetta the 812 Superfast. With a top speed of 340 km/h, it is a very accurate name for this beast. That name, of course, harkens back to the Ferrari 500 Superfast, a gorgeous V12 GT car built during the 1960s.
When viewed from the side, the 812's dramatic, swooping lines and bulging wheel arches are the embodiment of power and aggression. Park it next to an F12, and the family resemblance will be obvious, but you will soon notice that Ferrari has amplified the 812's styling in almost every way possible. The interior has seen its share of upgrades compared to the F12 as well.  Ferrari has made excellent use of negative space throughout the dash, giving the impression that certain elements are free-floating. Perforated leather seat and driver-oriented controls make the driver as comfortable as possible.

The "8" in 812 is derived from the fact that the engine produces 800 CV at 8500 rpm, while the "12" of course, refers to the number of cylinders. This particular V12 is 75% new compared to the F12berlinetta's. Whereas the F12 used a 6.3-litre V12, the 812's engine has been enlarged to 6.5 litres in order to help boost the power output. Amazingly, this engine is the most powerful naturally aspirated engine ever fitted to a production car. This high-revving powerhouse of an engine enables the car to sprint to 100 km/h in 2.9 seconds and to 200 km/h in 7.9 seconds.
The 812 uses Ferrari's first attempt at an electrically assisted power steering system. With increased responsiveness and efficiency over the old hydraulic systems, Ferrari has painstakingly engineered the system to preserve the renowned steering feedback the manufacturer is known for. A rear-wheel steering system carried over from the F12, plus a slew of techno-wizardry with acronyms like Ferrari Peak Performance (FPP) and Ferrari Power Oversteer (FPO) allow the driver to have as much fun as possible without stuffing the car into the hedges.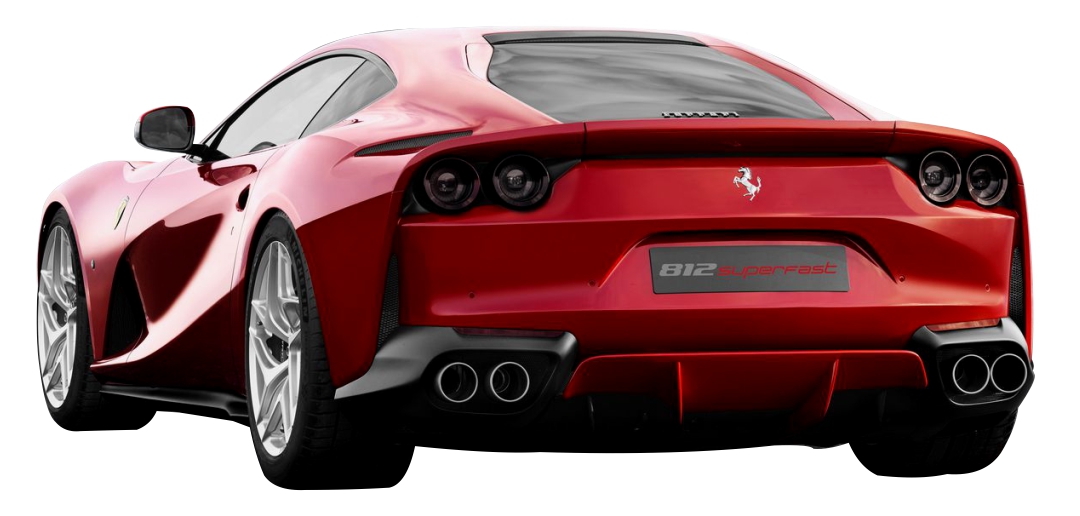 ANDY'S THOUGHTS:
For me the front engined V12 have always been the models to own. When it's predecessor evolved from the F12 to the F12 TDF (final version of the car), I did think it cannot get any better. To be honest I was disappointed when I saw the first images of the 812 Superfast, as I felt that the F12 was a better looking car. Looks aside, the the 812 wins all day, but F12 was definitely prettier.
I recently attended a Ferrari event where I was able to see the 812 for myself, and just like all the Ferrari's that have been launched in the past 20 years, pictures do not do it justice. Its stunning, and beautifully brutish, in a way that the F12 is not. The Superfast looks every bit as powerful as it actually is, so I guess the design is spot on.
However, there are a lot of curves, scoops, and outlets which all complicate the design somewhat. Knowing that each has its own function explains a lot, but that does mean the design is not simple. If anything I like that Ferrari design cars that are not just stunning, but at the peak of design.
The 812 Superfast is a stunner. If you don't believe me, wait to be converted when you see one.
FERRARI 812 SUPERFAST WIKI – KEY DETAILS
Launched: 2017
Engine: V12
Power: 588 kW (800 CV) at 8,500 rpm
Torque: 718 Nm at 7,000 rpm
Top Speed: 340 km/h
0-62 mph (0-100 kmh): 2.9 s
Replaces: Ferrari F12 Berlinetta
Fiorano Lap time: TBC
Did you know: TBC
Ferrari 812 Superfast Wiki – Technical Specification
PERFORMANCE

0-100 km/h
2.9 sec
0 -200 km/h
7.9 sec
Max. speed
340 km/h

ENGINE

Type
V12
Overall displacement
6496 cc
Max. power output*
588 kW (800 cv) at 8,500 rpm
Max. torque*
718 Nm at 7,000 rpm

DIMENSIONS AND WEIGHT

Length
4,657 mm
Width
1,971 mm
Height
1,276 mm
Dry weight**
1,525 kg

FUEL CONSUMPTION/CO2 EMISSIONS

16,1 l/100km
Source: Ferrari SPA
Ferrari 812 Superfast Wiki – Photo Gallery
Ferrari 812 Superfast Wiki – More Resources
If you enjoyed looking at the Ferrari 812 Superfast wiki page but are looking for more, check out these additional resources.
If you like this, you'll love these: