Ferrari F12 TDF – Key Details
The Ultimate Guide to the Ferrari F12 TDF
Ferrari F12 TDF – Photo Gallery
Ferrari F12 TDF – Technical Specifications
Ferrari F12 TDF – Registry & Videos
Ferrari F12 TDF – Key Details
| Ferrari F12 TDF | Detail |
| --- | --- |
| Launched: | 2016 |
| Engine: | V12 – Front Mid Engine |
| Power: | 574 kW (780 CV) @ 8500 rpm |
| Torque: | 705 Nm @ 6250 rpm |
| Top Speed: | Over 211 mph |
| 0-62 mph (0-100 kmh): | 2.9 secs |
| Replaces: | Ferrari 599 GTO |
| Number of cars made: | 799 |
| Fiorano Lap time: | 1 min 21 secs |
| Did you know: | TBC |
The Ultimate Guide to the Ferrari F12 TDF
TRULY, DEVILISHLY FAST: THE FERRARI F12 TDF
The Ferrari F12 TDF's name refers to the Tour de France race. No, not that race; the automobile race that ran for 87 years (ending in 1986), the one that Ferrari pretty well dominated for a span of 8 years during the 1950s and 60s. As you would guess, then, the TDF is a track-tuned version of the F12berlinetta. Introduced in late 2015, only 799 TDFs were built.
As you will see, precious little of the F12 was left as stock as Ferrari strove to maximize the potential of the F12 Berlinetta. Generous use of carbon fibre results in a 110 kg weight loss compared to the standard car. The double clutch gearbox was overhauled, resulting in 30 per cent quicker upshifts and 40 per cent quicker downshifts. The list of improvements goes on and on, combining an impressively cohesive way to create an absolute monster of a car. Larger front tires give it added bite on turn-in, active aero helps the F12 TDF generate 230 kg of downforce at 200 km/h, and rear steering helps lends a hand in the cornering department as well. All of this makes for an absolute beast of a track car, eager to oversteer around corners and put even the most seasoned of drivers to the test.

Even though the same engine is used as in the normal F12, a bump in power brings output to 769 bhp and 520 lb-ft of torque. Flat out the car will reach 100 km/h in 2.9 seconds, while the top speed is "in excess of" 211 mph, according to Ferrari. Being a track-focused car, the manufacturer clearly didn't feel the need to find out just how much it was "in excess". Few, if any tracks would allow for those kinds of speeds. The more pertinent measure is the car's track performance, which clocked in at an impressive 2 full seconds faster than the F12 Berlinetta on the Fiorano test track. In fact, the TDF's 1 minute and 21 second performance a mere 1.3 seconds behind the LaFerrari. Pricing information was never released, although the few examples on the market are in the £800,000 range, to give an indication of just how desirable these models are today.
ANDY'S THOUGHTS
A lot of attention is soaked up by the Hypercar versions that Ferrari release, such as the LaFerrari. So much so, that many people don't realise just what an achievement the F12 TDF actually is. The TDF was based on the F12 Berlinetta, which was an already brilliant car, and an improvement in every way over the 599 GTB. You have to pause to appreciate that, because the 599 had the Enzo engine, and that automatically placed it into the best cars ever list.

The designers at Ferrari managed great things with the F12, and yet somehow managed to squeeze that little bit more from every aspect. It not only looks better, but also has a different look. One could almost think that it was based on a completely different design. It is so cleverly is modern, yet picks up design cues from some of the greatest Ferraris of yesteryear.
We recently interviewed a Ferrari TDF owner who had his car made through the Tailor Made programme. He built a completely unique TDF, and is in our opinion the best TDF ever built. If you want to hear why, you will have to listen to the Podcast, and you can do that here: Speccing A Tailor Made F12 TDF.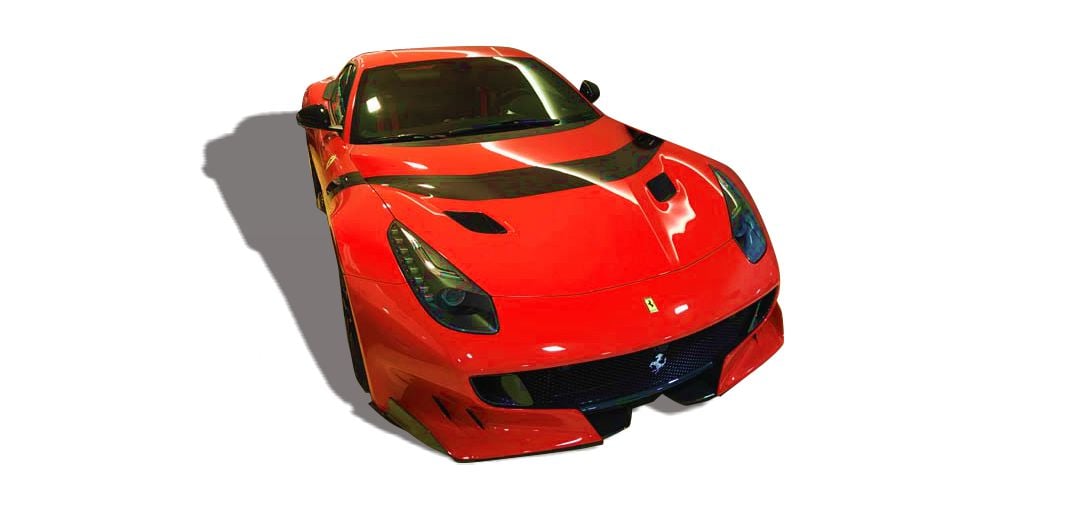 Ferrari F12 TDF – Photo Gallery
Photo Credits: RM Sotheby's
Ferrari F12 TDF – Technical Specifications
| Technical Specification | Detail |
| --- | --- |
| Performance | |
| 0-100 km/h | 2,9 sec |
| 0 -200 km/h | 7,9 sec |
| Max. speed | 211 mph / 340 km/h |
| Engine | |
| Type | V12 |
| Overall displacement | 382.13 cu in (6262 cm3) |
| Max. power output* | 574 kW (780 CV) at 8500 rpm |
| Max. torque* | 705 Nm at 6250 rpm |
| Dimensions & Weight | |
| Length | 183,3 in (4656 mm) |
| Width | 77,2 in (1961 mm) |
| Height | 50,1 in (1273 mm) |
| Dry weight** | 3119,5 lb (1415 kg) |
| Fuel Consumption | 15,4 l/100 km |
| Co2 Emissions | 360 g/km |
Ferrari F12 TDF – Registry & Videos
If you enjoyed all this but want more, check out these additional resources.
SupercarTribe Youtube Playlist
If you like this, you'll love these: