Koenigsegg One:1 – Key Details
The Ultimate Guide to the Koenigsegg One:1
Koenigsegg One:1 – Photo Gallery
Koenigsegg One:1 – Technical Specifications
Koenigsegg One:1 – Registry & Videos
Koenigsegg One:1 – Key Details
| Koenigsegg One:1 | Detail |
| --- | --- |
| Launched: | 2014 |
| Engine: | V8 |
| Power: | 1,360 PS (1,341 bhp; 1,000 kW) at 7,500 |
| Torque: | 1,370 N⋅m (1,000 lbf⋅ft) at 6,000 |
| Top Speed: | 452 km/h (281 mph) |
| 0-62 mph (0-100 kmh): | 2.8 s |
| Replaces: | TBC |
| Did you know: | TBC |
The Ultimate Guide to the Koenigsegg One:1
KOENIGSEGG ONE:1 – "MEGACAR" OR NOT, THIS IS ONE SPECIAL VEHICLE
The Koenigsegg One:1 earns its rather unusual name using a traditional recipe for success in the car world: less weight, more power. By reducing the weight of the Agera R and increasing it power, the new model achieves an unheard-of 1:1 power to weight ratio. Matched to a 1,360-kilo kerb weight, the One:1's 5.0-litre twin-turbo V8 produces 1,360 PS (1,341 bhp) – the equivalent of one megawatt, which led Koenigsegg to refer to the model as the world's first "megacar." With all of these rather grandiose names bandied about, it's clear that Koenigsegg's marketing was working overtime to make sure everyone knew how special its new car was.
The thing is, I'm not sure the Swedish supercar maker really needed to rely on rhetoric to sell the world on the idea of this car. After all, the numbers speak for themselves. Zero to 250 mph in 20 seconds. Over 1,000 lb-ft of torque. Top speed of over 270 mph. With stats like that, who needs flashy names to stick in people's minds?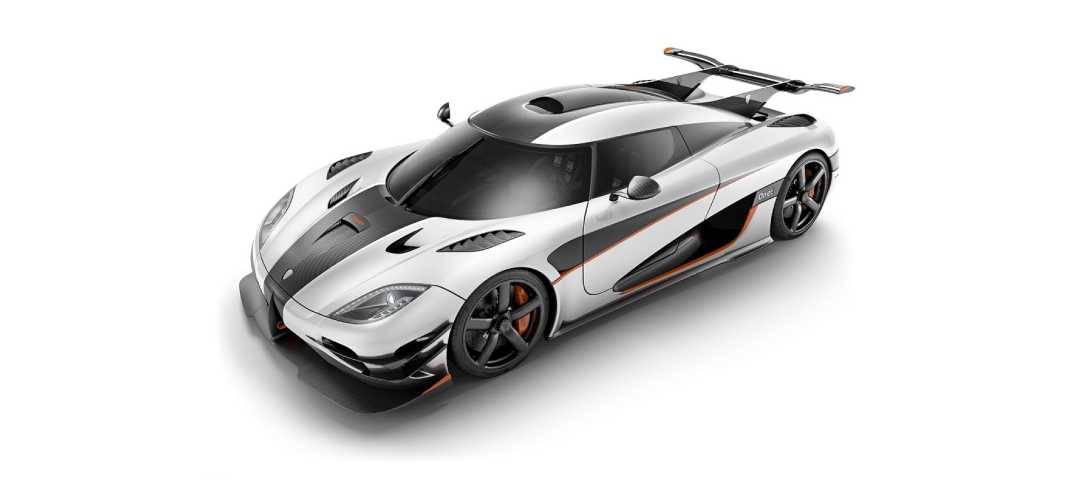 It's not all just about the power and straight-line speed, however. The One:1 was designed with track use in mind, with Christian von Koenigsegg famously claiming the car can turn in a 6:40 lap of the Nürburgring. Unfortunately, the track managers implemented speed restrictions on the track before such a feat could be recorded, so we will only have to take him at his word. With over 600 kilos of downforce produced at 160 mph, the One:1 certainly seems like it should be capable of handling its own on a track. In July of 2015, the One:1 managed to turn in a record 2:32 lap time at Spa-Francorchamps, and that was achieved in practice, with the main event getting cancelled due to noise restrictions. So, this is clearly a car that means business.
Alongside the factory car, Koenigsegg made only 6 examples of the over £2 million One:1, with two staying in Europe. The legacy of the One:1 is greater than just a small batch of insanely fast cars, though. Another, slightly larger batch of insanely fast cars can than the One:1 for their existence as well – much of the tech used in this revolutionary car was transferred over to the next and final stage of the Agera's development; the Agera RS.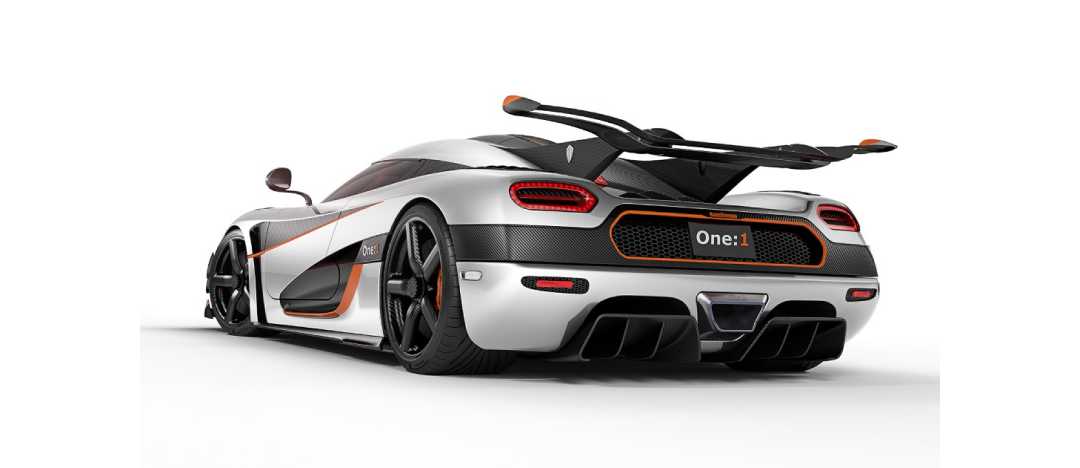 Koenigsegg One:1 – Photo Gallery
Photo Credits: Koenigsegg
Koenigsegg One:1 – Technical Specifications
| Technical Specification | Detail |
| --- | --- |
| Performance | |
| 0-100 km/h | 2.8 s |
| 0 -200 km/h | TBC |
| Max. speed | 452 km/h (281 mph) |
| Engine | |
| Type | V8 |
| Overall displacement | TBC |
| Max. power output* | 1,360 PS (1,341 bhp; 1,000 kW) at 7,500rpm |
| Max. torque* | 1,370 N⋅m (1,000 lbf⋅ft) at 6,000rpm |
| Dimensions & Weight | |
| Length | 4500 mm |
| Width | 2060 mm |
| Height | 1150 mm |
| Dry weight** | TBC |
| Fuel Consumption | TBC |
| Co2 Emissions | TBC |
Koenigsegg One:1 – Registry & Videos
If you enjoyed all this but want more, check out these additional resources.
SupercarTribe Youtube Playlist
If you like this, you'll love these: