Rolls Royce Phantom Drophead Coupé – Main Details
| | |
| --- | --- |
| Launched: 2007 | Engine: V12 |
| Power: 460 PS (338 kW; 454 hp)@5350 | Torque: 720 N⋅m (531 lb⋅ft)@3500 |
| Top Speed: TBC | 0-62 mph (0-100 kmh): TBC |
| Replaces: TBC | Did you know: TBC |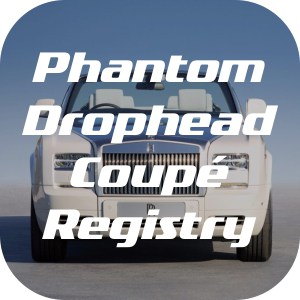 ROLLS-ROYCE PHANTOM DROPHEAD COUPE – THE ULTIMATE TOP-DOWN DRIVING EXPERIENCE
Apparently, the marketing team in Goodwood felt that "Rolls-Royce Phantom Drophead" wasn't a sufficiently long title to honour their new creation, so they added another word, bringing the full name up to 5 words: Rolls-Royce Phantom Drophead Coupe. I'm not sure I've seen another convertible called a coupe, but this 2-door Phantom with a retractable roof is so good, no one really cared.

A DRIVER'S ROLLS
The Phantom Drophead Coupe was a little unique within the Rolls line up. While most Rolls-Royce owners prefer to be chauffeured, the smallish backseat and convertible top of the Drophead means these owners are more likely to drive themselves. Don't assume that this is any more of a "driver's" car because of that, however. There is still the familiar Rolls-Royce comfort baked into the suspension paired with a thin steering wheel offering minimal feedback and effort. The automated air suspension does its best to keep the car level should the driver forget they aren't in their 812 Superfast today. A 6.75-litre V12 with 453 bhp and 531 lb-ft of torque sits under the bonnet, which is certainly enough to keep up with traffic. And because this Rolls weighs approximately as much as Buckingham Palace, lesser cars will be frightened into the ditch should you meet on a narrow road, which is always a nice feature.
ELEGANCE DEFINED
The Phantom Drophead Coupe is dripping in luxury from head to tail, with only the finest materials chosen for to be assembled by hand at the company's British plant. The satnav screen can be discreetly hidden behind a rotating panel, in case you find it tacky. Occupants of the Phantom Drophead Coupe will no doubt appreciate that the car remains perfectly quiet and composed under nearly every circumstance. The only common gripe is a minor one: Plastic was used on some of the interior switches, most likely a result of Volkswagen's influence on the design.

CONCLUSION
With a price that could easily crest £400,000 after options, the Phantom Drophead Coupe was the last word in luxurious top-down motoring. Even the current-model Wraithcan't match presence of the Phantom Drophead, although it does offer more performance. As of today, there has been no true successor to the Phantom Drophead, whose run came to an end in 2016 after 9 years on the road.
Rolls Royce Phantom Drophead Coupé Wiki – Technical Specification
| | |
| --- | --- |
| PERFORMANCE | |
| 0-100 km/h | 5.8 s |
| 0 -200 km/h | TBC |
| Max. speed | 150 mph / 240 km/h |
| | |
| ENGINE | |
| Type | V12 |
| Overall displacement | TBC |
| Max. power output* | 453 bhp / 460 PS (DIN) / 338 kW @ 5350 rpm |
| Max. torque* | 720 Nm / 531 lb ft @ 3500 rpm |
| | |
| DIMENSIONS AND WEIGHT | |
| Length | 5609 mm / 220.8 in |
| Width | 1987 mm / 78.2 in |
| Height | 1581 mm / 62.2 in |
| Dry weight** | TBC |
| | |
| FUEL CONSUMPTION/CO2 EMISSIONS | |
| 16.5 ltr/100 km | |
Rolls Royce Phantom Drophead Coupé Image Gallery
Source: Rolls Royce.