The Aston Martin DB5 attained iconic status when it was the car of choice for the legendary British scree spy, James Bond 007, in the film Goldfinger in 1964. Few cars are as inextricably linked with a movie role as the DB5 – indeed Aston Martin continues to supply cars for the franchise – and now the very first of 25 Goldfinger continuation models has been completed. 'Job 1' as it has been labelled took some 4,500 hours to build and is the first DB5 to emerge from the factory in 50 years.
Bond fans and movie buffs will remember that 007's Aston Martin came with a variety of special options devised by 'Q' – the boffin behind gadgets in the British Secret Service – that were not available on the standard road car. The Goldfinger continuation DB5's will carry some of the gadgets that helped James Bond escape pursuers, although the twin front machine guns are – thankfully – simulations!
'Q' Special Features
Further special features of the 25 continuation DB5's include the following:
Revolving number plates both front and rear
Rear oil slick delivery system – simulated
Rear smoke screen delivery system
Simulated tyre slashers
Bullet resistant rear shield
Twin front machine guns
Front and rear battering rams
There is also a removable passenger roof panel, although sadly no ejector seat! For those of us who played with the Corgi edition of the car, the above will be evocative to the full. Interior detail touches include a storage tray for weapons underneath the seat, a telephone in the driver's door and much more, even down to the flip up top on the gear knob that reveals the activator button. Each of the 25 Goldfinger DB5's will feature these details, thanks to help from EON Productions which makes Bond films nowadays, and the Special Effects Supervisor Chris Corbould, OBE, the 'real life Q'!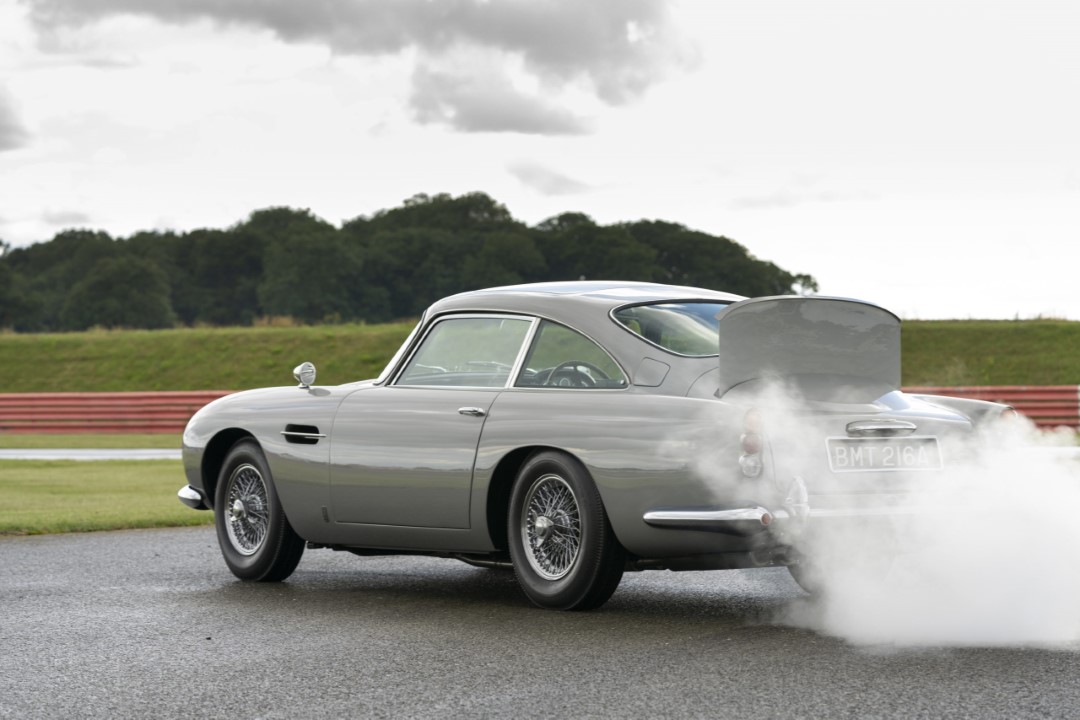 There's one curious fact that former owners of the toy version will be aware of. The Corgi edition was available in two colours, with most being finished in gold. However, in the film the car was presented in Silver Birch, as the continuation cars will also be. There's one further thing to consider: the Aston Martin DB5 Goldfinger may be an authentic recreation, and it is a fine one too, but in most countries, it may not even be road legal!
Still, for a devoted James Bond fan, there can be no other car offering as much appeal as the Aston Martin DB5.
Aston Martin DB5 Images Gallery
Images Source: Aston Martin