Following a record year in 2018, Rolls-Royce comes to the Geneva show with is full Bespoke Portfolio of cars, and while all are special, one of these is a very special vehicle indeed. This is the Rolls-Royce Phantom Tranquillity.
Rolls-Royce is regarded as the leading luxury brand in the world, and the Phantom Tranquillity is the epitome of that ethos.
Limited to just 25, the Phantom Tranquillity is a genuine expression of luxury and rarity, and one that has the crowds in awe at the Geneva show.
Achieve the Impossible
The 25 Rolls-Royce Phantom Tranquillity models, which include both standard and Extended Wheelbase examples, have already been purchased, and each represents the unique vision of desired luxury for the individual owner.
Inspired by space exploration – hence the name – the Phantom Tranquillity features a number of very special adornments unlikely to be seen on any other car. 24-carat gold fitments treated in the same way as aperture masks used in the British Skylark space rocket, for example, are a reminder not just of man's desire to head into space, but British technology leading the world.
Another unique touch is that within the volume control for the impressive in-car entertainment system is a portion of a meteorite that fell to Earth in Sweden in 1906, complete with delicate engraving showing where and when it was found.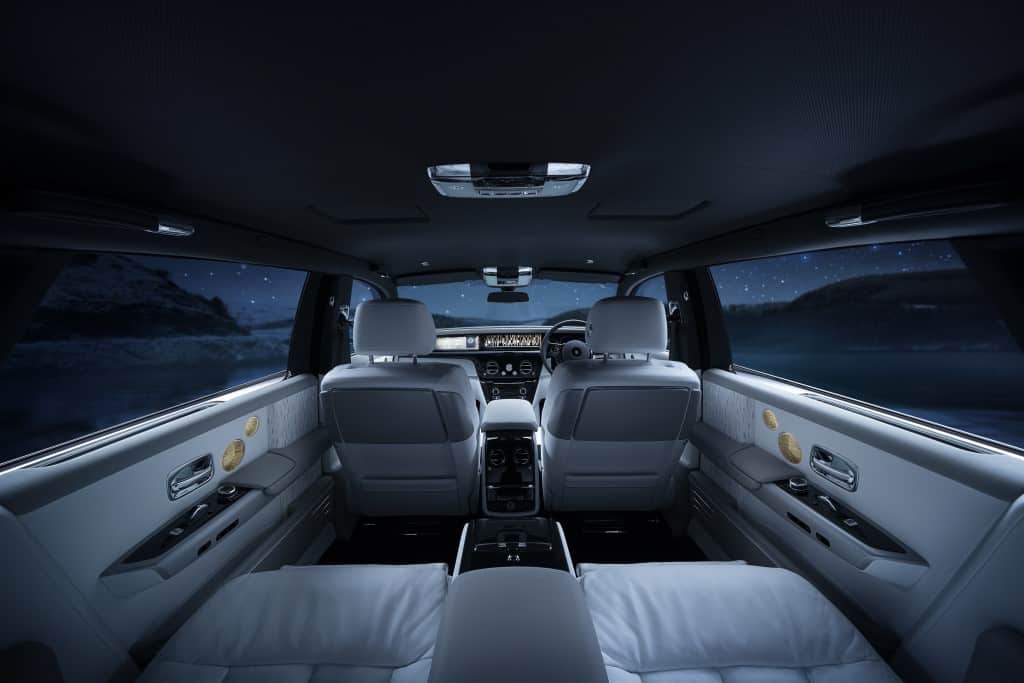 Interior Colours
Two interior colour choices are available in the Phantom Tranquillity – Arctic White and Selby Grey – which reflect the light and dark side of the moon. Continuing the space exploration theme is the use of various gold trimmings within the car, a nod to the gold records taken into space by the Voyager probes.
The Rolls-Royce Phantom Tranquillity continues the trend for Bespoke editions, a commitment that makes Rolls-Royce a stand-out brand in the world of rare and unique luxury automobiles.
Images Copyright of: Rolls-Royce.