If proof were needed that the exotic automobile market is getting back on its feet after the turmoil caused by covid-19, it's surely this: the Lamborghini Essenza SCV12, track only hypercar designed to provide nothing short of the ultimate driving experience. Featuring the most powerful V12 ever seen in a Lamborghini, with more than 830hp, the Essenza deserves the label 'sensational'. 
The Essenza uses race-car technology in the form of push-rod rear suspension that mounts to the gearbox – exactly as you would find on a Le Mans prototype racing car – and a simply mind-blowing power to weight ration of a mere 1.66kg/hp means this is a car that is going to give you the ride of your life.
The ever-eloquent Stefano Domenicali, CEO and Chairman of Lamborghini, enthuses thus:
"Essenza SCV12 represents the purest track driving experience that our brand can offer, an engineering feat that highlights the inextricable link between our cars and the asphalt of the track. Lamborghini is a brand constantly looking to the future and searching for new challenges, but we never forget our roots and who we are: Essenza SCV12 is the perfect combination of our unconventional spirit as a super sports car manufacturer and our true passion for motorsport." 
This is a man who knows what he is talking about when it comes to fast cars and motorsport. Designed by the in-house team at Lamborghini Centro Stile, and developed into the monster it is by the technical genius that makes up Lamborghini Squadra Corse, the Essenza looks unmistakeably a product of the Raging Bull factory with its aggressive stance and astonishing design.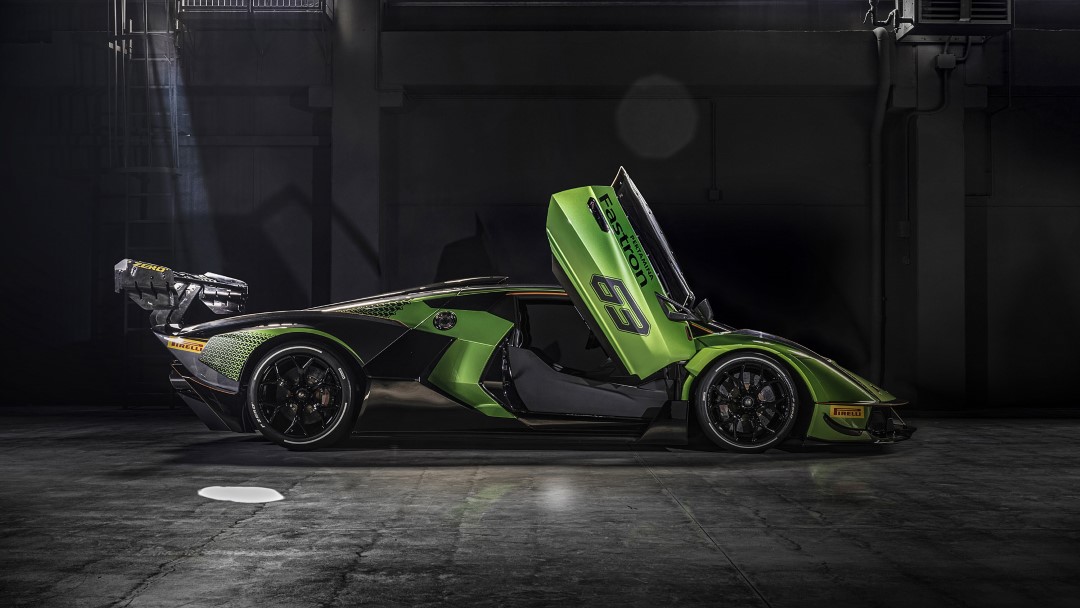 40 Units to be Made
The car sits waiting to go – and it's clearly waiting to go very fast – with its distinctive rear wing, intakes, and front splitter, and aerodynamically this is every bit a racing car. Only 40 of these gloriously outrageous machines will be made, and owners will become members of an exclusive club which, beginning in 2021, will enable them to drive their Lamborghini Essenza at a variety of prestigious race tracks across the world. The Essenza owner can choose to store their car at the Sant'Agata factory in a specially constructed new building, and when at the tracks, will be aided and advised by 5-times Le Mans 24 Hours winner Emmanuelle Pirro, as well as Lamborghini's own factory drivers.
That's a club we would love to be a part of! Speaking of the design, Mitja Borkert – head of Centro Stile – explained:
"I was excited about this project from the very start, because it would allow us to create a car that was different but at the same time unmistakably Lamborghini, extreme but stylistically very clean, as a real racing car should be. With the Essenza SCV12 we pay tribute to both our racing past and the present: the large rear wing, side fins and front splitter are elements taken from the Huracán Super Trofeo EVO and GT3 EVO. This car is the perfect combination of our tradition and what we imagine for the future."  
There is something special about every Lamborghini, but it's quite possible the Lamborghini Essenza SCV12 is the most special of them all. At £2.7million each – that's about $3.5million – for a car you can't drive on the road, we'd expect very special indeed. We applaud Lamborghini for giving us hope that the world may also be back on track.
Images Copyright of: Lamborghini