Though a relative newcomer to the world of supercars, Pagani has become firmly established as a marque of great distinction. It may seem a lot longer ago than 1999 when the stunning Pagani Zonda made its debut at the Geneva Motor Show, and the Huayra – the even more outlandish replacement model – has only been around since 2011.
Now, a mystery Pagani – shrouded in the usual camouflage paint job that is reserved for prototypes and test vehicles – has been spotted, and pictures of the car have caused quite a stir on social media sites. The question being asked is this: the Zonda was given an 'R' upgrade late in its life, which involved a power hike and aerodynamic amendments, so could this be a Huayra R, a further enhancement of the hypercar?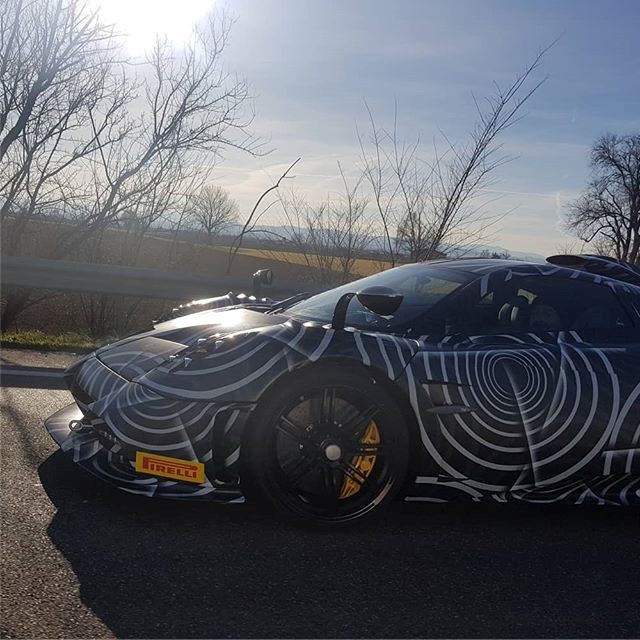 Revised Aerodynamics
The pictures clearly show a car that is Huayra-based, but one that features considerable changes to the bodywork and aerodynamics. An enormous, full-width diffuser sits under the rear of the car, and a large scoop on the roof is likely there to suck air into the engine compartment. On the rear deck, a large fin runs from the roofline to a huge rear spoiler – all of this is pointing towards a Huayra that is designed to be a beast on track.
A front splitter and further vents around the wheel arches are also notable, and we wonder whether this car will continue to use the standard engine, or if it will be given the 750bhp 6.0 litre AG V12 engine from the already spectacular Huayra BC?
It is, of course, possible that this is a bespoke car, a one-off for a special client, yet the amount of noise it has generated in automotive circles on the internet leads us to believe that it is more likely to be a fully upgraded version of what is already a quite stupendous car.
Images Copyright of: iuri.giova.