Ferrari 458 Spider – Key Details
The Ultimate Guide to the Ferrari 458 Spider
Ferrari 458 Spider – Photo Gallery
Ferrari 458 Spider – Technical Specifications
Ferrari 458 Spider – Registry & Videos
Ferrari 458 Spider – Key Details
| Ferrari 458 Spider | Detail |
| --- | --- |
| Launched: | 2011 |
| Engine: | Rear Mid-Engine V8 |
| Power: | 419 KW / 570 CV @ 9000 RPM |
| Top Speed: | 199 MPH |
| 0-62 mph (0-100 kmh): | <3.4 secs |
| Replaces: | Ferrari F430 Spider |
| Fiorano Lap time: | TBC |
| Did you know: | Amazingly the solid roof is 25kg lighter than the soft top roof found in the Ferrari F430 Spider. |
The Ultimate Guide to the Ferrari 458 Spider
FERRARI 458 SPIDER – A KINDER YET LOUDER 458 ITALIA
When the Ferrari 458 Spider first went on sale, it cost £25,000 more than its coupe sibling. That's an entire family saloon for a new roof. So, was it worth it? The answer is subjective, of course, but the 458 Spider is quite an enticing proposition, even if it can't quite match the regular 458 on the track. Let's dig in to find out what makes the Spider so special.
The Spider's most prominent feature, a 2-piece, folding metal roof, actually weighs 25 kgs less than the F430 Spider's traditional soft top, thanks to its aluminium construction. It's ingenuity like this that allows the drop-top 458 to weigh only 50 kilos more than the coupe version. Even if you don't own a 458 Spider, there is quite a lot of enjoyment to be had by simply observing the roof mechanism, the first folding hardtop to grace a mid-engined Ferrari, do its thing. Taking all of 14 seconds, the back section rears up on its haunches like a frightened stallion, allowing the front section to flip over and lie flush on its back. At this point, the back section settles back down on top of the inverted front section.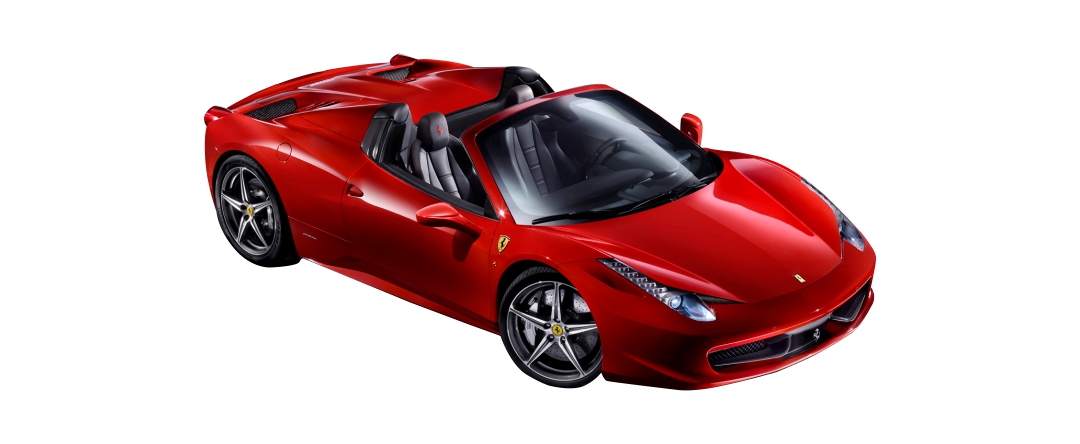 So, what other sorts of changes go into a convertible Ferrari? First up for the 458, and commonly for Ferrari, the suspension relaxes a bit thanks to softer damper rates. Next, throttle response is taken down a notch via new throttle mapping. These steps are clearly an attempt to appease the top-down boulevard cruisers who aren't chasing lap times and desire some increased comfort over the hardtop. Not all of the changes are focused on softening the car, however, as the intake and exhaust have received special attention so as to create the perfect soundtrack for those top-down drives. Otherwise, the 4.5 litre V8 has been untouched for duty in the Spider. 419 KW and 398 lb-ft allow for a top speed of 199 mph and 0 – 100 km/h time of 3.4 seconds. Not shabby, but those numbers are down by 3 mph and about 1/10th of a second, respectively. Should you expect to feel that difference from behind the wheel? Not likely.
To sum it up, with the 458 Spider, Ferrari offered customers a vehicle that can go toe-to-toe with the original hardtop 458 while simultaneously delivering a gentler ride and an even better exhaust note. No wonder this model was so well received.

Ferrari 458 Spider – Photo Gallery
Ferrari 458 Spider – Technical Specifications
| Technical Specification | Detail |
| --- | --- |
| Performance | |
| 0-100 km/h | < 3.4 s |
| 0 -200 km/h | < 10.8 s |
| Max. speed | 199 mph (320 km/h) |
| Engine | |
| Type | V8 |
| Overall displacement | 4.497 cm3 |
| Max. power output* | 419 kW (570 CV)** @ 9000 rpm |
| Max. torque* | 398 lbf ft (540Nm) @ 6000 rpm |
| Dimensions & Weight | |
| Length | 178.2 in (4527 mm) |
| Width | 76.3 in (1937 mm) |
| Height | 47.7 in (1211 mm) |
| Dry weight** | 3153 lbf (1430 kgf) |
| Fuel Consumption | TBC |
| Co2 Emissions | TBC |
Ferrari 458 Spider – Registry & Videos
If you enjoyed all this but want more, check out these additional resources.
SupercarTribe Youtube Playlist
If you like this, you'll love these: