As one of the world's foremost luxury brands, Bentley is a byword for luxury. Pearls are equally luxurious, hence Bentley has created a model inspired by Arabian pearl divers who have been plying their trade for many thousands of years.
The combination of a glorious pearl white Bentley Bentayga, complete with Mother of Pearl detail inlays and  beautiful marquetry scene on the dash portraying dhow boat diving scenes is something very special. Let us introduce the Bentley Bentayga Pearl of the Gulf by Mulliner.
Hand Built by Craftsman
Just as pearl diving is a craft, carried out by skilled divers for at least 7000 years, so the artisans at Mulliner, who will handcraft each of the five Bentayga Pearl of the Gulf models that will be built, are equally skilled and dedicated. The Gulf Pearl is a sought after item that exudes luxury, thus the car carrying its name does too.
With the glorious W12 engine under the bonnet, the Bentayga's stunning ride and gloriously trimmed interior – even the Breitling dashboard clock has a mother of pearl face – there is nothing left to chance where the Pearl of the Gulf is concerned, and the original commission – from a Middle-East customer – leads to a series of cars that will remain as precious as the pearls they are inspired by.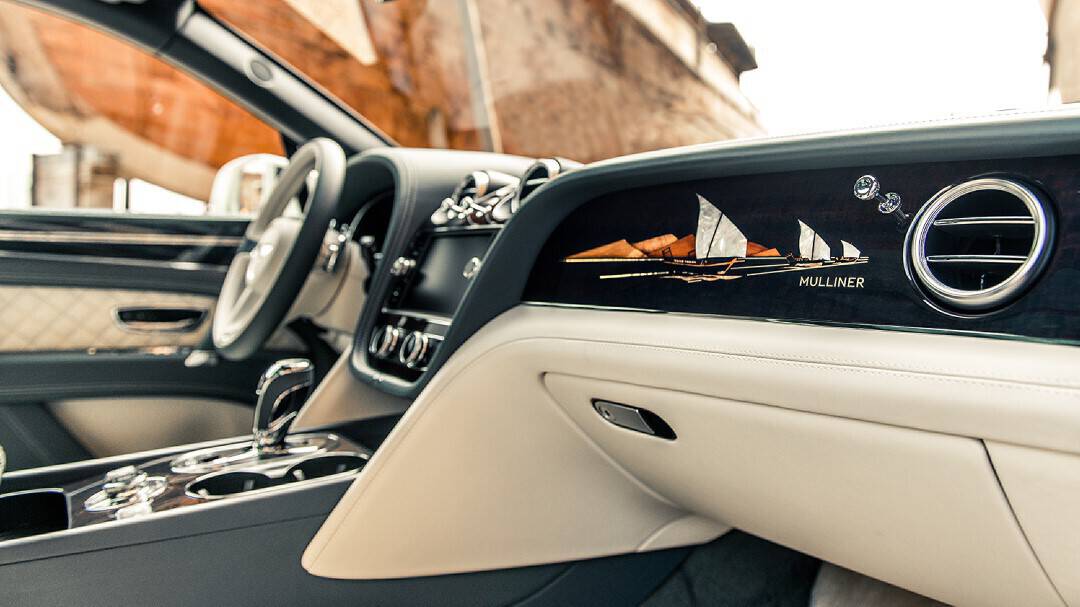 Secure Storage
One of the most intriguing features of the Bentley Bentayga Pearl of the Gulf by Mulliner is the fitted biometric storage. Reflecting the value and rarity of the Gulf Pearl, still dived for today in one of the regions most revered traditions, this discreet yet strong aluminium locker is perfect for storing your valuables when at the beach or when you hand the car to a valet, and can only be opened by the designated owner.
The Bentayga Pearl of the Gulf by Mulliner is what Bentley is all about; unabashed yet tasteful luxury in a beautifully engineered car with a stunning interior and amazing performance – W.O Bentley would be proud to see his name on such a vehicle, 100 years after he founded one of the most legendary brands in the world.
Images Copyright of: Bentley.