A few days ago, Supercartribe gave you advanced notice of a new model from Bentley. On Wednesday, June 11th, the all-new Bentley Flying Spur was officially unveiled, and what a machine this is!
Described as 'the world's most advanced luxury Grand Touring sports sedan', the Flying Spur combines sporting driving experience with limousine=type luxury, making this a car that will appeal across the board.
Introducing the new model, Adrian Hallmark – Chairman and Chief Executive of Bentley Motors – explained:
"As with the launch of the Continental GT, the new Flying Spur is a ground up development that pushes the boundaries of both technology and craftsmanship to deliver segment-defining levels of performance and refinement."
Designed entirely in-house at Bentley in Crewe – where it will be hand-built in the usual Bentley fashion – the Flying Spur is a driver's car as well as one that will be a delight to be driven in.
Technical Tour de Force
The advanced technical aspects of the Bentley Flying Spur are quite spectacular. In a first for the marque, the Flying Spur features Electronic All-Wheel Steering – a system developed exclusively for and by Bentley – as well as all-wheel drive, plus the Bentley Dynamic Ride system. The latter helps provide superb handling and a glorious ride.
Adjusting the suspension gives the driver a choice of comfort and sporting settings, while other clever systems help with blind spots, city driving and more, proving that Bentley has taken all situations into account when developing the Flying Spur.
At the heart of the car is an enhanced version of Bentley's stunning 6.0litre W12 engine, complete with twin turbochargers that help to deliver 626bhp to the wheels. This gives amazing performance figures for what is a not insubstantial car. A 207mph (333km/h) top speed and 0-62mph (100km/h) acceleration in a mere 3.8seconds would not look out of place in the supercar class.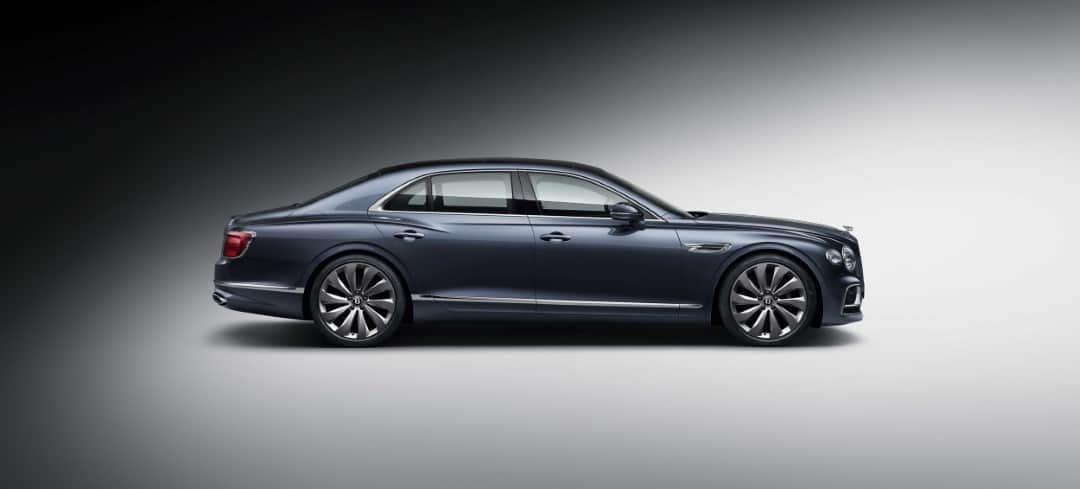 Interior Luxury
While clearly very much a driver's car, the Bentley Flying Spur is as luxurious as any Bentley, with a beautifully crafted cabin brimming with the finest details. Brand new seats – with 15 different hides available to choose from – plus a glorious sweeping veneer dashboard and doors, reminiscent of Bentleys of old, make this an instantly likeable interior.
What is beautiful is the brand new – as so much on this car is – Bentley Rotating Display: choose from a touch screen or analogue dials, or enjoy a 'complete digital detox' – something we would choose to do if lucky enough to drive this spectacular car.
All in all, this is a car with so much to offer – from the traditional leather detail touches in the cabin to the amazing 21st century digital technology that lies within – both driver and passenger, and we believe it sets a new standard in sporting, luxury sedans of this kind. Indeed, does it have a direct competitor? It's certainly hard to think of one!
Detail Touches
What is always a delight with Bentley is the detail touches, usually developed in conjunction with its coachbuilding arm, Mulliner. For example, for the Bentley Flying Spur, Mulliner has designed – and I quote – "a world-first, solid wood, three-dimensional diamond quilted door insert, exclusively available in open-pore walnut." Is there any other motor manufacturer in the world that would make the effort to include such a wonderful touch as that, and take pride in it?
It's the sheer depth of thought that goes into its cars that makes Bentley special – that, and the fact it consistently presents quite stunning automobiles that are simply a class above the rest of the field.
Bentley Flying Spur customers are likely to want to include these personalised touches – Mulliner also offers specially developed and unique to the model 22" wheels, embroidered seat wings, and – among other things – fuel filler and oil caps with a jewelled finish – and there are few other marques that provide such a level of bespoke options.
The Bentley Flying Spur: a quite superb sporting grand tourer and luxury limousine, all in one package, and with attention to detail like nothing else. It's available to order from later this year at an estimated price – the actual list price has not been announced yet – of around £165,000 (around $220,000 at the time of writing) and deliveries begin in 2020.
Images Copyright of: Bentley.