I have one admission to make regarding the Ferrari 458 Speciale. Up until this morning I thought that the only combination for a Ferrari 458 Speciale that I would purchase would have been in Rosso Corsa, with stripes and gold wheels. Interior I was always flexible with, but the outside would have to be Rosso Red. Picking a car for today's Friday Drool was a challenge, just simply because we had a number of great choices that came to market this week. Do I select an Enzo or something else? The choice was hard. That was until this landed in my inbox, and not for the first time, my mind was changed.
Note: SupercarTribe.com is not affiliated with Ferrari SPA.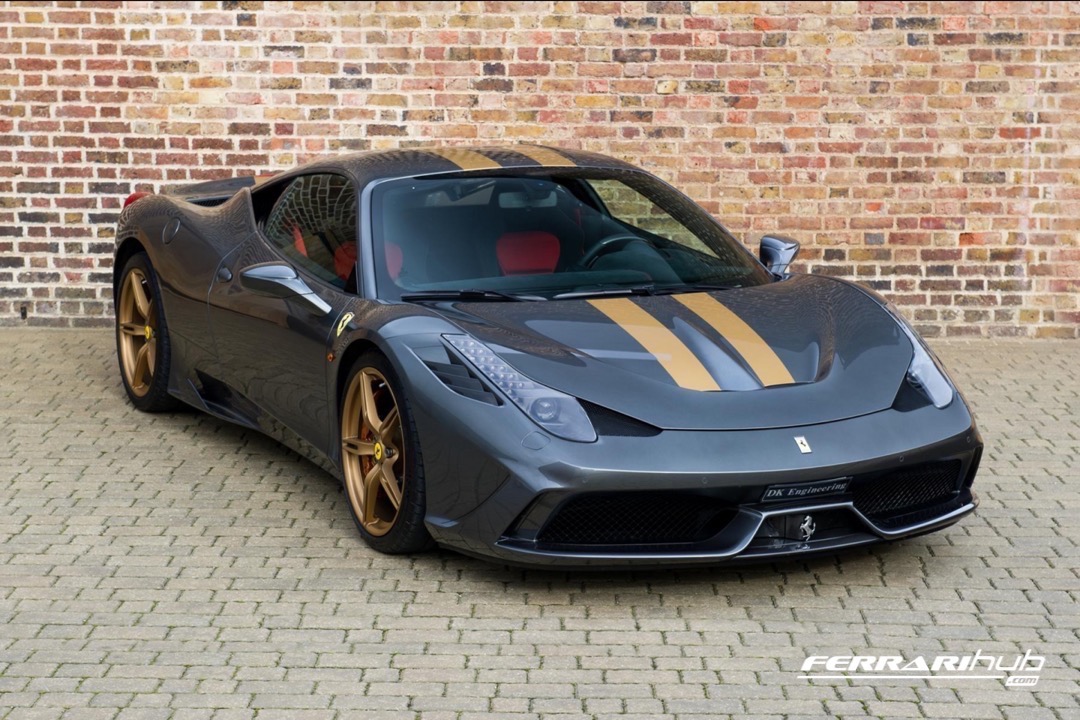 I have owned a Grigio Silverstone Ferrari in the past and although I love the colour, it would not have been my obvious choice for a Speciale. That was until I saw this and realised it's as damn near as perfect as they get. This car has just come up for sale at DK Engineering in England, which no doubt will see a new owner very quickly. Shame, as it will probably go too quickly for me to persuade the wife, accountant and bank manager.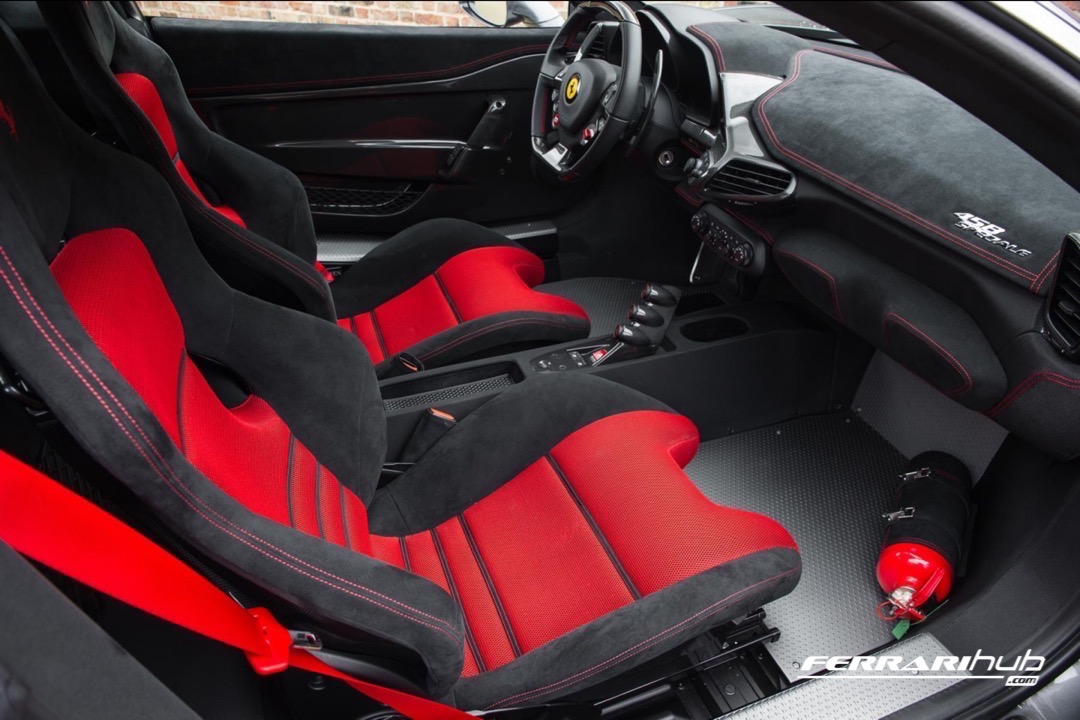 This is what DK Engineering have said about the car.
This superb LHD example was delivered to its first private owner in November 2014 specified in the striking colour combination of Grigio Silverstone with a special order Gold Racing Stripe. Inside the car is tastefully specified with Carbon Fibre Racing Seats in Nero Alcantara with Rosso contrast stitching, Rosso "3D" Tessutio fabric seat centres and Rosso stitched Cavallinos in each headrest to match the red plenum chambers of the engine bay. The additional interior options include Rosso coloured seat belts, Giallo rev counter, driver's seat adjustment device, Integrated audio system, Navigation system with Bluetooth, Just 5,050 Miles from new, 
Original bookpack, spare key, tools, tyre pump and spare wheel, Cruise control, Handy fire extinguisher and Spare wheel kit.
Images Copyright of DK EngineeringThe exterior includes the AFS front lighting system, Scuderia wingshields, a Titanium sports exhaust, Bronze brake calipers, 20″ forged Gold Alloys, Carbon front flaps, front air vents and sill winglets, front and rear parking sensors, rear parking camera and front suspension lift.
Today having covered just 5,050 Miles from new this Speciale presents exceptionally and has received its most recent service under Ferrari warranty in March 2017 at HR Owen. The paint remains in an exceptional condition having received full PPF paint protection film at a cost of approximately £5,000.
Let us know your thoughts in the comments section below. Do you Drool?
The car is available at DK Engineering. Be Quick!