Listeners of our Podcast this week would have been treated to what is the amazing experience that owners have when they order a car through Ferrari's Tailor-Made Programme. Bespoke is a term that used a lot nowadays, and I often find companies make small tweaks to a product, and slap on the phrase. Not the case here.
Note: SupercarTribe.com is not affiliated with Ferrari SPA.
Back in the 80's and 90's Ferrari and Rolls Royce produced truly bespoke items for rather wealthy buyers, such as Sultan Haji Hassanal Bolkiah Mu'izzaddin Waddaulah ibni Al-Marhum Sultan Haji Omar Ali Saifuddien Sa'adul Khairi Waddien Sultan and Yang Di-Pertuan of Brunei Darussalam. Or the Sultan of Brunei to you and I. They say he kept Rolls Royce in business for many years with his bespoke orders. With Ferrari he created some beautiful models too, including the 456 Estate, Saloon, and Convertible, of which he ordered 7 of each. The rest of us mere mortals had to make do with a two door, four seater 456 or 456M.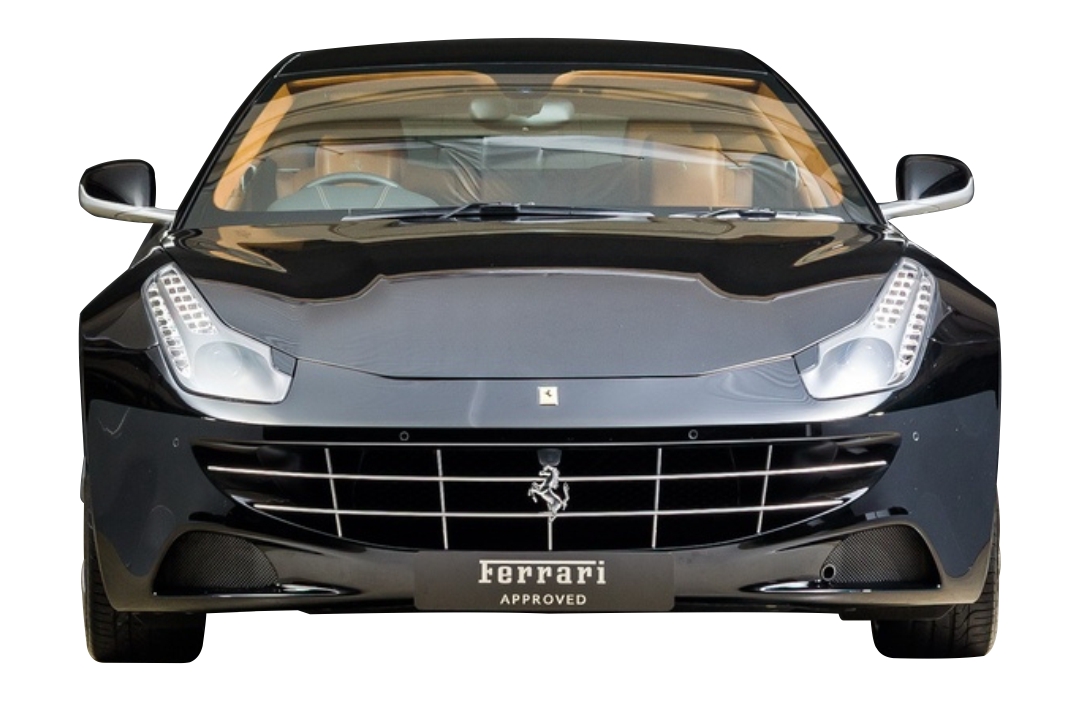 But then recession hit, the spending stopped, and the bespoke cars were no longer. Ferrari were still doing quite well with their regular road cars, but from time to time owners continued to want more. Wealthy owners started to place orders again for re-bodied cars, like Eric Clapton's SP12 EPC. But to commission a car like that costs millions, something that is out of league for even most Ferrari owners. This is where Tailor Made steps in. Through this programme you can order a standard car with personalised options, making the car truly Bespoke.
Today's Friday Drool is a very unique FF for a number of reasons. Firstly, the interior has something that I haven't seen in Ferrari for about 30 years, wood! The Ferrari's from the 60's used to have plenty, and Rolls Royce and Bentley of today have acres of it, but it seems to be a material that has long been dropped by the factory at Maranello.

Obviously, the owner who commissioned the car was not immediately concerned with weight reduction, with Carbon being the standard choice of material nowadays. This almost makes a Carbonised car look too common an option now! But what is particularly beautiful about this specification is the subtle accents of wood that has been used; the door handle, the arches on the tunnel, the door sills, and the boot floor!
Often the Daytona seats are the option of choice for most models, but in this case the owner chose what looks like the most comfortable seats you will find in a Ferrari. Perhaps not to everyone's taste, but I love it just because it looks so different!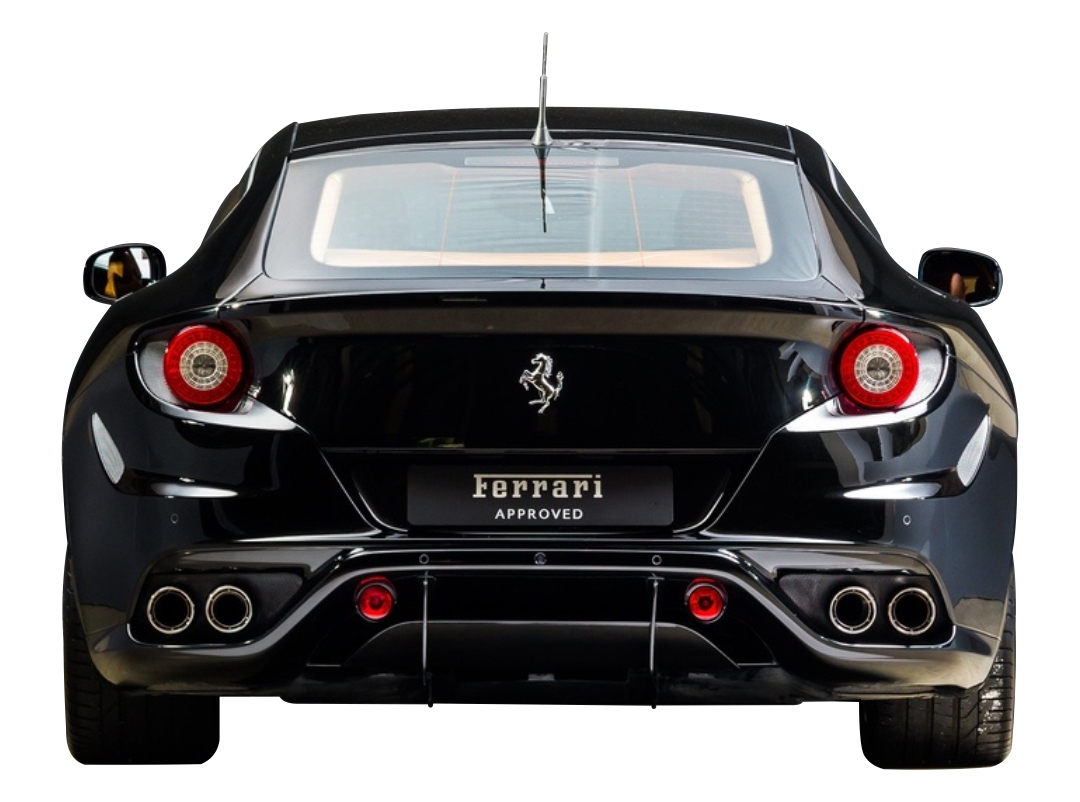 The car has become available at Dick Lovett, a Ferrari Dealership in England, and although we featured a car from them a few weeks ago, this car was too good to pass up. Here is what they had to say about it: This beautiful Ferrari FF has been created using Ferrari's 'Tailor Made' programme which offers clients a mesmerising level of personalisation and customisation. Highlights on this particular car include 'Tudor Oak' wood boot lining, beautifully carved wooden interior details and four layer 'Piano Black' paintwork. This is a fantastic opportunity for somebody to take advantage a very rare specification FF. This car really encapsulates the style and elegance of Italian design, which accompanied by the sheer brilliance of Ferrari's engineering is truly something special.   Options:
Apple Carplay
Leather Parcel Shelf in "Colore Non Disponibile"
Ordine Tailor Made Confermato
Outer Mirror Black Insert
Panoramic Roof
Ready for Ipad Installation
Red Brake Calipers
Special Paint Colour in "Colore Non Disponibile"
Sport Exhaust Pipes
Tailor Made
Two-colours Wheel Rims
Coloured Safety Belts
Tyres Pressure Measurement
Upper Part in Colored Leather in "Colore Non Disponibile"
White Rev Counter
Coloured Standard Stitching in "Colore Non Disponibile"
Dual View Front Parking Camera
Front Grill with Chromed Edges
High Emotion Low Emission
High Power Hifi System
Horse Stitched on Headrest in "Colore Non Disponibile"
Leather Lower Dashboard in "Colore Non Disponibile"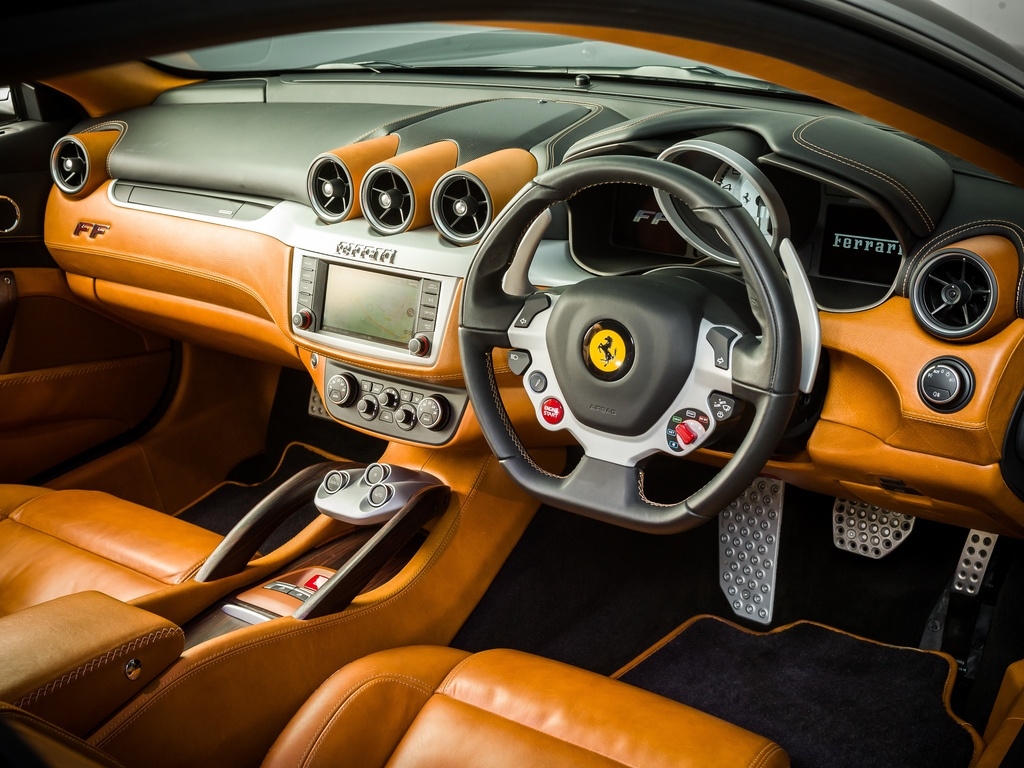 We love this car, with the special interior and special options on the exterior. The painted coach line around the side vent is particularly a great choice. Check out the Gallery, and let us know what you think in the comments section below.
The car is available at Dick Lovett, Ferrari. Be Quick!