Which manufacturer can be credited with inventing the 'hypercar'? Some would argue McLaren, with the legendary F1, others Bugatti and the Veyron, but for many, it's a small Swedish manufacturer that made its first road-legal car in 2002. We are talking, of course, about Koenigsegg, a company that took the bull by the horns and entered a tight market with some sensational models, beginning with the CC8S, and going worldwide with the utterly stunning CCX in 2006. 
Many extravagant models followed, setting world records for outright speed and acceleration along the way, but up until now all have been two-seaters. The Koenigsegg Gemera changes all that. Sleek and beautiful, and with the trademark Koenigsegg design cues, the Gemera is billed as 'The World's First Mega-GT'. Pretentious that claim may be, but we're not going to argue.
Easy Access
The Koenigsegg Gemera intends to allow the driver to share the experience of a mid-engine, super-powerful hypercar with 'family and friends' and is a full 4-seat coupe. Long doors and no b-pillars mean easy access to front and back, and the stunning exterior design is an exercise in style and aerodynamic principles in one swooping shape. The front features the usual intakes under the nose, deeply sculpted sides make for perfect airflow into the rear air intake and scissor doors are another Koenigsegg speciality.
Inside, the quality of the cabin is simply outstanding with a choice of glorious coloured trim, graphics and touchscreens on the steering wheel, and everything needed for comfort and safety, with ergonomics given attention both front and rear. It's a design masterpiece for the 21st century, and will surely influence others.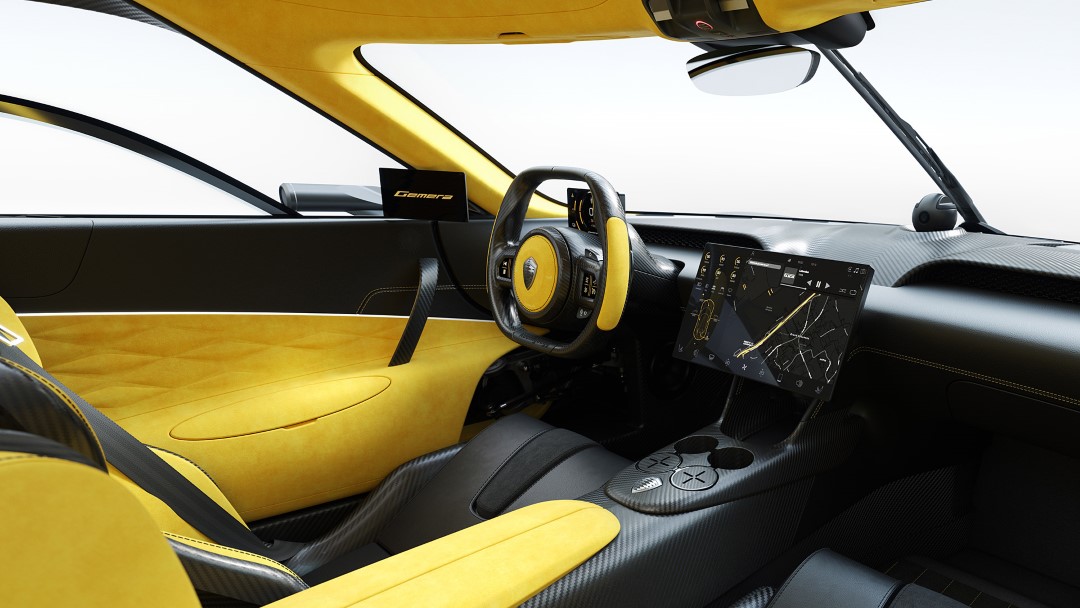 Drivetrain and Performance
It's what powers the Koenigsegg Gemera that is perhaps most astonishing: who would have expected a Mega-GT with a 3-cylinder engine? We had a second glance at that, too. Let us introduce the 'Tiny Friendly Giant'. No engine has ever been given a name such as this before! Yet the name is apt. The petrol engine is a 2.0litre twin-turbocharged example, developed in conjunction with Koenigsegg's sister company Freevalve, developing 600hp. That's not a lot for a Koenigsegg, is it?

Then you have three separate electric motors; one powering each rear wheel, the other for the front wheels. This is an all-wheel powered, all-wheel steering car. The combined output of the ICE and electric motors is a simply unbelievable 1700BHP. One thousand seven hundred brake horsepower. Let that sink in for a moment.
Th electric motors can be used separately, the petrol engine also, and a maximum range with all is a potential 1000km. We could wax lyrical here about the safety features, driver aids, handling and so on – put simply, all is that you would expect from a Koenigsegg, and the company is already regarded for safety, quality and handling proficiency. But you want to know how fast it goes.
It's fast. Extremely fast. With all motors spooling, you can reach 249mph (401km/h). If you want to get away quickly, you can reach 62mph (100km/h) in a mere 1.9seconds. This, from a car that seats four in comfort. One extra thing: it has cup holders, too. Eight of them, which can be set to cool or heat. 
Every time we visit the website, the temptation to hit the 'I'm Interested' button is strong. The price? $1.9million (about £1.5m) is the figure being mentioned. If there is one car that deserves the description 'mad but wonderful' then the Koenigsegg Gemera is it.
Koenigsegg Gemera Images Gallery
Images Copyright of: Koenigsegg