The most anticipated SUV of the year is the Ferrari Purosangue, which will be released in September 2022. Ferraris are well known for their superior performance, and it is expected that the Ferrari SUV will outperform its rivals. But how fast will it be?
0-100km/h is achieved in 3.3s and a top speed of 193mph is the official performance figures for the V12 Ferrari Purosangue. Official performance figures have now been released. These are the minimum performance figures that the Ferrari SUV must achieve as it will go head to head with the Bentley Bentayga Speed, which has a W12 engine and achieves these figures.
But the exotic SUV market has been booming, and Ferrari is late to the market with at least 7 direct competitors to contend with. As good as the Ferrari Purosangue will be, we don't expect it to be the fastest. That crown currently sits with Aston Martin and will probably remain there for a while.
Which is the Fastest SUV available today?
The Ferrari Purosangue V12 will be quick, no doubt. But they are late to the party with Porsche for example on their 5th version of the Porsche Cayenne SUV. Bentley and Lamborghini have benefited from being part of the same Volkswagen and Audi family, so share many components and design features.
Ferrari in comparison is not part of a larger parent group, and so had to learn how to make the perfect SUV handle perfectly. They had to do everything in-house, opening the risk to have major shortcomings in the first release. 
As can be seen in the table below most competitors are V8-powered, and there is only one major competitor in the 12-cylinder line-up. That is the Bentley Bentayga Speed W12. Performance is impressive with a Top Speed of 190 mph, and a 0-100 km/h time of 3.8 seconds.
Ferrari Purosangue performance and it's competitors
| | | | | | |
| --- | --- | --- | --- | --- | --- |
| Make | Model | Engine | Engine Power (PS/HP) | 0-100 km/h (0-62 mph) | Top Speed |
| Aston Martin | DBX | Twin Turbo V8 | 550 | 4.5 s | 181 mph |
| Aston Martin | DBX707 | Twin Turbo V8 | 707 | 3.3 s | 193 mph |
| Bentley | Bentayga | Twin Turbo V8 | 542 | 4.4 s | 180 mph |
| Bentley | Bentayga Speed | W12 | 626 | 3.8 s | 190 mph |
| Ferrari | Purosangue | V12 | 725 | 3.3 s | 193 mph |
| Lamborghini | Urus | Twin Turbo V8 | 641 | 3.6 s | 190 mph |
| Lamborghini | Urus Performante | Twin Turbo V8 | 657 | 3.3 s | 190 mph |
| Porsche | Cayenne Turbo GT | Twin Turbo V8 | 640 | 3.3 s | 186 mph |
It is hard to believe that SUVs are now producing that insane performance figures, but the Bentayga Speed is not the fastest. That crown sits with Aston Martin and their DBX707, so called because of the 707 hp powerplant.
It achieves a 0-100 km/h time in a remarkable 3.3 seconds and a top speed of 193 mph. To put that into perspective it is 1.4 seconds faster and only 6 mph slower than the mighty Ferrari F40.
It is clear that the Aston Martin DBX707 is the one to beat, but that will be done with the future models of the Ferrari Purosangue that will come.
Which engines will the Ferrari Purosangue come with?
The Ferrari Purosangue is expected to be launched with a V12 engine and is likely to be one of the last Ferraris to be available in the V12 format. Carbon emissions and green targets will mean the V12 will soon be assigned to the history books, but Ferrari is keen to launch their first SUV with a legendary Ferrari V12.
However fairly soon afterwards it is expected that the Ferrari Purosangue will be launched with more efficient engine options. The first to arrive is likely to be a V8 twin-turbo engine which will have less power but will benefit from being lighter weight. The performance figures will probably be better than the V12 engine, although it will have a slightly lower top speed.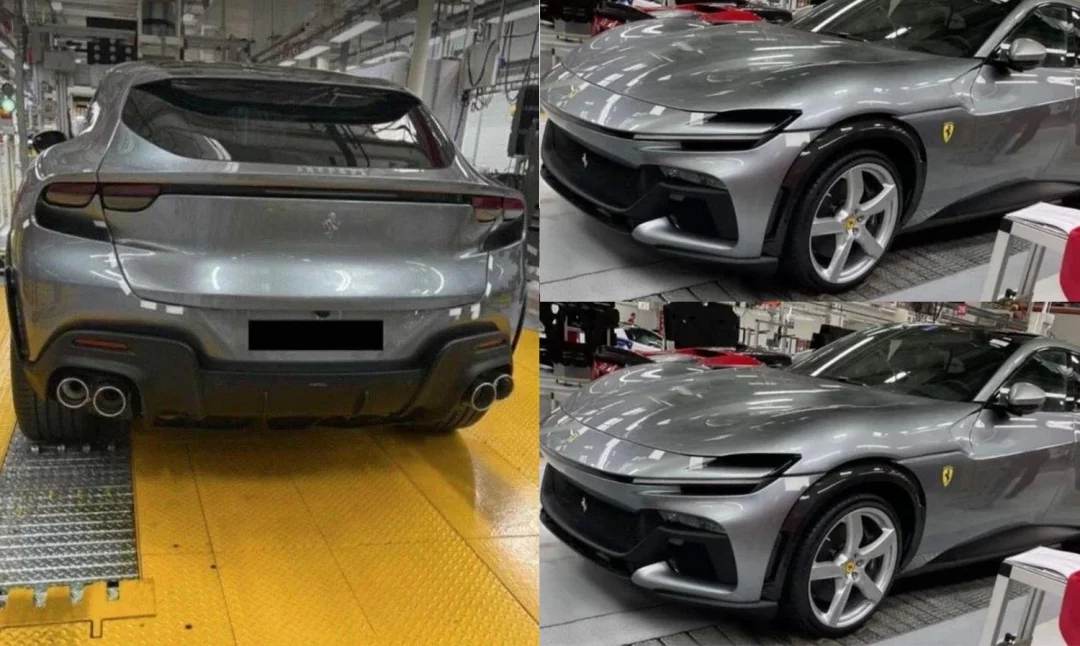 Will Ferrari make a Hybrid Purosangue?
Shortly after the V8 will be a V8 twin-turbo + hybrid model which will likely be slightly down on performance due to the extra weight from the batteries. However, on the plus side, it will still be quick since the electric motors will remove any turbo lag giving the feeling that this is a non-turbo car.
Will Ferrari make a faster Purosangue SUV?
Around the same time as the first Hybrid SUV, we are also likely to see the release of the Ferrari Purosange V8 Scuderia, an ultra-performance model of the SUV. The goal of this car will be to beat the Aston Martin DBX707 and take the crown as the fastest SUV on the market. The whole car will be lighter in weight, and performance and handling will be enhanced. This will be the swan song from Ferrari for the petrol-only driven SUV, with future models being Hybrid only.
When will the Ferrari Purosangue be launched?
We know that the Ferrari Purosangue SUV will be launched in September 2022, and pre-release production will start in October 2022. However, we also know those customer deliveries will not start until Q1 2023.
Traditionally Ferrari has launched cars in left-hand drive guise first, and then right-hand drive cars followed after 6 months. The SUV will follow the same path, with the first cars going to the Italian and US markets initially.
However, the world has changed and Ferrari has significant demand from emerging markets like China and the Middle East, which both have a high demand for SUVs. A Ferrari built as an SUV that can be used as a daily driver will certainly be an irresistible combination!
Ferrari is likely to ramp up its production in 2023 for another reason. Ferrari is now a listed company on the NYSE, and investors will want to see significant returns from a highly lucrative SUV model. 
The share price for Ferrari has dropped 30% in 9 months and Ferrari will be under pressure to show greater returns than ever before. The chart below shows the peak for Ferrari NV stock in Nov 2021, and a relatively high-demand SUV has the potential to bring significant revenue and profit to the shareholders.
To show a comparison, Lamborghini launched the Urus in 2018 and to date, over 4 years they have made 20,000 units. That's roughly 5,000 units per year. Investors will have their eyes on this. 
Assuming Ferrari makes a similar number of the Purosangue SUVs per year, They will see a 55% increase in production going from 9,000 units to 14,000 units per year. That's a cool $1.5bn extra revenue per year!
It's clear that the Ferrari Purosangue is going to be one of the most important models that Ferrari has ever made, and likely to become one of their highest production models by volume. The key question for investors is can It outsell the Lamborghini Urus? Time will tell.