Close your eyes and think of Ferrari. The images that come to mind for most will be something like perfectly apexing the corner of a racetrack, or blasting down a coastal road, or even perhaps opening your garage to uncover your imaginary collection. Whatever it is you are thinking of, chances are you didn't think about the school run, or even getting it slightly dirty. But that is exactly what they want you to do with the Ferrari FF.
Note: SupercarTribe.com is not affiliated with Ferrari SPA.
Back in 2007, the Ferrari 612 Scaglietti was about half way through its production life, and Ferrari were busy at work on the replacement. The 612 and previous 2+2s were really larger versions of the 2-seater models, extra seats and slightly larger boot space for long trips. Most owners would simply not think to use them every day, as they were still very special cars, for special days.
But someone at Ferrari thought it would be a good idea to rip up the brief and design something that on paper seemed to be a polar opposite. This Ferrari was to be something that would be usable, and an everyday or only car if needed. You would never attempt that in an F40 for example.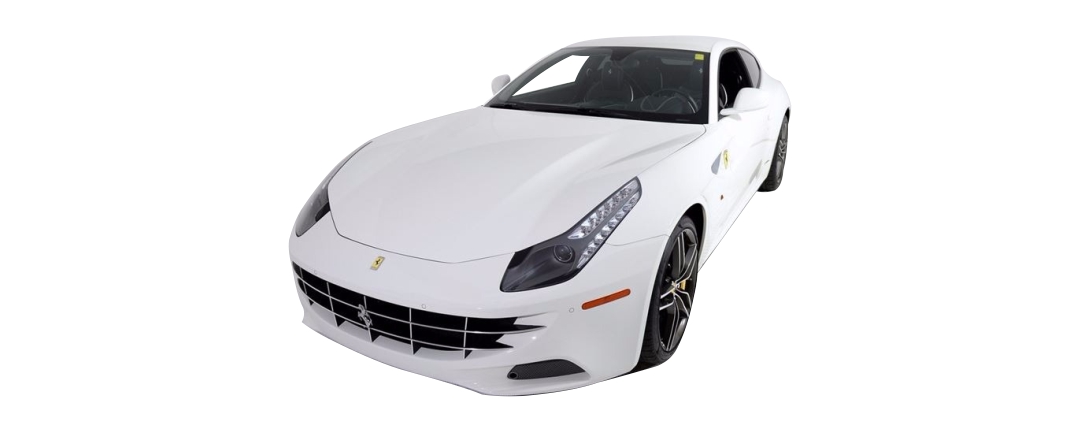 Ferrari took a brave step, but a calculated one as their customers were telling them they wanted. It seemed four adult sized seats, a larger boot, and more importantly they wanted all weather capability. You can see the problem with the Ferrari FF. Back in 2007 this was an anomaly.
Ferrari had always shied away from a 4×4 system insisting that it would always compromise the car. The 4×4 drivetrain typically requires the engine to be raised, meaning a higher centre of gravity and that's not good on road or track. But that didn't stop Ferrari and what they ended up designing was a clever solution, a car with two gearboxes for each sets of wheels.
The result was better than it must have sounded in the brief, a car that was more special than the 612 Scaglietti, and more usable than any Ferrari that came before. We have a car with a V12 up front, with four-wheel drive underneath, and that can be driven in anger in the snow. The Snow King.

For Friday Drool today we have a stunning example of the Ferrari FF, for sale in the US by Ferrari of Houston & Ferrari of The Woodlands. The Exterior is finished in Bianco Avus, or white to those not in the know.  Here is what they have to say about it:
Ferrari of Houston& Ferrari of The Woodlandsoffer our 2016 Ferrari FF as Ferrari Approved Preowned. 
Arriving from the original Newport Beach owner, this 2016 in Bianco Avus features an impressive option list with Ferrari warranty through 2/2019 and Ferrari 7 Genuine Maintenance through 2/2023.
Perfect Carfax and Auto Check reports, with all services up to date. This versatile four-seat V12 has a loyal Ferrari following and provides an exceptional sports car value in today's market. In Houston, we have experienced that the biggest advocates for FF are the current owners and many of our preowned FF sales are direct referrals.
BIANCO AVUS EXTERNALS
NERO INTERNALS
APPLE CARPLAY
YELLOW BRAKE CALIPERS
FRONT GRILLE WITH CHROMED EDGE
PAINTED DASH INSERTS (ESTERNO VETTURA)
HORSE STITCHED ON HEADREST (BIANCO)
INSTRUMENT PANEL GIALLO
SCUDERIA FERRARI SHIELDS
DIAMOND PATTERN STYLE SEAT
INN/OUT ELETTR.MIRROR+HOMELINK
INNER ALCANTARA SEAT INSERTS
20″ FORGED DIAMOND RIMS
SPECIAL FEATURES
COLOURED SPECIAL STITCHING (BIANCO)
TYRES PRESSURE MEASUREMENT

Some cars need a whole load of fancy colours and spec to stand out, but we love the simplicity of the spec on this car. The white over black really suits the car, as does simple things like the chrome grill and the forged diamond rims. At time of writing this car was advertised for $209,995, which is a great price for the mileage.
Readers on here will know that I've been in the market for a long time for an FF, but the fear of Mrs R has put a stop to that one. I wonder if I can persuade her to use this one for the school run… One can wish!
The car is available at Symbol Cars Inc, Official Ferrari Dealers