The Ferrari 812 Superfast is the latest of the marvellous models to be released through the gates of Maranello, and was the replacement to the Ferrari F12. Released in 2017, the Superfast set very high expectations, and there was no way that the car could fail to deliver, especially with a name like that. Earlier this year the motoring press were handed the keys to the 812, and despite the F12 being a formidable car, the new car beat it in every tangible and intangible way. The result was unanimous, a new bar had been set.
Note: SupercarTribe.com is not affiliated with Ferrari SPA.
Slowly cars have started to trickle to customers, with the very best clients given priority by being placed on a special list. To be on this list you had to have purchased multiple cars from the factory, kept a good relationship with factory and dealer, and of course have been willing to give a deposit long before a car was produced. But then as with all Ferraris made today, every aspect of the car was customisable.

We wrote about the 812 Superfast back in November, and it was one of our most read Articles to date. Clearly the fans out there love it too, but what really surprised me was how much better in the flesh it looks compared to the pictures. I was not an instant fan, but after seeing it up close in September I have to say it looks better. Much, much better.
So, for such a great car why would someone want to sell it? Back in the early 90's speculators nearly killed Jaguar with the XJ220, buying the car without intending to ever drive it. The practice has always followed low production models, or hard to find cars so it's no surprise that cars have finally started to make it to the grey market. Therefore, if you can afford the premium, you can beat the multi-year queue and get the car today! Sounds good I'd say.

This is one of the first 812's to come to market. I know of another that came some weeks back and was sold within a week. So as far as I am aware this is No 2. The car has just come for sale at House of Cars, in Dubai. Here is what they have to say about it:
2018 FERRARI 812 SUPERFAST3 YEAR WAITING LIST FOR THIS MOST AMAZING CAR6.5 LITRE V12 789BHP,
NEW DESIGN APPTECH RIMSDUBAI SUPPLIED CAR WITH OPTIONAL NUMBER PLATE 350K
WITH 3 YEARS WARRANTY AND 7 YEARS SERVICING
BLACK WITH BLACK AND RED INTERIOR AND CARBON FIBRE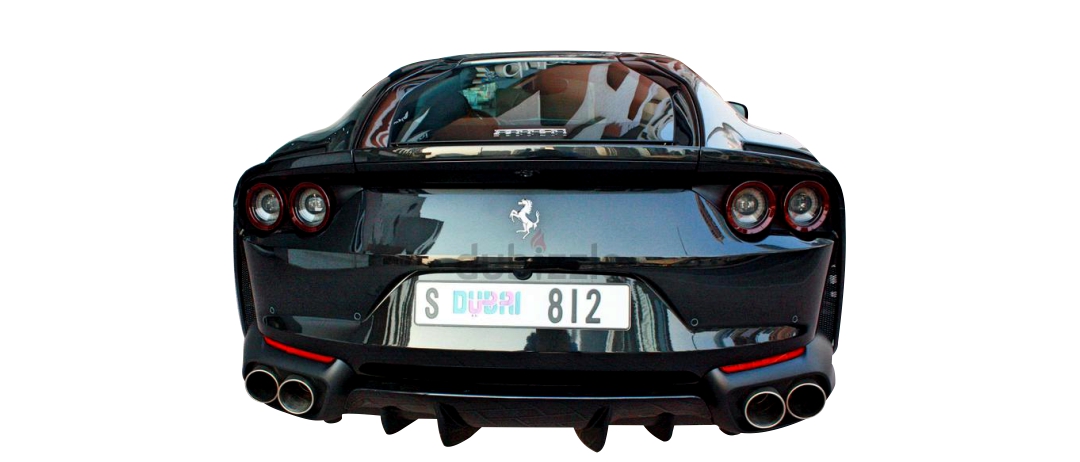 Not a huge amount to go with, but I guess you don't need to sell a car like this. It's a great specification though, nothing outrageous, just very classy. It's priced at 1,875,000 AED ($510K/£381k) it has a wedge of a premium attached. Based on the sale of the first 812 that came to the open market, I would say that this will sell quickly. Very quickly indeed.
Source: House of Cars