There is an old saying in Britain. You wait ages for a bus, and then two arrive at the same time. Seems to be the same with Gooding & Co, where 4 beautiful classic Ferraris will come to auction in January. We already sense that 2018 is going to be a great, record breaking year.
Note: SupercarTribe.com is not affiliated with Ferrari SPA.
But these are not just any models, as David Gooding points out. "One of the greatest partnerships in automotive history is that of Carrozzeria Pinin Farina and Ferrari," notes David Gooding, President and Founder of Gooding & Company. "These timeless Ferraris exemplify some of the most valuable and spectacular results of this famed collaboration between automaker and coachbuilder."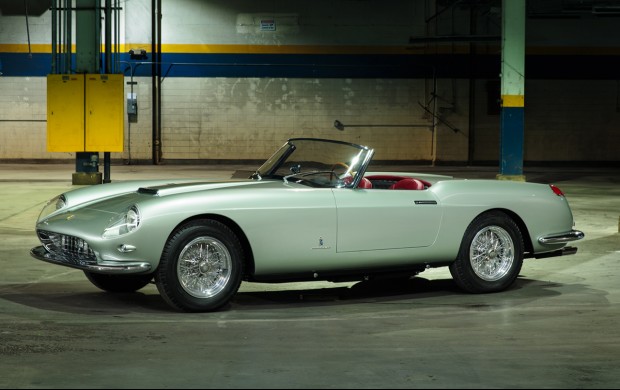 The highlight of the show will be the 1958 Ferrari 250 GT Series I Cabriolet, with an estimate of between $7,000,000–$8,500,000.
Between 1956 and 1959, Carrozzeria Pinin Farina produced a series of 41 special Cabriolets for Ferrari's most important clients, each exquisitely designed and constructed, on Ferrari's 250 GT chassis. The Series I Cabriolet has long been regarded as one of the most successful collaborations between Ferrari and Pinin Farina and, by all accounts, is a true masterpiece of the coachbuilder's art. The Ferrari presented here, chassis 1079 GT, was displayed on Ferrari's stand at the 1958 Torino Motor Show, and was pictured in that year's official Ferrari Yearbook. Originally sold to the prince of Saudi Arabia, the Series I Cabriolet would go on to be owned by respected collector John Clinard for more than 40 years. During his ownership, he displayed the car at numerous prestigious events, including the Pebble original livery of Grigio Conchiglia with red leather upholstery. This special coachbuilt 250 GT has been certified by the Ferrari Classiche department, and its history has been documented by Ferrari authority Marcel Massini.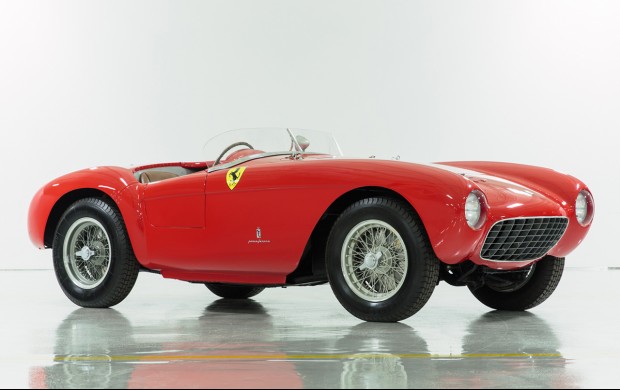 Next of note is the beautiful 1954 Ferrari 500 Mondial Series I, with an estimate of $5,000,000–$5,750,000.
The 500 Mondial was the first Ferrari four-cylinder sports racer that utilized the two-liter Lampredi-designed engine developed from the World Championship-winning 500 F2. This beautiful Pinin Farina-bodied Spider, chassis 0434 MD, was sold new to race car driver Herman Roosdorp through famed dealer Garage Francorchamps. Roosdorp and second owner Hans Maasland successfully campaigned the car at numerous races between 1954 and 1956. The 500 Mondial has since been owned by many prominent Ferrari collectors and Miglia Retrospective. A highly regarded example retaining its original engine, 0434 MD is surely among the finest examples of this rare breed of sports racing Ferrari.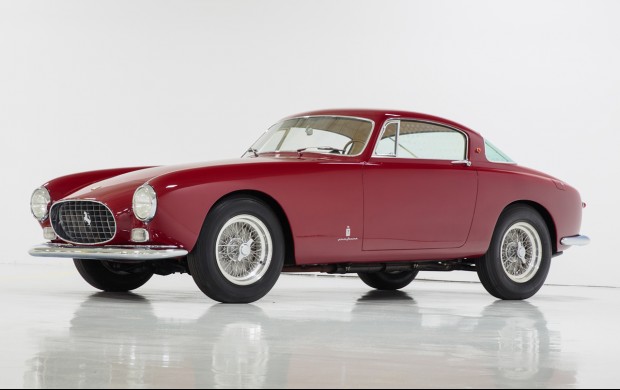 Third to mention is a 1954 Ferrari 250 Europa GT, with an estimate of between $1,600,000–$2,000,000.
Introduced in 1954, the Ferrari 250 Europa GT featured handsome Pinin Farina coachwork and a robust three-liter V-12 engine developed by Gioacchino Colombo. This particular example, chassis 0379 GT, is unique among the series for its distinctive rectangular driving lights, decorative chrome trim, and unique interior appointments. This car debuted on the Pinin Farina stand at the 1955 Torino Motor Show and was sold new to a prominent cinematographer in Rome. Today, the car is presented in the classic color combination of a deep red over a tan leather interior. A fixture in a major collection for the past two decades, this Europa GT is being offered at auction for the first time in its history, making this an exceptional opportunity to acquire a singular coachbuilt Ferrari.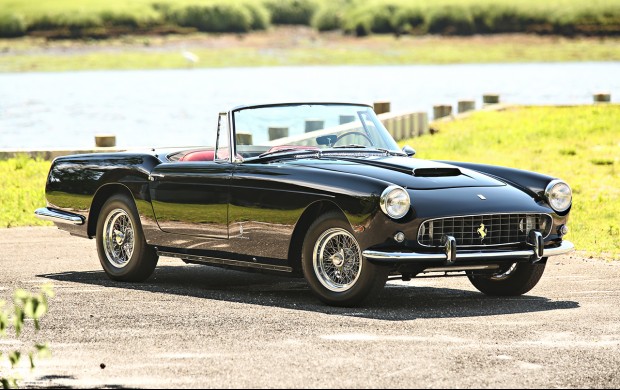 Final car of note is a 1961 Ferrari 250 GT Series II Cabriolet, with an estimate of a mere $1,500,000–$1,800,000.
The 250 GT Series II Cabriolet was the final evolution of open-top models in Ferrari's 250 line. It benefited from technical advancements that added to its overall driving experience, such as disc brakes and the latest iteration of the Gioacchino Colombo-designed 60o three-liter V-12. The Ferrari presented here, chassis 2341 GT, was sold new to its first owner, American film and television actor Gordon Scott, perhaps best known for his work as the lead in several Tarzan films. The car was comprehensively restored in 2010 and meticulously refinished in the sporting and bold color combination of black over a red leather interior. It is complemented by a canvas soft top and detachable hardtop. Rare and possessing the desirable attribute of a matching- numbers engine, this Series II Pinin Farina cabriolet is among the most elegant and attainable open-top Ferraris of the era.
Images Copyright of Gooding & Co
We will be carryout out a full auction preview and post mortem for all 26 cars. Subscribe below to know when those articles come out.