I remember when the Ferrari 550 Barchetta came out back in 2000, I just didn't get it. I loved the 550 but the idea of a 550 "without a roof" just didn't make sense. When I say without a roof, let me explain. Spiders were not new to Ferrari, and at the time they were making the beautiful F355, a car that within a short period could have the folded roof raised to protect the occupants. The concept of the Barchetta was very different, with a hanky being employed to keep the rain out.
Note: SupercarTribe.com is not affiliated with Ferrari SPA.
The roof structure was in comparison fiddly, required attaching, and needed a partner in doing so. This was not the type of car you use to show off your latest haircut in, and then at the slightest sign of adverse weather put the roof and heating up. What's more, the roof itself had a Ferrari imposed speed limit. Travel over 70mph and you might arrive at your destination, minus said roof. At the time, I was younger and not a Ferrari owner and couldn't image driving at less that 70mph if I owned one!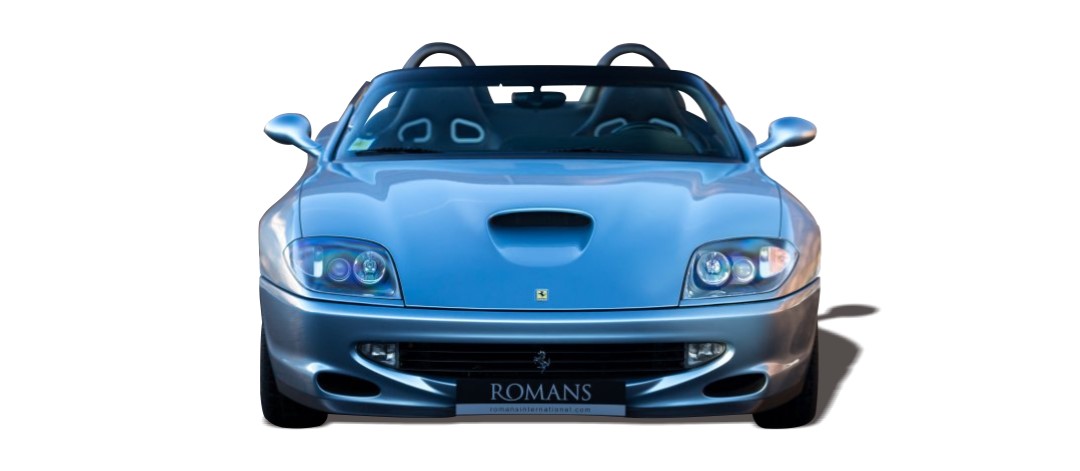 It just didn't make sense to me. A car without a roof, and one you had to drive slowly. But over the years I realised that it was not the car that had a problem, but me. What I wanted from a Ferrari was something that I could use every day, in all conditions. Something that would be special, but usable like other cars I owned. This car was not that. The Ferrari 550 Barchetta is so much more.
For starters when they built the car, the design was not compromised in any way. The 550 is a great looking car, but the Barchetta is beautiful from every angle. There was no need to raise the boot line to accommodate a folding roof, and that is why it looks better than the 550 Maranello. Indeed, that is why it looks better than the later Ferrari 575 SuperAmerica.
The open roof without obstructions, also means not only is it visually better, but aurally it's one of the best. Sound is often restricted for the driver and passenger, and removing a roof opens that up. But with the Barchetta, other than the rear hoops there is nothing to restrict the sound. Now you can experience all 12 cylinders in their full interrupted glory.

Clearly this car was not made for the wet and windy streets of London. It was made for the type of epic trips that memories are made of. Soaking in the sun in the South of France. Driving down Highway 1 from San Francisco to Los Angeles. This isn't the Ferrari you take out for the fun of it, it's the one to experience "That" drive.
There were only 448 examples of the Barchetta ever made, and this is number 140. Quite a rare car then. But this one is unique, because despite being 16 years old, this one has had only 1 owner and gathered only 541 miles on the clock. We found the car at Romans International, based just outside London. Here is what they have to say about it:
Romans are delighted to offer this World Class 2001 Ferrari 550 Barchetta Pininfarina for sale presented in 'Grigio Alloy' with Nero Leather Interior. This special 1 owner all original example has only done 541 Miles and is number 140 of 448 cars worldwide which means it falls within the first half of cars produced. This car is Fully Ferrari Classiche Certified by Ferrari and comes with everything you would expect from such a spectacular car from the 2 unused matching open face Ferrari helmets which are in impeccable condition along with their matching Ferrari helmet bags. Furthermore, the car retains a set of spare keys, all original book pack, convertible top, tyre pump kit, tool kit, number plate brackets and a reflective roadside triangle.
Previously owned by a director of Ferrari, it was housed in a significant collection of modern Ferrari's where the car's stablemates included an F40, F50 and Enzo. Serviced by Motor of Modena in late 2015, the car was acquired in spring 2016 and was imported to the UK. Finally, this car was recently serviced in August 2017 which consisted of a cambelt change amongst other items.
Regardless of the small distance it has travelled over the course of its life, this is a truly rare opportunity to own one of the best Ferrari 550 Barchetta's in the world that is in a phenomenal condition and carries great potential for future appreciation in value. It represents a fine chance to acquire a limited production yet usable modern Ferrari model, which has become increasingly desirable among collectors and enthusiasts. With its fantastic manual gearbox and enchanting V12 engine, the 550 Barchetta could be considered the pinnacle of modern open air Ferrari's. This car is physical and available to buy today and deserves to be in the very best collections anywhere in the world.
Extras
18″ Split Rims, Large Racing Seats In Nero With Carbon Fibre Backing, Becker 6 Disc Changer, Nero Carpets, Fully Ferrari Classiche Certified, Matching Unused 2 Open Face Ferrari Helmets, Convertible Top, Tyre Pump Kit, Tool Kit, Recently Serviced, Previously Owned By A Director Of Ferrari, 1 Owner From New, Number 140 Of 448 Cars Worldwide, Low Mileage, Fastidiously Maintained, UK Registered, Great Investment, Impeccable World Class Example!
Features
Carbon Fibre Instrument Cluster, Carbon Fibre Centre Console, Carbon Fibre Gear Knob, Carbon Fibre Door Sills, Leather & Carbon Fibre Steering Wheel, Scuderia Shields.

But what is it like to drive? Well here is the view of one owner.
"When I had my car I was constantly looking up at the sky but it was a great car and even better with the Tubi's. I had one of the drives of my life in that car, on a warm summers night driving through the old town going flat out with the exhaust note echoing off the tall old buildings. My son who I had picked up was shaking with excitement when we got home, and I had a grin for a week."
He should know what he is talking about. He has a collection.
Don't forget to check out our videos at the bottom.
This car is currently available at Romans International.