Ferrari Portofino – Key Details
The Ultimate Guide to the Ferrari Portofino
Ferrari Portofino – Photo Gallery
Ferrari Portofino – Technical Specifications
Ferrari Portofino – Registry & Videos
Ferrari Portofino – Key Details
| Ferrari Portofino | Detail |
| --- | --- |
| Launched: | 2018 |
| Engine: | V8 |
| Power: | 600 hp @ 7,500 rpm (447 kW) |
| Torque: | 561 lb·ft @ 3,000 – 5,250 rpm (761 N·m) |
| Top Speed: | 320 km/h |
| 0-62 mph (0-100 kmh): | 3,5 s |
| Replaces: | Ferrari California T |
| Fiorano Lap Time: | TBC |
| Did you know: | TBC |
The Ultimate Guide to the Ferrari Portofino
GOODBYE CALIFORNIA, CIAO PORTOFINO!
EVERYTHING WE KNOW ABOUT FERRARI'S NEW ENTRY-LEVEL GT CAR
With the introduction of the new entry-level model called the "Portofino," Ferrari has banished the old "California" name from its model line-up. While there was nothing wrong with the previous car's name, "Portofino" draws closer to Ferrari's roots, being the name a gorgeous Italian seaside village just North of Pisa. It's no wonder the carmaker is distancing the new model from the old one either, as the Portofino boasts a whole host of improvements over the California T it replaces.
Power is provided to the hard-top convertible via the same twin-turbocharged 3.9-litre V8 used in the California T, now tweaked to produce a stout 592 bhp, or about 40 more than in the old model. Expect 62 mph to arrive in a rather brisk 3.5 seconds as the car continues to accelerate all the way up to 199 mph. Ferrari claims that the new Portofino weighs a substantial amount less than the California T, although they have not divulged exactly how much lighter the new car is. The increased power and reduced weight combined with an all-new chassis with greater rigidity promises to give the new model more electrifying performance than the old car.

Somewhat controversially, the Portofino will be the first Ferrari GT car to use electric power steering. Other performance features include Ferrari's E-Diff 3 limited slip differential and magnetorheological dampers that aid both comfort and responsiveness.
Stylistically, the Portofino was clearly influenced by its big brother, the 812 Superfast, as both cars have similar snarling grins, but this has a folding hard-top arrangement. The L-shaped headlights appear to have been influenced by those on the 488 GTB as they share a very similar shape. Climb inside and you will notice a huge 10.2-inch infotainment touchscreen as well as two back seats with 50mm more legroom than in the California. Even with the added room, Ferrari still describes the back seat as only suitable for short trips, so don't expect limo-like accommodations back there. Driving at speed with the top down, Portofino owners should appreciate the 30% reduction in interior airflow compared to the outgoing car, thanks to a new wind deflector.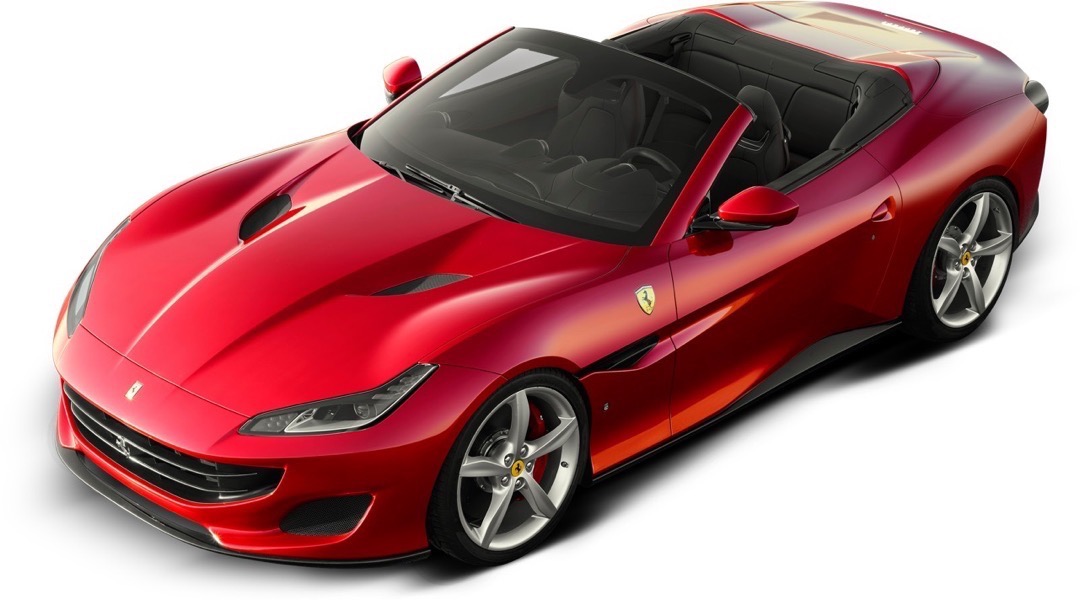 Expect Portofinos to start arriving in owners' driveways sometime in early 2018 for most of Europe, while British and American markets will have to wait until summer of 2018.
Ferrari Portofino – Photo Gallery
Ferrari Portofino – Technical Specifications
| Technical Specification | Detail |
| --- | --- |
| Performance | |
| 0-100 km/h | 3.5 s |
| 0 -200 km/h | TBC |
| Max. speed | 320 km/h (199 mph) (manufacturer) |
| Engine | |
| Type | V8 |
| Overall displacement | TBC |
| Max. power output* | 600 hp @ 7,500 rpm (447 kW) |
| Max. torque* | 561 lb·ft @ 3,000 – 5,250 rpm (761 N·m) |
| Dimensions & Weight | |
| Length | 4,586 mm (181″) |
| Width | 1,938 mm (76″) |
| Height | 1,318 mm (52″) |
| Dry weight** | 1,664 kg (3,668 lb) |
| Fuel Consumption | TBC |
| Co2 Emissions | TBC |
Ferrari Portofino – Registry & Videos
If you enjoyed all this but want more, check out these additional resources.
SupercarTribe Youtube Playlist
If you like this, you'll love these: