Cars that have been owned or used by celebrities always fetch a premium, so when a 1987 Rolls-Royce Silver Spur known to have been used by none other than the late Princess Diana came up for auction, there was no shortage of interest.
The car, finished in beautifully understated green, is not just any Silver Spur – this model being the long-wheelbase version of the Rolls-Royce Silver Spirit – but a heavily armoured version, commissioned by the UK Foreign Office especially for use by visiting VIP's at the UK's Embassy in Washington D.C.
Photographic Evidence
Collectors always want provenance, and 'Bring a Trailer' – the online auction site handling the sale – provided plenty of photographic evidence showing the Princess in the car. She is believed to have used it twice – on October 4th, 1990, when she attended a Royal Gala Evening in Washington, and the next day to be driven to a charity event.
Using the standard, venerable 6.75litre Rolls-Royce V8 engine – a motor that was first seen in original form in 1959 and is still in use by Bentley today – the Balmoral Green Rolls-Royce features a beige leather interior, but it is the special additions to the bodywork that make this an even more unique vehicle.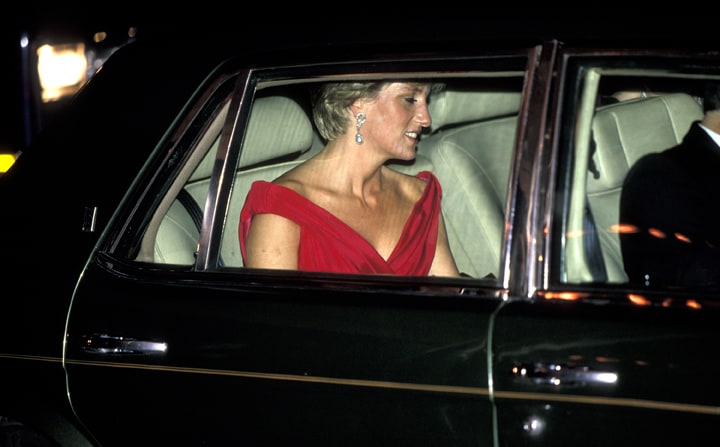 Kevlar Panels
Although the precise build specification is unknown, this Silver Spur was fitted out with steel and Kevlar panels for added protection. The original glass windows have been replaced with protective polycarbonate, and the doors and hinges have also been given extra strengthening.
Cleary, this is a car that was intended for use by persons of the importance and status of Diana, Princess of Wales, and one that attracted no fewer than 11 bidders when it was put up for auction.
Quite when the UK government – the original owners – sold the Rolls-Royce is not known, but it spent some time with an owner in Arizona, and is known to have been bought by a Chicago classic car dealer in 2007.
The armoured, ex-government and ex-Princess Diana Rolls-Royce Silver Spur is a truly unique vehicle, and fetched a price of $45,250 (approximately £35,000 at the time of writing) which we think is a fair price for a vehicle with such an interesting history.
Images Copyright of: Bring A Trailer