The Geneva Motor Show was a hot bed of new cars, and also saw many new concepts unveiled. One of these was shown in the form of a design concept by Aston Martin, and is the third mid-engined design to come out of the factory following the amazing Valkyrie and Valkyrie AMR Pro designs.
The AM RB-003 is already benefitting from the expertise of Red Bull Advanced Technologies, a partnership advanced by Aston Martin's involvement in the Red Bull Formula One team. As a result, much of the technology found on the AM RB-003 will be drawn from F1 concepts.
New V6 Engine
The RB-003 will, according to the concept presented, will be powered by a brand new Aston Martin Hybrid V6 twin-turbocharged engine, and will feature aerodynamics n the vein of the Valkyrie, with large diffusers and underbody sculpting to generate downforce where needed.
Notably, the car will also use technology known as FlexiFoil™, which is designed for future aircraft use. This material, that has been verified and extensively tested by NASA, will create a flexible and variable airfoil over the entire rear wing, and it will be the first car in the world to use the technology. This technology allows for greater efficiency in that the wing will not have to move to create the downforce required, and the drag problems associated with regular wings will be eliminated.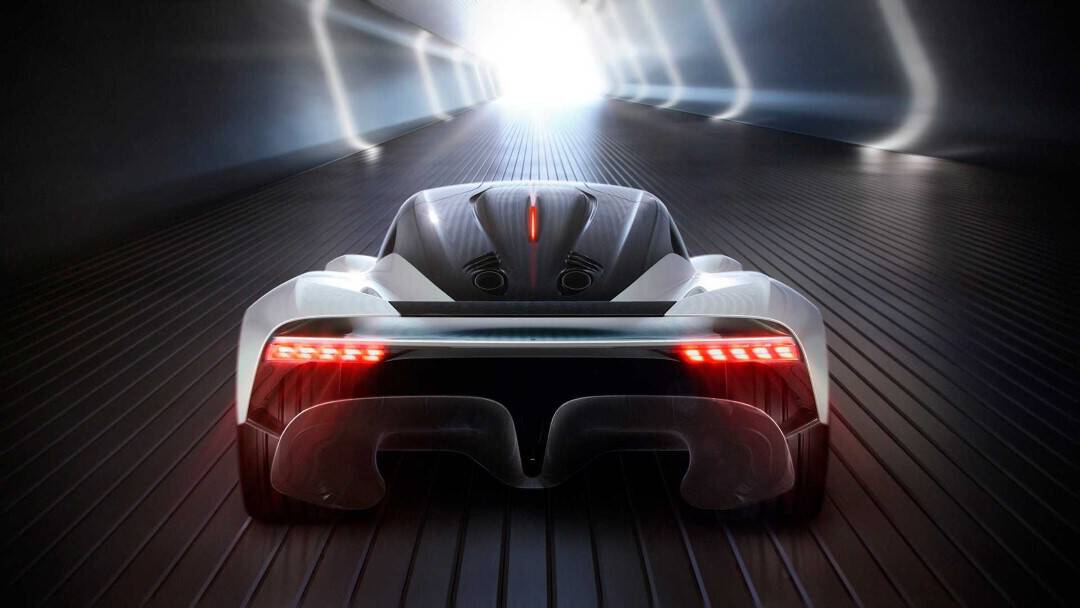 Interior Design
The Aston Martin RB-003 will feature an interior that is designed for rather more comfort than its sister Valkyrie models, with more space and easier access. Every effort has been made to save weight,  by using state of the at design techniques and materials, and the car promises to influence future mid-engined Aston Martins, as Andy Palmer, Aston Martin President and CEO explains:
"When Aston Martin secured the services of Red Bull Advanced Technologies to embark on the extraordinary journey that became Aston Martin Valkyrie and Aston Martin Valkyrie AMR Pro, it was always my hope that it would lead to a long-term collaboration. As these projects enter an incredibly exciting phase with the commissioning of the first running development prototypes, it gives me tremendous satisfaction to confirm that this exceptional partnership is continuing with the AM-RB 003 – a hypercar that not only draws from the ethos and DNA of Aston Martin Valkyrie, but will in turn influence Aston Martin's first series production mid-engined supercar".
Full technical details of the Aston Martin RB-003 will be released as the project progresses.
Images Copyright of: Aston Martin.