Any new Ferrari is a major story, so it is no surprise that one of the main stars of the 2019 Geneva Motor Show is the Ferrari F8 Tributo, the replacement for the much-loved 488GTB.
Sharing many design cues from the car it replaces, and looking quite sensational as a result, the F8 Tributo is more than an evolution of the 488GTB. Indeed, it features the most powerful version of Ferrari's evergreen V8 to be fitted in a production, non-special edition car.
With a massive 710bhp, this is the engine that powered the magnificent 488 Pista, and it makes its presence felt here in no small way. With two turbochargers, the V8 engine harks back to the magnificent 288GTO of 1984, as well as the legendary F40, and it is to cars like these that F8 Tributo is paying tribute.
More Power, Less Weight
In keeping with supercar philosophy, the Ferrari F8 Tributo aims to pack as much power into as lightweight a chassis as possible, and the engineers have managed to shave 40kg off the weight of the outgoing 488.
Performance figures of 0-100km/h in 2.9 seconds and a top speed of 211mph are bang on for what this class of car needs to show, and it delivers this performance with stunning handling thanks to the advanced systems involved.
'Side Slip Angle Control' is just one of the systems on this beautiful car designed to aid the handling aspect, while every effort has been made to ensure exciting and rewarding driving with a set of adjustable performance settings. Put the F8 Tributo in 'Race' mode for example, and it provides performance that makes it 6% faster than the 488GTB out of corners.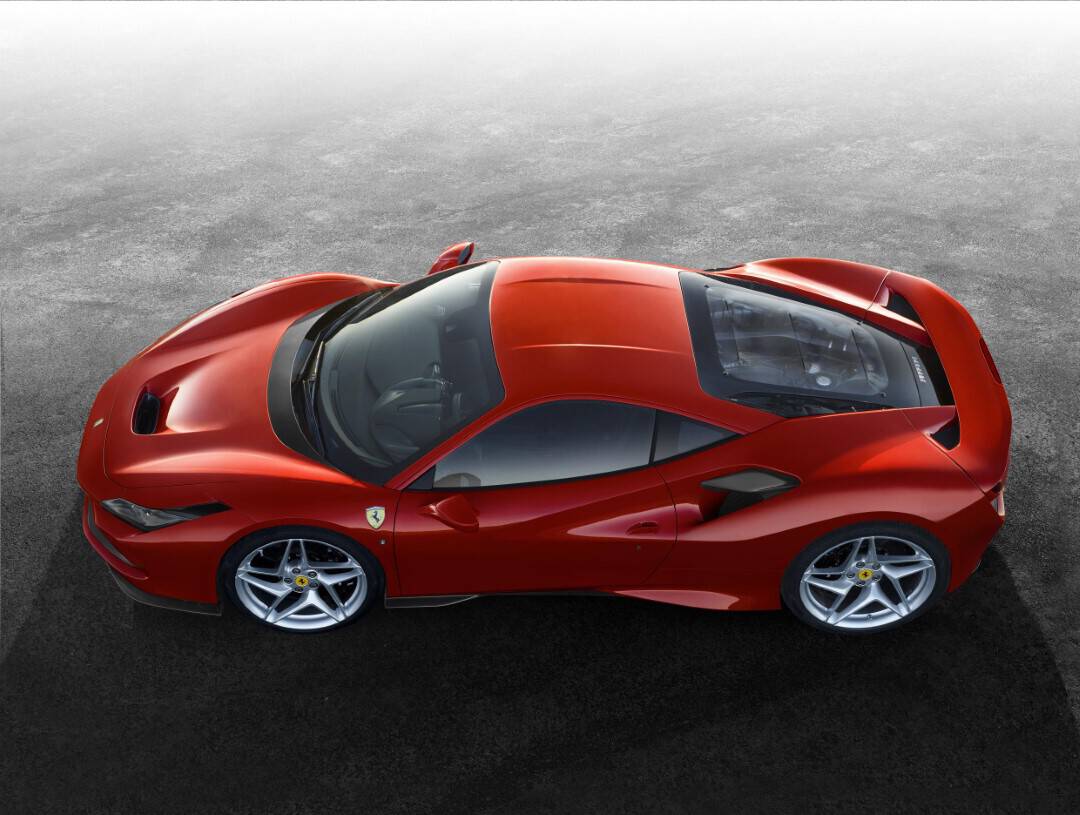 Aerodynamics
Nothing has been left to chance where the aerodynamics of the F8 Tributo are concerned, with the engineering team drawing heavily on experience gained from involvement in the GT and Challenge racing series.
All Ferrari's have some competition blood in them, but in the F8 it goes deeper than most. 10% more downforce than the 488GTB, with no increase in drag, means the F8 Tributo is automatically going to be faster and nimbler than its predecessor, and such an achievement is testament to the brilliance of Ferrari's engineers.
Redesigned air intakes, a reduction in running temperature and many other design and engineering features all make for a car that is very fast, very efficient and fantastic to drive.
Clever underbody design and a blown rear spoiler, developed from that used on the 488 Pista, enables the car to develop even more downforce, and is an innovative touch on a road car.
Class Leader
Clearly intended to be the class leader, the Ferrari F8 Tributo does not veer to far from the looks of the 488GTB, but that's no bad thing as both are very beautiful cars. Sleek, neat and with that touch of aggression that buyers like, this is a car that will continue where the old car left off, as Ferrari's signature two-seater V8.
With a price of £200,000 projected for a standard Ferrari F8 Tributo, this car sets its sights firmly on continuing Ferrari's impressive sales growth over the past few years.
Images Copyright of: Ferrari.