What better way to shake off those Monday blues than to check out this Cabernet Red Ferrari F12 TDF? This spiritual successor to the 599 GTO is sure to liven up the start of your week, no matter how drab the rest of your day is. That's just the kind of effect a car with nearly 800 bhp and costing over £800,000 has on people. With production limited to 799 cars, the F12 TDF is a rare treat indeed, so we had to jump on it when we found this left-hand drive example in the UK.
Employing the same 6.3-litre V12 as the standard F12, the TDF ratchets up the power to 769 horses, compared to the regular F12's 730. The latest in lightweight tech allows the TDF to weigh in at a whopping 110 lighter than the standard F12berlinetta, while a revised 7-speed dual clutch transmission provides 30 per cent quicker upshifts and 40 per cent quicker downshifts. Other changes made to the standard car include larger front tires, active aero, and rear steering; all measures taken to insure the track times are nothing short of breath taking. Flat out, the car will reach 100 km/h in 2.9 seconds, while the top speed is "in excess of" 211 mph, according to Ferrari. More important than the acceleration figures are the lap times, and the TDF does not disappoint on this front, either. This track-focused beast of a car completed a lap of Ferrari's Fiorano circuit a full 2 seconds faster than the F12berlinetta, and a mere 1.3 seconds behind the mighty LaFerrari.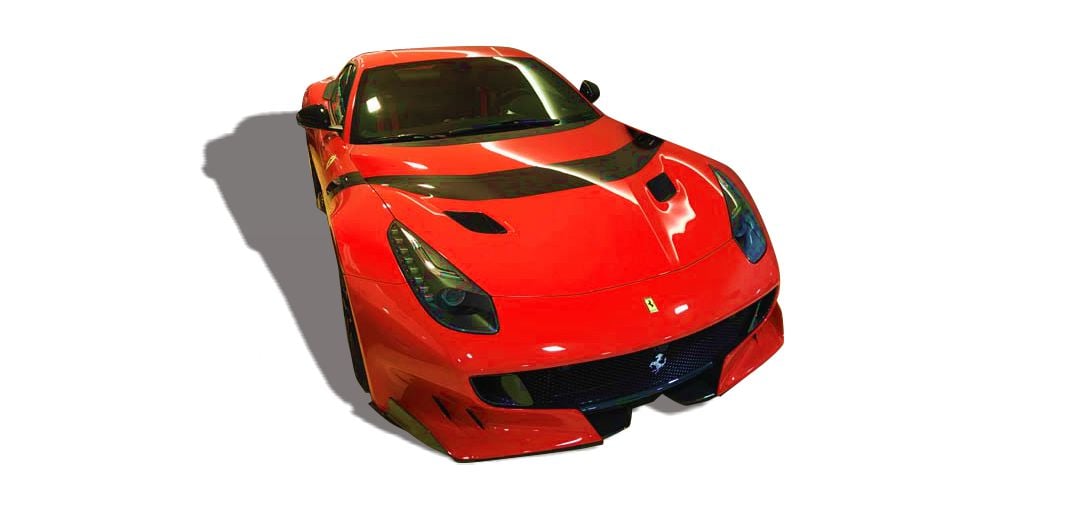 This particular example is listed on the Clive Sutton website. Here is what they have to say about it:
The iconic Tour de France name is resurrected for an extreme version of the F12. Faster, lighter and packed with new technology, it's a mouth-watering proposition. It's got the glamour and inherent balance of a big front-engined rear drive machine, the breathless excitement of a normally aspirated V12 and so many cuts, slashes and aero devices that it reeks of motorsport and technology.
I couldn't have said it better myself; this has to be one of the most exciting Ferraris you can buy today. Of course, the price reflects the rarefied air this vehicle inhabits. At £830,000, I am sure most people will have to take a pass on this offering, but whoever the lucky buyer is will be sure to enjoy what I would consider to be the most well-rounded performance GT Ferrari has ever created.
The car is available at Clive Sutton. Be Quick!