It's not often a car as special as this becomes reality. Normally, outlandish and futuristic concepts such as the Aston Martin V12 Speedster – unveiled at the Gaydon headquarters of the legendary manufacturer on Wednesday, 4th of March – remain as show cars, mere dreams for drivers and examples of what the designer could do if they were let loose. Not so with the Speedster, of which a mere 88 exclusive examples will be made, with a base price of £765,000.
For that, you get a car that has no roof, no windscreen and only two seats – but one that is also utterly unique in concept and approach, and that promises a driving experience that may just be unequalled. This quite magnificent car is powered by Aston's 5.2litre V12 twin-turbo engine, which delivers no less than 700bhp, the Aston Martin V12 Speedster can take you to 186mph – it would be more if it were not limited – and launch from a standstill to 62mph in just 3.5 seconds, putting this amazing car right up there with the very best supercars.
Aeronautical Influence
The Speedster is, Aston Martin states, inspired by the legendary FA/18 fighter jet, and finished in livery of that inspiration looks every inch the part. It's a superb example of the ability of the bespoke 'Q by Aston Martin' division which is dedicated to special designs such as this.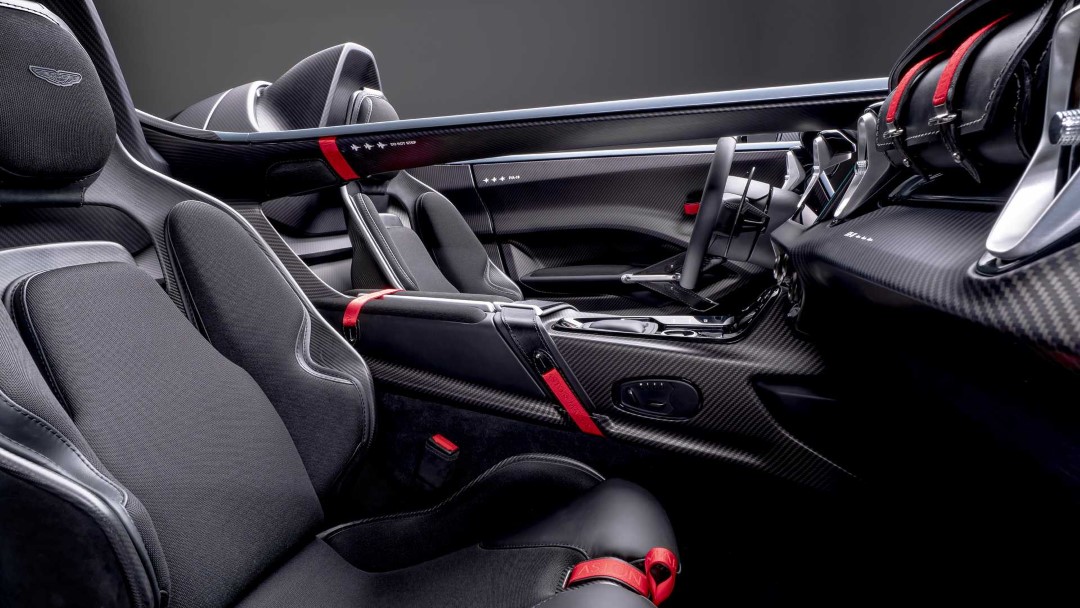 Director of Design Miles Nurnberger adds a historical element:
"With the V12 Speedster we do go back a step and look into our past for inspiration. Since the DB11 launch, everything has been focused and very forward looking. Here though, we find a different tempo. There's clear lineage from the 1959 Le Mans winning DBR1 to our Centenary celebratory CC100 Speedster Concept in 2013."
Regarding the design, Nurnberger explains:
"No roof or screen, a big engine, low, with broad shoulders and exaggerated and emotional styling with twin humps and the spine separating the driver and passenger. The light, low, rear end contrasts with the bold, enlarged grille, unique headlights and bonnet nostril at the front. The bonnet nostril we haven't done in a very long time, but we've brought them back. It's a neat trick visually to allow us to win some space for the V12. It creates this iconic looking vent."
Inside, the 88 lucky owners get a mix of traditional and modern, with carbon fibre partnering leather, aluminium and chrome, but don't expect much in the way of luggage space – even the glove box has been replaced by a removeable bag.
Celebrating a Rich Heritage
Few UK manufacturers have been in the business as long as Aston Martin, and in his comments about the Aston Martin V12 Speedster, CEO Dr Andy Palmer explains:
"Nothing demonstrates Aston Martin's commitment to providing unique, special models to its customers more than the V12 Speedster. The 88 hand-built cars will be sought after by driving enthusiasts and collectors alike all around the world. I'm excited not just about what they offer drivers, but of what it represents. The V12 Speedster not just showcases our incredible engineering capability and ambition, but also celebrating Aston Martin's rich heritage."
We can only appolaud Aston Martin for continuing to push the boundaries with what is one of the most spectacular and original cars to launch for a long time.
Images Copyright of: Aston Martin.