On‌ ‌June‌ ‌18‌th‌,‌ ‌1995,‌ ‌a‌ ‌McLaren‌ ‌F1‌ ‌GTR‌ ‌driven‌ ‌by‌ ‌Yannick‌ ‌Dalmas,‌ ‌JJ‌ ‌Lehto‌ ‌and‌ ‌Masanori‌ ‌Sekiya‌ ‌took‌ ‌the‌ ‌chequered‌ ‌flag‌ ‌at‌ ‌Le‌ ‌Mans,‌ ‌taking‌ ‌overall‌ ‌victory‌ ‌in‌ ‌the‌ ‌legendary‌ ‌24-hours‌ ‌endurance‌ ‌race.‌ ‌It‌ ‌was‌ ‌the‌ ‌first‌ ‌time‌ ‌McLaren‌ ‌had‌ ‌entered‌ ‌as‌ ‌a‌ ‌constructor‌ ‌and‌ ‌three‌ ‌of‌ ‌the‌ ‌other‌ ‌top‌ ‌five‌ ‌positions‌ ‌were‌ ‌also‌ ‌McLaren‌ ‌F1‌ ‌GTRs.‌ 
To‌ ‌mark‌ ‌the‌ ‌occasion,‌ ‌McLaren‌ ‌has‌ ‌announced‌ ‌a‌ ‌limited‌ ‌run‌ ‌of‌ ‌50‌ ‌special‌ ‌McLaren‌ ‌720S‌ ‌Le‌ ‌Mans‌ ‌editions,‌ ‌with‌ ‌just‌ ‌16‌ ‌of‌ ‌the‌ ‌cars‌ ‌earmarked‌ ‌for‌ ‌European‌ ‌sale.‌ ‌The‌ ‌cars,‌ ‌based‌ ‌on‌ ‌the‌ ‌standard‌ ‌720S‌ ‌but‌ ‌with‌ ‌additions‌ ‌such‌ ‌as‌ ‌'Le‌ ‌Mans'‌ ‌logos‌ ‌and‌ ‌dedication‌ ‌plate,‌ ‌plus‌ ‌carbon‌ ‌fibre‌ ‌racing‌ ‌seats,‌ ‌special‌ ‌wheels,‌ ‌and‌ ‌a‌ ‌roof‌ ‌scoop‌ ‌as‌ ‌per‌ ‌the‌ ‌racing‌ ‌cars.‌ ‌Furthermore,‌ ‌the‌ ‌VIN‌ ‌of‌ ‌each‌ ‌car‌ ‌will‌ ‌begin‌ ‌with‌ ‌'298'‌ ‌–‌ ‌the‌ ‌number‌ ‌of‌ ‌laps‌ ‌covered‌ ‌by‌ ‌the‌ ‌winning‌ ‌car.‌ 
The‌ ‌cars‌ ‌can‌ ‌be‌ ‌specified‌ ‌in‌ ‌either‌ ‌'Le‌ ‌Mans‌ ‌Orange'‌ ‌or‌ ‌'La‌ ‌Sarthe‌ ‌Grey',‌ ‌and‌ ‌will‌ ‌come‌ ‌with‌ ‌further‌ ‌details‌ ‌that‌ ‌make‌ ‌them‌ ‌even‌ ‌more‌ ‌exclusive‌ ‌than‌ ‌other‌ ‌examples‌ ‌of‌ ‌the‌ ‌model‌ ‌including‌ ‌gold‌ ‌coloured‌ ‌brake‌ ‌calipers,‌ ‌a‌ ‌choice‌ ‌of‌ ‌exclusive‌ ‌interior‌ ‌treatments,‌ ‌and‌ ‌a‌ ‌special‌ ‌'12‌ ‌O'clock‌ ‌'‌ ‌steering‌ ‌wheel‌ ‌marker.‌ ‌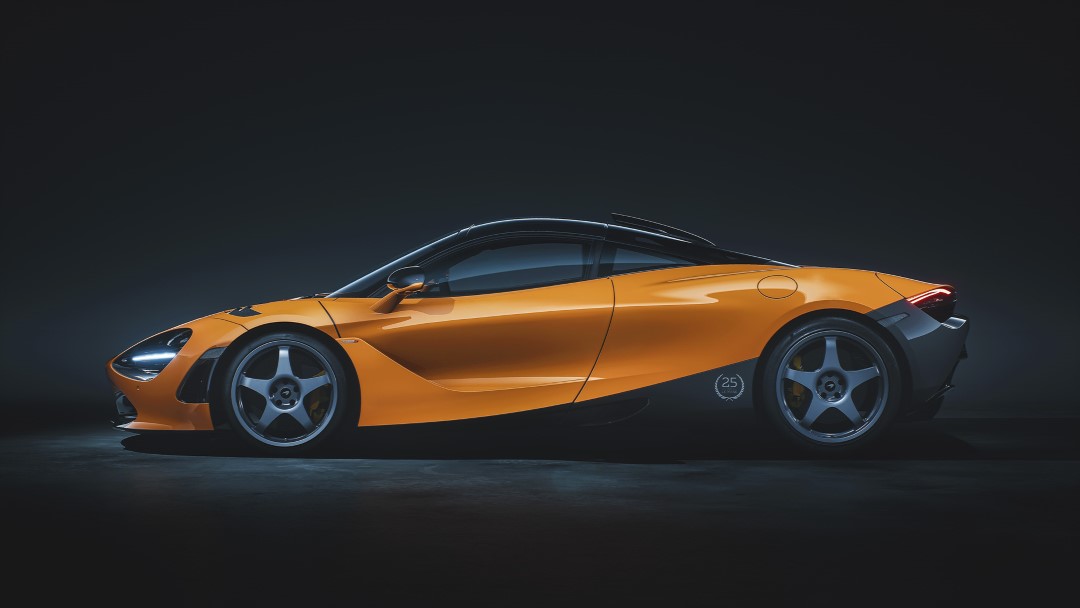 Amazing‌ ‌Performance‌ 
The‌ ‌roof‌ ‌scoop‌ ‌is‌ ‌not‌ ‌merely‌ ‌an‌ ‌adornment‌ ‌but‌ ‌a‌ ‌fully‌ ‌functioning‌ ‌air‌ ‌intake,‌ ‌designed‌ ‌to‌ ‌aid‌ ‌cooling‌ ‌for‌ ‌when‌ ‌owners‌ ‌want‌ ‌to‌ ‌take‌ ‌their‌ ‌720S‌ ‌Le‌ ‌Mans‌ ‌on‌ ‌a‌ ‌rack‌ ‌run.‌ ‌Performance‌ ‌of‌ ‌the‌ ‌model‌ ‌–‌ ‌with‌ ‌its‌ ‌fabulously‌ ‌engineered‌ ‌4.0‌ ‌litre‌ ‌twin-turbocharged‌ ‌engine‌ ‌–‌ ‌is‌ ‌sensation,‌ ‌with‌ ‌a‌ ‌0-62mph‌ ‌sprint‌ ‌taking‌ ‌a‌ ‌mere‌ ‌2.9‌ ‌seconds.‌ ‌If‌ ‌you‌ ‌are‌ ‌brave‌ ‌and‌ ‌have‌ ‌the‌ ‌place‌ ‌to‌ ‌try,‌ ‌the‌ ‌McLaren‌ ‌720S‌ ‌Le‌ ‌Mans‌ ‌will‌ ‌take‌ ‌you‌ ‌to‌ ‌a‌ ‌top‌ ‌speed‌ ‌of‌ ‌212mph‌ ‌(341km/h).‌ 
As‌ ‌with‌ ‌all‌ ‌McLarens,‌ ‌it's‌ ‌not‌ ‌the‌ ‌outright‌ ‌speed‌ ‌of‌ ‌the‌ ‌720S‌ ‌that‌ ‌impresses,‌ ‌but‌ ‌the‌ ‌incredible‌ ‌handling,‌ ‌which‌ ‌displays‌ ‌the‌ ‌knowledge‌ ‌McLaren‌ ‌has‌ ‌in‌ ‌designing,‌ ‌developing,‌ ‌and‌ ‌building‌ ‌outstanding‌ ‌road‌ ‌and‌ ‌racing‌ ‌cars.‌ ‌It's‌ ‌notable‌ ‌that‌ ‌despite‌ ‌winning‌ ‌Le‌ ‌Mans‌ ‌–‌ ‌one‌ ‌of‌ ‌the‌ ‌most‌ ‌prestigious‌ ‌and‌ ‌difficult‌ ‌races‌ ‌in‌ ‌the‌ ‌world‌ ‌–‌ ‌at‌ ‌the‌ ‌first‌ ‌attempt,‌ ‌the‌ ‌McLaren‌ ‌F1‌ ‌was‌ ‌not‌ ‌intended‌ ‌as‌ ‌a‌ ‌racing‌ ‌car.‌ ‌That‌ ‌it‌ ‌became‌ ‌a‌ ‌very‌ ‌successful‌ ‌one‌ ‌is‌ ‌testament‌ ‌to‌ ‌the‌ ‌engineering‌ ‌behind‌ ‌it.‌ 
That‌ ‌exceptional‌ ‌engineering‌ ‌talent‌ ‌shines‌ ‌through‌ ‌in‌ ‌the‌ ‌McLaren‌ ‌720S‌ ‌and‌ ‌the‌ ‌Le‌ ‌Mans‌ ‌special‌ ‌edition,‌ ‌where‌ ‌the‌ ‌driver‌ ‌will‌ ‌experience‌ ‌the‌ ‌thrill‌ ‌of‌ ‌being‌ ‌behind‌ ‌the‌ ‌wheel‌ ‌of‌ ‌one‌ ‌of‌ ‌the‌ ‌finest-handling‌ ‌supercars‌ ‌in‌ ‌the‌ ‌world.‌ 
If‌ ‌you‌ ‌want‌ ‌a‌ ‌McLaren‌ ‌720S‌ ‌Le‌ ‌Mans,‌ ‌you‌ ‌need‌ ‌to‌ ‌be‌ ‌quick.‌ ‌They‌ ‌are‌ ‌on‌ ‌sale‌ ‌now‌ ‌at‌ ‌a‌ ‌list‌ ‌price‌ ‌of‌ ‌£254,500‌ ‌(approx.‌ ‌$317,000)‌ ‌and‌ ‌your‌ ‌local‌ ‌McLaren‌ ‌retailer‌ ‌is‌ ‌waiting‌ ‌for‌ ‌your‌ ‌call.‌ 
McLaren 720S Le Mans Images Gallery
Images Copyright of: McLaren