Ferrari recently celebrated its 70th anniversary, but the importance of the Ferrari 166 Inter cannot be understated. The company was just two years old, with just three cars made in the first year, and five in year two. This car is hugely significant, as it was made at a time when every sale mattered for Enzo.
Note: SupercarTribe.com is not affiliated with Ferrari SPA.
Enzo was in the business of building cars, but the designs interpretations were left to different coach houses. To give a modern-day equivalent, imagine ordering a 488 GTB from Ferrari, and having the option to go to different design houses to have the body designed. You could do that of course, but you would need much deeper pockets today to achieve that! This particular example was clothed by Touring Coachwork, who are still around today. They are still making beautiful one-offs such as the Touring Berlinetta Lusso, a car based on the F12 Berlinetta.

All Ferrari 166s are special, and this is perhaps a little more special than most. This car was displayed at the 1949 Geneva Motorshow, and was the Villa d'Este Show Car. But it's hard to believe that for a long time these fell by the wayside and were unloved. In 1996 they were struggling to sell, and one of these sold for a mere £64,200. A fraction of what they are worth today.
The engine was of course the legendary Colombo V12, but amazingly with only 2000cc. Equally amazing was the 5-speed gearbox, at a time when cars had 3 or 4 as a norm. Five was unheard of. Although the roots of the 166 was definitely racing, Enzo wanted a car that could be driven regularly off track, so these cars were comfortable, spacious, and elegant.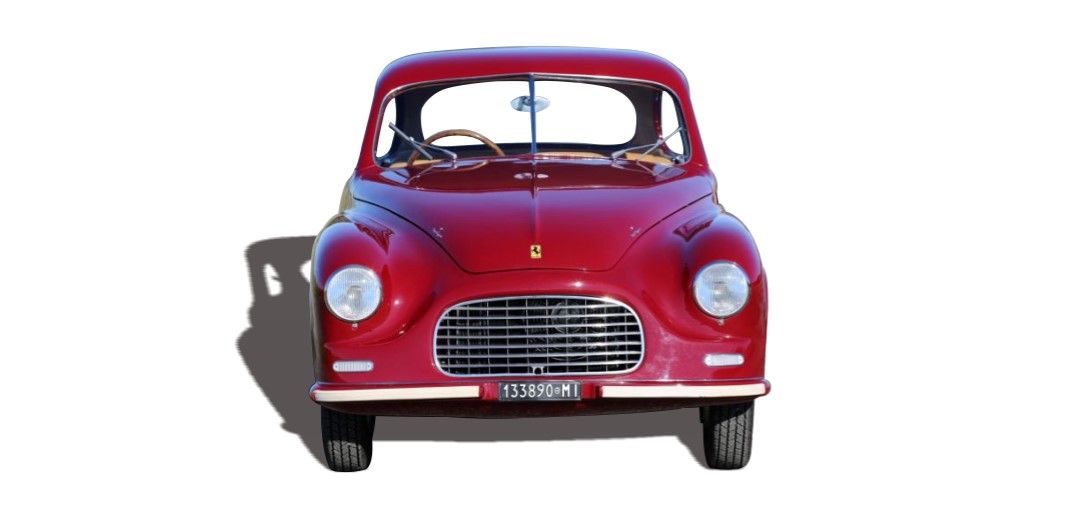 This very rare car is one of only 37 ever made, and become available for purchase through Fantasy Junction in California. This is what they have to say about it:
1949 Ferrari 166 Inter Coupe with Touring Coachwork
s/n 015S, Engine no. 015S
Carrozzeria Touring no. 3190
Red with Tan Leather Interior
This particular car is the 8th Ferrari road car built, and the second to receive this Touring body. This body was constructed a few days after the first such body, which was fitted to chassis number 007S and was nearly identical, save for the elimination of trafficators and the addition of retractable ventilation scoops on the sides of the car. Similar bodies were placed on at least seven additional cars, albeit in modified form featuring different treatment to the fenders. 
By the early 1980s, the car had found its way to the United States, where it was owned by Ferrari authority and connoisseur Peter Sutcliffe, who retained the car in his personal collection for nearly a decade, showing it at several events. Subsequently, the car returned to Italy via France where it underwent a comprehensive restoration by Italian marque specialists including Autosport in Modena, Italy who performed the bodywork and Luppi who restored the beautiful interior.

This is a unique car, and an important part of the history of Ferrari. It's almost amazing that it's "only" $1.2m, and seems an absolute steal. This car in now more than 69 years old, and is not something you can say about many Ferraris. 7 others to be exact. Enjoy the Drool.
The car is available at Fantasy Junction.