It's hard to believe that the Ferrari F355 is 20 years old. To put that into perspective, 20 years ago in the US Mike Tyson was chewing on Holyfield's ear, and in the UK Tony Blair became the glorious (ahem) Prime Minister of the UK. At the same time Ferrari was in a state of transition where Montezemolo was under pressure to deliver a better car than the 348, which was out going. The new car was not going to be a completely new design, but rather be based on the 348's original chassis.
Note: SupercarTribe.com is not affiliated with Ferrari SPA.
What resulted was perhaps one of the greatest automotive designs ever. The fact that this design is two decades old says a lot about the people at Pininfarina and what they achieved. Couple this with some automotive ceramic coatings in Melbourne, and it just shines. The design looks great in all three guises Berlinetta, GTS, and Spider as we see here. If it was not for the pop up headlights, many would be fooled into thinking that it's one of Ferrari's latest.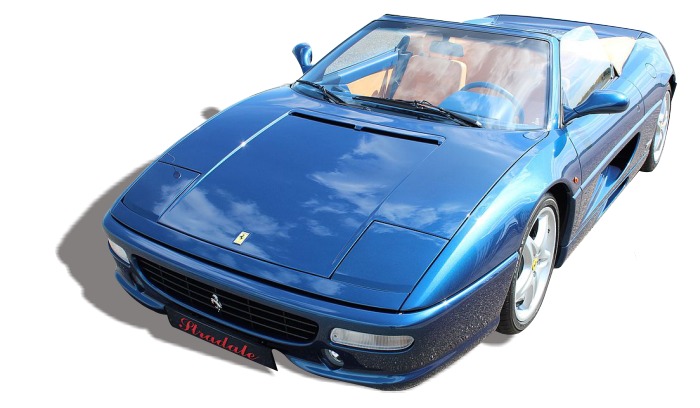 A few weeks ago, we had the pleasure of interviewing Abby Awan for our Podcast Series (see Episode 2), and he spoke about what made the F355 so special. So special in fact, that he placed it right up there as one of his all-time favourites with the mighty F40. High Praise. But as he explained, it's not just the shape but a combination of the engine, noise, handling, and the  feeling you get every time you drive one.

The car we present today is a stunning example of the F355 Spider with the much-desired Manual gearbox. Click, clack – you can almost hear it! Where most cars are finished in Rosso Corsa this one is finished in the much rarer NART Blue. NART for those who don't know is short for North American Racing Team, and is a beautiful shade. Perfectly contrasting with the interior.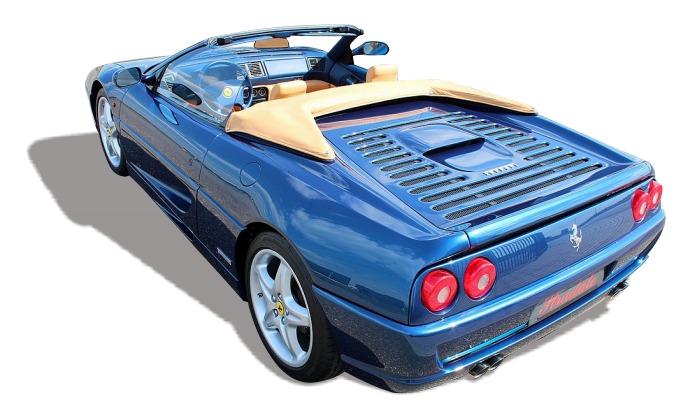 The 56,800 km that the car has travelled doesn't bother us though, because wait until you hear about the last two years! Here is what the guys at Stradale Cars had to say about it:
History 
Purchased in Madrid in April 1998 by a Financial corporation at Testarossa Cars S.A. of Madrid.
Purchased in 2002 by a Spanish notary who moved the car to the balearic isles to his outhouse there.
We acquired the car in 2015 from the above mentioned 2nd owner and decided it needed a full renovation.
Accident free
Restoration 
Car was completely disassembled and the body was given a double layer original Blue Nart paint.
Interior leather and carpets were extensively detailed and where needed corrected (scars etcetera)
Interior sticky plastic parts were treated and repainted as new.
Alloy wheels were painted inside and outside and wheelbolts rechromed, new Ferrari wheel caps for the finishing touch. New tyres fitted.
All plastic parts like the internal wheel arches and the bottom plates where restored and repainted.
Suspension and engine were cleaned and are in great condition.
Major service (timing belts / tensioners/ spark plugs / filters / all fluids) performed.
Valve covers where repainted with special wrinkle coating.
Tubi style manifolds and exhaust fitted
Multitude of new parts like blink lights / fog lights/ door inserts / rear lights / Ferrari logo's placed
Extensive testing with our SD 3 device of all electronics – no errors.
It is strange to think of an F355 being restored, but recently I saw a newer 360 Modena about to go through a full restoration too! The Ferrari F355 Spider is a beautiful car, and this one might just be the best one out there.
Images Copyright if Stradale Cars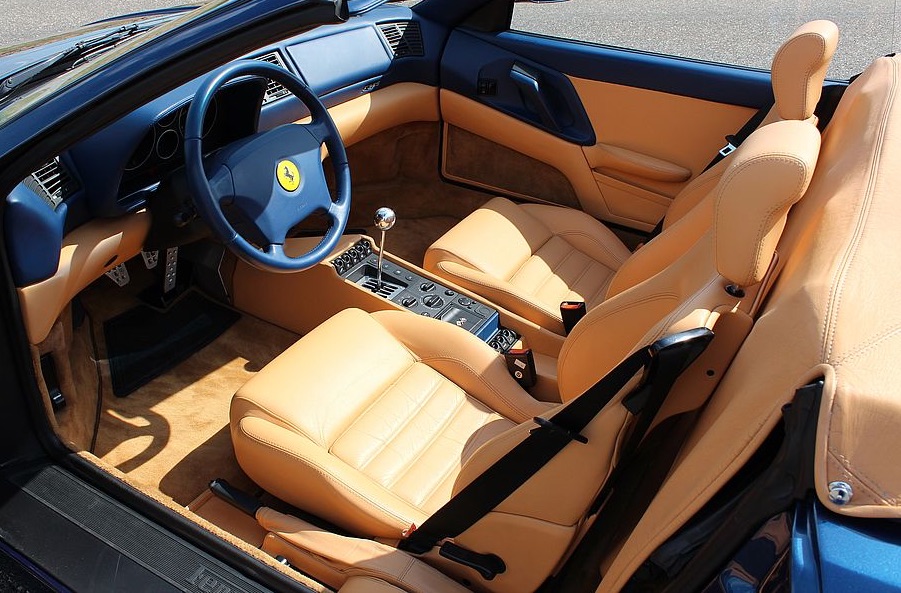 The car is available at Stradale Cars. We imagine it's 3rd keeper will be found soon!