There was a time when picking up a car like the Ferrari 488 Spider in the middle of winter would just be nuts. During the cold months, supercars were typically tucked away by owners, or they would desperately try to sell them. There were typically two problems that owners would face. Firstly, the fabric roofs on the convertibles meant that they were summer only cars only, and secondly the cars were too damn tricky to handle in less than perfect conditions. I personally have written off a V12 during a cold snap, and I was only doing 25 mph!   But then two things changed. Driver aids have become so advance now that unless you are trying to bend physics, a Ferrari 488 can handle anything you throw at it this side of snow. They now monitor everything happening at all four wheels in such a way that it allows the driver room to stretch, while keeping things sane. Sideways is still doable, but generally there is less drama.
Note: SupercarTribe.com is not affiliated with Ferrari SPA.

But the other factor that has changed everything is the metal folding roof, first introduced in the 2008 Ferrari California. Visually the 488 Spider now looks as good with the roof up now as the 488 GTB, the sibling with the permanent hard roof. I mention this because looking back at the F355, the GTB always looked better than the Spider, not that Spider was not a pretty car!   The metal folding roof also means better insulation, handy for cold winter mornings, and handy when blocking out wind and road noise too. I personally have had fabric roofs in the past, and used to enjoy driving a soft top in the winter as much as taking an ice-cold shower. Give me a warm one any day. Also, the folding roof means better rigidity, meaning none of the chassis flex of the F355 Spider.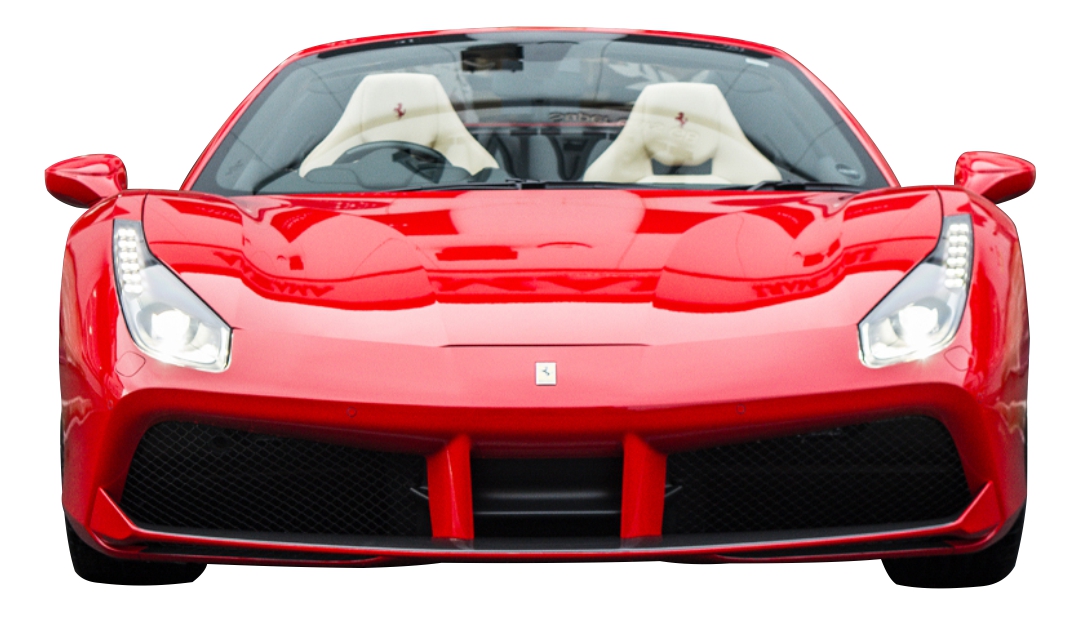 Great! Let's all go out an order a 488 Spider! Sadly, it's not that easy, due to the waiting lists involved, which means if you order today, you might just get one in 12 winters time. So, when a perfect spec car comes up, it is always worth considering and if it's out of the price range, it's always free to Drool!   No drama was applied to the spec on this car just good taste, which is why this 488 Spider has made it to our Monday Drool. It's a great combination of Rosso Corsa over Beige Interior, with a healthy sprinkle of Carbon Fibre for good measure! Other lovely accents are red stitching and red horse stitched into the headrest. Nice!

The car has come available through Amari Supercars, in England. Here is what they had to say about it:
Perfect Colour Combination, Huge Carbon specification, Titanium Sports Exhaust Pipes, Racing Seats & much more! A chance to beat the queues, with this extremely low mileage, yet another great example of the Ferrari 488 Spider which is as new, being a 2017 / 17 Registered example, in Rosso with Crema Hide interior which is the perfect Ferrari colour combination, having covered only 500 Miles by only 1 Registered Owner. EXTERIOR This example is presented to you in Rosso, with contrasting Giallo callipers, which is in a new condition all around. INTERIOR The interior is upholstered in Crema Hide throughout. Also in an excellent condition. Also in a new condition. SPECIFICATION The already extensive specification of the 488 Spider is vastly enhanced by the following options: Carbon Fibre Rear Air Ducts Carbon Fibre Sport Package Carbon Fibre Front Spoiler Carbon Fibre Side Air Splitter Titanium Sport Exhaust Pipes Racing Seat Lifter "Goldrake" Carbon Fibre Racing Seats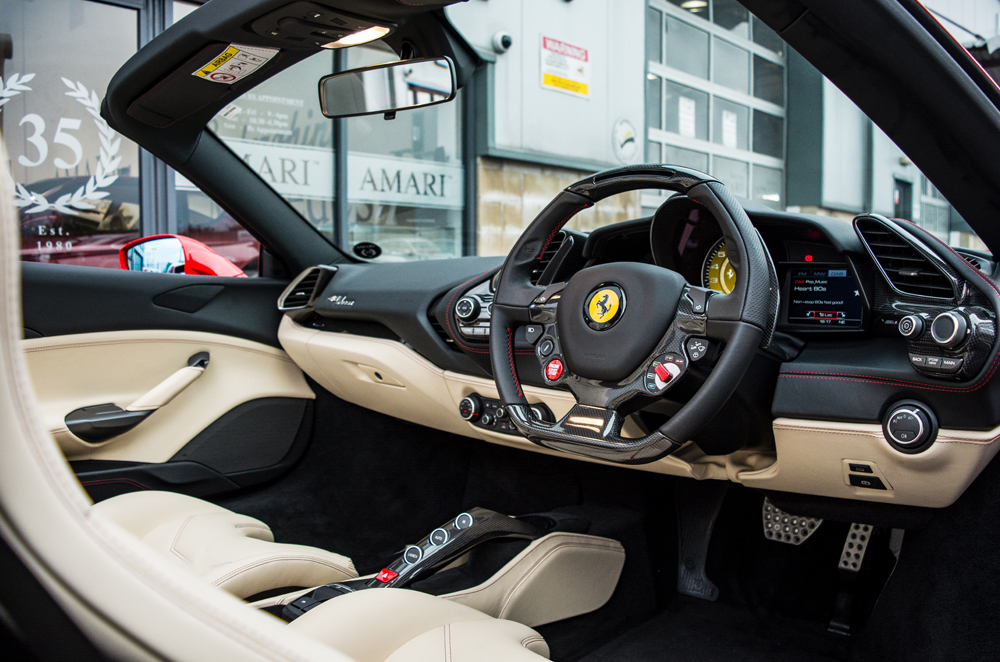 Finally
There was a time when we would say this is a great car for the summer. Nowadays though dial down to wet, add a sprinkle of bumpy road settings, and you are all set for the Sunday morning blast through the country! Let us know what you think of our selection today in the comments section below!
This stunning car is available at Amari Supercars.