These are the first images of the undisguised 488 V8 Sport Special Series. First of all we know the name. It will be the Sports Special Series, as per the display in the back of the image. If the name is any different we will let you know here.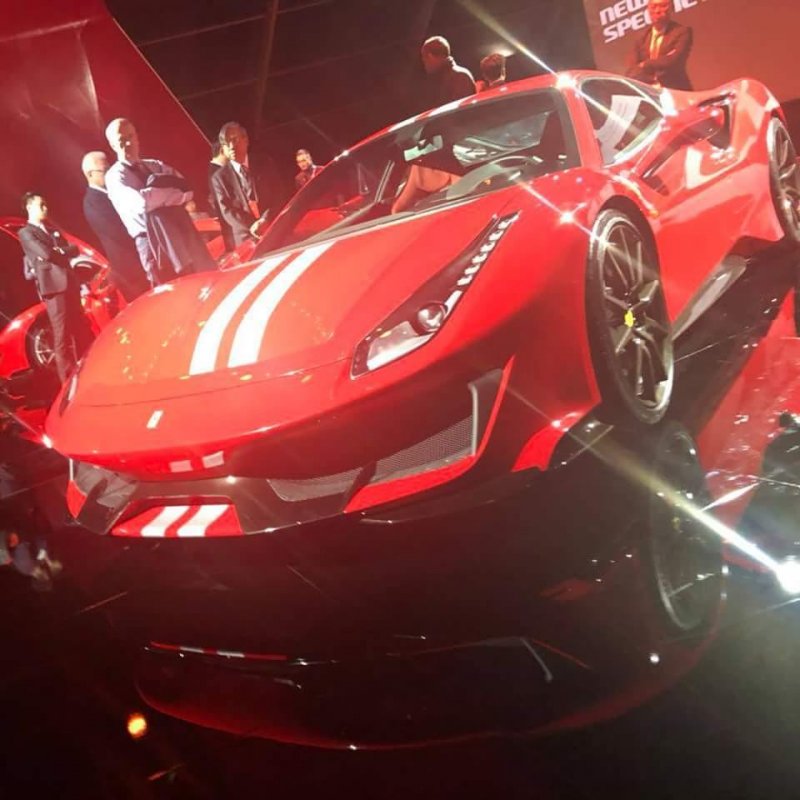 Amazingly this image was sneaked out of the first showing in Maranello, which given the tight security around these events means that someone in security will be sleeping with a horse's head tonight!
As expected the front of the car looks so much more aggressive than the standard 488 GTB, with an air intake that remains closed unless braking requires it. The new cars offers 20% aero efficiency over the 488 GTB thanks to the Front S Duct, a 488 GTE inspired rear diffuser and air outlets, and a LaFerrari style rear spoiler that pops out during hard braking.
If you look closely at the image you will see that on display are actually two cars, with one in the background. You can just see through the front car window that the rear car has the rear spoiler deployed. Nice to see the LaFerrari technology making it's way to the V8.
The expectation is that the new Ferrari will be faster than a LaFerrari, which is amazing if achieved. Performance figures are tightly guarded but some leaks suggest the following:
725 PS, 0-100 2.8, 0-200 7.8,
Let's wait and see.
What we know for sure:
Track-Like Fun to drive, Agility and Vehicle Responsiveness, thanks to:
New Sideslip Management System
New Race Gearshift Strategy
Extremely Direct Steering Ratio
New Michelin Sport Cup 2 Tyres
Highest Utilisation of Carbon Fibre on a range car
Pretty much the entire front end is made of Carbon Fibre, including the Hood and entire front  bumper. At the rear, the bumper and extendable rear spoiler (mentioned above) is made of carbon too.
Interior:
Of course the interior is stripped of all luxuries, with only essential things included. The aim of course is lightness!
Engine:
The engine will be the most powerful V8 in Ferraris history, and is an evolution of the 488 Challenge engine
The new car will achieve the highest power increase for a V8 Special Series.
Engine will be around 10% lighter that the standard V8 found in the 488 GTB.
Aurally the sound will be better too, with a unique track like sound.
Alloy Wheels:
If you look at the wheels, not only do they look great, but they are 40% lighter than the standard wheels.
Stay tuned for more to come!