Saying something is the baddest reminds me of the show Pimp My Ride, where a team take what is normally a very ordinary car and turn it into some sort of monstrosity. Sometimes they can be quite tasteful, but often I do think to myself, "Why O Why?". The common theme with all customisations is to improve the car, but when you start with a Ferrari, how can it be improved?
Note: SupercarTribe.com is not affiliated with Ferrari SPA.
Many attempts have been made over the years, and the 80's and 90's produced some pretty outrageous examples. I remember having a poster of a Koenig on my wall, for example.  But the Testarossa is a pretty wacky design to start with, what with the rear being 6 inches wider than the front. So, what can be added to a Testarossa to improve that?
Well it seemed that Testarossa didn't need more, but actually needed less. No roof in fact, and that is exactly what a King ordered. What we present today for Drool is a car that was once commissioned for, and driven by Michael Jackson the King of Pop, in one of his videos!

Back in 1987, MJ and the Ferrari Testarossa were both at the top of their game, and Pepsi teamed up with MJ to create a unique video advert. The result was called "The Chopper" and involved him trying to escape from his fans in multiple ways, including running, holding on to a helicopter, and finally driving away in a Ferrari Testarossa Spider. That's probably where he went wrong, as it's not the subtlest car in the world, and with the roof down he was quite visible. Lesson to be learnt there!
If you haven't seen the video before, we have added it at the bottom of the page.
But those of you in the know, will know that Ferrari only made one Testarossa Spider, and this isn't it. That car was produced for Gianni Agnelli, the head of Fiat, and perhaps back in the day Ferrari missed a trick. There was a lot of demand for a Spider version, particularly in the US, and so a specialist company called Straman of California (where else) produced this and others based on the coupe model. The result is actually quite stunning, and although I love the Testarossa, I equally love the Straman Spider.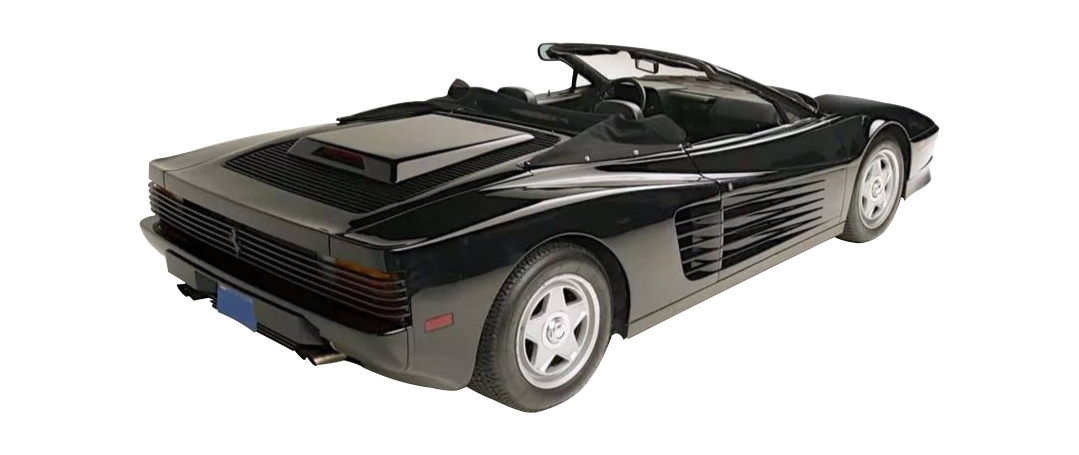 The car has come up for sale with our friends at Ferrari Of Fort Lauderdale in Florida, and is presented in Nero with Nero interior. This is what they have to say about it:
Ferrari-Maserati of Fort Lauderdale is thrilled to present one of the most famous examples of the Ferrari Testarossa.  This vehicle was driven by Michael Jackson in the 1987 Pepsi commercial called "The Chopper", directed by Joe Pytka.  It was converted by R. Straman Company of Costa Mesa, CA at a cost of approximately $40,000 specifically for the production of this commercial.  The Testarossa was seen millions of times once the commercial aired, and has been covered countless times by the media and press since.  This legendary Ferrari will make a fine addition to any collection!
The Testarossa is finished in Nero over Nero leather, and is in fantastic condition throughout.  A Major Service was performed in February of 2013 by an Authorized Ferrari Dealer in Los Angeles at a cost of $17,680.  It has been pampered by its previous owners and is ready for its new home.
The Testarossa is the epitome of an exotic car.  Its unique flat-12 engine and wedge-shaped good looks add to its extremely Italian appeal, and it is considered one of the most striking automobiles of all time.  The song from the engine compartment is unmatched, and the mid-engine setup aids in its excellent handling characteristics.  A blast to drive in and a blast to arrive in, this is a rare opportunity to own a classic part of Ferrari history!

It's certainly a rare car with a very interesting history, having been used as a getaway car by Michael Jackson himself! Subtle it isn't, but stunning it most certainly is. But what makes this the baddest Ferrari? Well if you watch the video below, the soundtrack is the 1987 song Bad by Michael Jackson.
If you are interested in the car, speak to Mike at Ferrari of Fort Lauderdale. Tell him we sent you, and he can be contacted here: Official Dealer.
Images Copyright of Ferrari of Fort Lauderdale