Ghia is not a design house that instantly springs to mind when we think of Ferrari. Indeed, it's latterly been associated with Ford, who bought the once-notable coachbuilding firm some years ago. In the early years of Ferrari it was not unusual for various coachbuilders to produce their own interpretation of the Maranello models, hence the presence at the upcoming Sotheby's auction, at Monterey in California in August, of this quite spectacular one-off show car Ferrari 375MM.
To the knowledgeable eye, the distinctive swathes along the side and familiar frontal treatment can only be 1950's Ghia, and to the layman, it's simply a glorious Ferrari that is one of a kind. What's the story behind the 1955 Ghia Ferrari 375MM Coupe Speciale? It's one of glamour, of speed, of beauty and excitement – and nostalgia.
Sold to the USA
Displayed at the 1955 Torino Motor Show – then one of the premier automotive events in the world – the 375MM Coupe Speciale was soon snapped up by a friend of Enzo Ferrari, an American by the name of Robert C. Wilke. Wilke was a notable collector of Ferrari's, and it's entirely possible that Ghia in fact had its eye on him as a potential buyer from the word go.
Wilke owned the Leader Card Company, a specialist stationery company that made him very rich indeed, and was also a fan of motor racing. He financed an Indycar team from the very early days of the sport, and his cars won the prestigious Indianapolis 500 – one of the great races – no fewer than three times. 
His love of speed extended to his love of beautiful, fast and luxurious cars – hence this particular, unique and very stylish 375MM was ideal for his collection. In fact, at one point, Wilke owned not one but seven unique, custom-built Ferraris, and drove them daily around his home city of Milwaukee.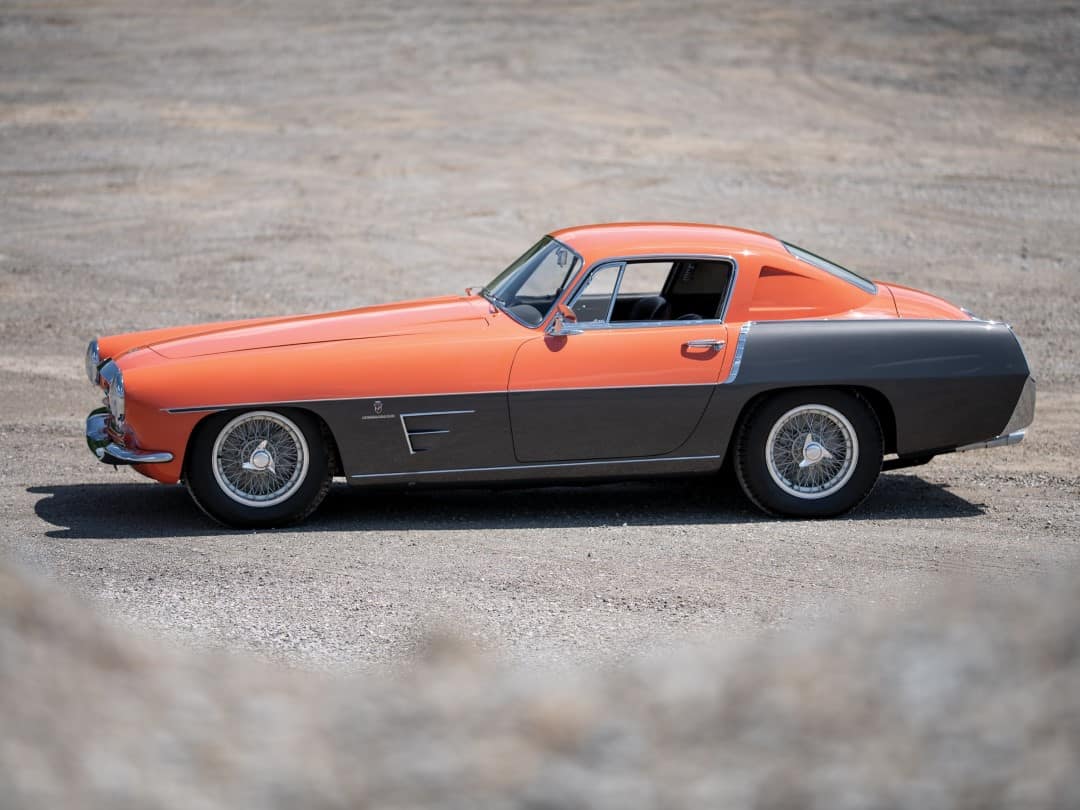 The Last Ghia Ferrari
Notably, this car – chassis 0476AM – would be the very last Ghia Ferrari. The car remained in the Wilke family – passing on to son Ralph – until 1974, and today retains its original colour scheme and unique Ghia interior. We're happy to say this is one car that has not been over-restored; the patina throughout is simply superbly nostalgic, and it still wears the original V12 engine – a gem if ever there was one, pushing out 340bhp – plus the same gearbox and drivetrain. It is Ferrari Classiche certified, and has done under 14,000km.
The rock-solid provenance of the Ferrari 375MM Coupe Speciale by Ghia makes this one of the most historically important of the marque to come up for sale, and the history of its ownership only adds to that. We hope that, as Wilke and latter owners have, whoever buys it uses it, for this is a spectacular car that deserves to be seen.
Sotheby's Monterey auction takes place on 17th of August, 2019, and is one of a number of Ferraris in the sale. The estimate? No mention is made, but if you have to ask, you probably can't afford it!
Images Copyright of: RM Sotheby's.