Ferrari makes some of the most exclusive cars available, and many people assume you have to be invited to be an owner. We often get asked if a normal person can buy a Ferrari, or do you need to own a Ferrari to buy a new one??
Ferrari does not discriminate who is allowed to purchase a new Ferrari, with the only limiting factor being the ability to afford the car. Models are made in small numbers, so in order to buy a new car, one must place their order and deposit early enough to be included in the production run. 
That is true for the standard models, but as you will find out some models are reserved for only Ferrari's most loyal customers! We will come to that, but the first thing to say is that you do not need to own a Ferrari to buy a new one. Anyone can buy one, but often its availability that becomes the problem. 


FERRARI – KEEPING DEMAND HIGH AND SUPPLY LOW
Ferrari has over 70 years of expertise in producing the most sought after cars. People assume that models are just impossible to obtain and reserved for only celebrities, but below I'll explain how do they do it, and how can you work with the system to buy the new Ferrari you want.
These are not tricks to fool Ferrari, but tips and guides based on how Ferrari owners do it.


FERRARI ALWAYS MAKE LESS THAN THEY NEED TO
Last year Ferrari sold about 8,500 globally compared to Porsche selling 246,000 cars. Many would assume that is because Porsche is more popular, but that is only part of the story. Porsche will sell as many cars as they have demand for, with very few units being part of a limited run series. Ferrari, on the other hand, chooses to limit the production so that they always have more customers wanting to buy the cars than they can make. 
Part of the reason for this is because Supercar manufacturers have had a turbulent history, and oversupply can be disastrous. The other reason, of course, is that exclusivity leads to premium prices, and Ferrari leads in this sector. Not just with new cars, but in the used cars sector as well.
Two of the most expensive used cars ever sold have been the Ferrari 250 GTO and Ferrari 250 Spider California. You would be hard pushed to find an example for less than $50m.


HOW HARD IS IT TO BUY A "NORMAL" FERRARI?
All things are relative and many will argue that Ferrari is not a "normal" car. But even in their lineup, you will find standard models like the F8 Trubuto, Portofino, Roma, and the super exclusive models like the LaFerrari. Something like a Roma would be considered normal, and an entry model, but how hard is it to buy?
Well, the Ferrari Roma was only just released and is the newest model in the lineup. You can guarantee that order books are already full, and any orders placed today will not be delivered for at least 3 years. Maybe more.
Let's assume you want something sooner, your best option will be to go for a V12 model that has been in production for some time. The GTC4 Lusso has been in production since 2016, so now nearly 4 years on means that wait times will be months, not years. What's more, the V12 cars are more expensive, and therefore more profitable for the dealers. They will want to sell you one.

HOW ZIPCODE & POSTCODE LOTTERY CAN WORK FOR YOU
Each country is given an allocation for each model each year, and within the country, each sub-region will also be given an allocation. So for example, dealers in London will get a certain number of cars but are likely to be much more oversubscribed when compared to a dealer in Scotland.
Now multiply that example across the US, and you will probably struggle to find an available build slot in California, but might have more joy with smaller dealers elsewhere. They are also less likely to have large collector clientele, meaning cancelled orders are more likely to be available for the new owner.
If you are willing to shop around and build a reputation with a distant dealer, you might be able to get a build slot allocated to a dealer in a different region. I know one owner who used this tactic to his advantage to order and collect cars in the same year.


V12 LEADS TO V8 CARS
As mentioned earlier, Ferrari dealers are keen to push the sale of the V12 cars over the V8 ones. V8 cars sell themselves, while V12 cars sell in smaller numbers partly due to the higher cost.
I have a friend who was able to buy some hard to come by models just simply by buying the cars that the dealers wanted to sell him. In doing so he built up a nice collection and reputation with the dealers. Pretty quickly he was starting to be offered cars that previously were unobtainable for him.


That might seem like an odd way to do it, but bear in mind that driving a Ferrari V12 is no hardship!
I interviewed him for one of my Podcast episodes where he shared the strategy with me. You can listen to the Podcast where I interviewed him, and he talks about his experience here: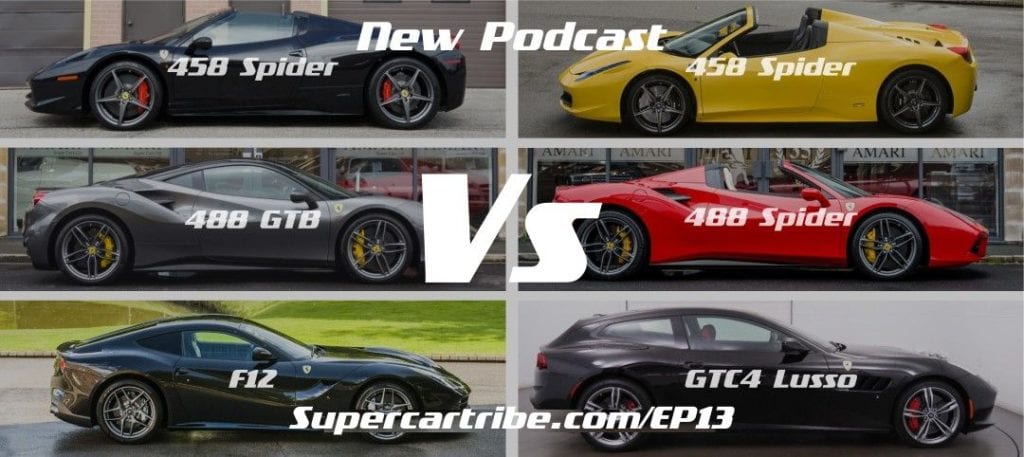 HOW TO BUY LIMITED PRODUCTION FERRARIS
For those of you who find the "normal" Ferrari models too ordinary, and you have the means, then one of the special limited production Ferraris are probably what you want. The problem is how do you buy of these?
As you can imagine they are primarily reserved for the best Ferrari customers only, so turning up at Maranello waving your chequebook just will not work. You will need to enter the arena having purchased a few new Ferraris already, including at least one V12. Once you do this, and perhaps collect your car from the factory, you will be on the radar.
Next, you realise that your email inbox is suddenly fuller and fatter than its ever been. Your dealer has you on speed dial, and you start to hear about models that are in the pipeline. Before anyone else catches wind. They will start with small teasers of information after you have signed confidentiality statements of course, and you will need to make a quick decision. Are you in or out?
That might all seem dramatic but when you consider that Ferrari made only 210 LaFerrari Aperta cars in total, there is at least one more person to buy each car should the first to be offered does say no.
As a new-to-brand owner, you might see that is unfair, but looking at it from the point of view of existing owners, it's nice to know that Ferrari takes care of their own. After all, if you had shown brand loyalty you would want to be treated special!


THE FERRARI YOU WILL NOT BE ALLOWED TO SELL
The example I gave above of the Ferrari LaFerrari Aperta is not a one-off. Ferrari always has a limited series model in production or development. These cars are massively oversubscribed, and demand always far exceeds supply. 
Back in the 1980s speculators jumped in on this, and pushed car prices to new highs. However when the market crashed it nearly bankrupted Jaguar through the production of the XJ220. Speculators realised they were better to lose their deposits rather than take delivery of a car that was depreciating, not appreciating. 
Ferrari is well aware of this problem, so try to prevent owners from speculating on their cars. In essence, they make owners of limited production models sign contracts preventing them from selling their cars for a few years.
Included in this contract will be financial penalties, but the biggest downside is that Ferrari will never sell them a limited production model again. They will be blacklisted for life!


THE EXCLUSIVE FERRARI F1 CLIENTI "CLUB"
Some owners who have a decent Ferrari collection will still want something more. Maybe the experience is too tame, the cars are not fast enough, or they are just a huge Formula 1 fan. For them, Ferrari has the F1 Clienti programme, an exclusive programme where Ferrari will take your money and deliver you no car.
I'm not kidding when I say you do not get a car, because Ferrari will supply you a real raced Ferrari F1 car, and house the car at their factory in Maranello, Italy. But in return for the several million euros, they will ship the car and mechanical team to the greatest racetracks around the world for you to have a play.
Part of the reason why Ferrari will not deliver the car to you is due to the cars being only a few years old, and therefore they do not want to share the F1 technology secrets with the outside world. On the surface, it might seem like a bad deal, but in reality, it makes a lot of sense. As an owner, you simply fly to the racetrack, and the car is ready. When you finish you fly off again and they take care of the rest.
I was lucky enough to visit the F1 Clienti car storage room a few years back, and what a sight! Hidden across the road from the factory was a room rammed pack with Ferrari F1 cars from the past 10 years. All cars are kept in a ready state, just in case the owner wants to fly to Maranello for 20 laps around Fiorano. Not a bad position to be in.

NEED A ONE-OFF FERRARI? COMMISSIONING YOUR OWN UNIQUE FERRARI
30 years ago it was actually fairly common to have a manufacturer or coach-house make your own bespoke car. The Sultan of Brunei famously did this with Rolls Royce and Bentley cars, but lesser-known was his bespoke Ferrari collection.
When the Ferrari 456 coupe was launched in 1993 he was so impressed that he commission 21 unique models; 7 saloons, 7 estates, and 7 convertibles. Naturally, there were other models he commissioned too.
For a while, the demand dropped and the art was lost, but more recently the bespoke, unique approach has made a revival. Eric Clapton created the Ferrari SP12 EC, a 458 Italia based one-off that cost $4.7m to make. Crazy cost when you consider the car it is based on cost around $250,000.
There have been a number of cars over the years, including the most recent and most ambitious, the Ferrari P80/C. This was built for Hong Kong based Ferrari owner, Mr TK Mak, and unlike most other models this was based on a 488 GT3 racecar.
The car, as a result, is for use on the track only, but what he now has is a completely bespoke and unique Ferrari. Every Tifosi's dream come true.

NEED TO BYPASS THE WAIT? BUY A USED FERRARI
For many, the thought of waiting months or years for a new Ferrari is just too much. This is where the used market opens up to those willing to compromise. There is usually the added benefit of being cheaper too (not always the case), and for the standard range of cars, there is always something available.
For more limited-run models expect to pay a premium though. Recently the Ferrari 488 Pista Aperta was launched, at the cost of a mere $300k. But the limited availability on the used market has meant prices have already reached the $1m mark. Not bad going for 6 months of ownership.

Let us know in the comments section below what your buying plans are, or if you have any questions. We'll be happy to help you out!