It has been a difficult time for European car makers – and other businesses – who rely in any way on sales to USA of late, with the dollar showing noted depreciation against the euro. Ferrari, which has just announced a shortfall on it's 2018 3rd quarter predictions, is not exception to the rule, but there is no real reason for concern as there are understandable circumstances.
With 34% of sales in the quarter being in the USA, the figures – which show a shortfall of €19million in profit – are also hindered by the vastly expensive Ferrari LaFerrari Aperta coming to the end of the production run, and increased demand for the Ferrari Portofino, which retails for around a 10th of the price of the Aperta.
The balance of sales confirms why Ferrari and other luxury car brands are so keen on highly-expensive and lucrative special-edition short model runs for maximum return. Ferrari may also be stalling a little thanks to buyers waiting for the upcoming Purosangue SUV – the model type of choice at the moment – which will arrive at the end of 2022.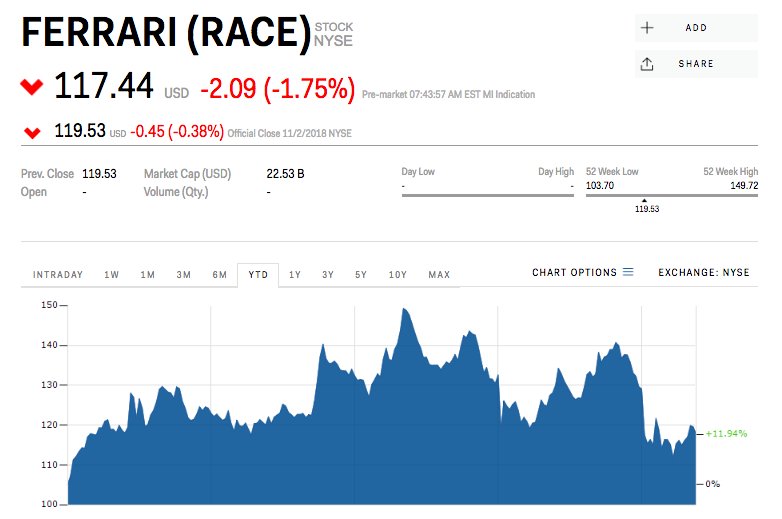 Healthy Sales
Despite the slight shortfall in profit for the quarter, Ferrari's sales for the year so far have been as healthy as ever, with 6853 cars delivered across its range in the first nine months of 2018. This is a 7% increase on the same period last year, and the firm expects to meet its target of more than 9000 units for the complete year.
V8 models, led by the popular Portofino, have seen an increase in sales in the 3rd quarter by some 11.4%, while 7.9% growth in sales of V12 models is largely influenced by the 812 Superfast. The end run of the Aperta, as mentioned, means that the sales increase has been offset in terms of profit, thanks to the very high value of the LaFerrari special edition.
The overall scenario is that Ferrari continues to achieve – and even exceed – its targets in terms of sales, and the board will be looking at special edition models to back up sales of the 'standard' cars for the next few years, before the Purosangue comes on board. SUV's are currently big business in the luxury car world, with Ferrari coming late to the game.
Images Copyright of: Ferrari.