A curious story for Supercartribe readers today, one which begs the question: when you buy a Ferrari, or any supercar, is it yours to do with as you wish? Or does the brand retain certain image rights?
German fashion designer, Phillip Plein, is as passionate as anyone about Ferraris. He is not averse to posting pictures of his pride and joy on Instagram. However, he got a shock when he received a letter from Ferrari's lawyers, instructing him to remove the images within 48hours.
'Distasteful' Images
It is to be noted here that Plein, who is well-known for a rather trendy line of footwear, likes to post pictures of his shoes alongside – or on – his Ferrari. He has also included shots of models, somewhat scantily clad, with his Ferrari while wearing his brand of shoes. It would appear that Ferrari is upset on more than one count. Here is the opening paragraph of the letter:
"Ferrari's trademarks and model cars are associated in your pictures with a lifestyle totally inconsistent with Ferrari's brand perception, in connection with performers making sexual innuendos and using Ferrari's cars as props in a manner which is per se distasteful."
The letter goes on to speak of an "undesired connection between Ferrari's trademarks…and Phillip Plein's line of shoes" and how it is "interfering negatively with the rights enjoyed by Ferrari's licensees". The letter closes with an instruction to remove the images within 48 hours, and a mention of court action.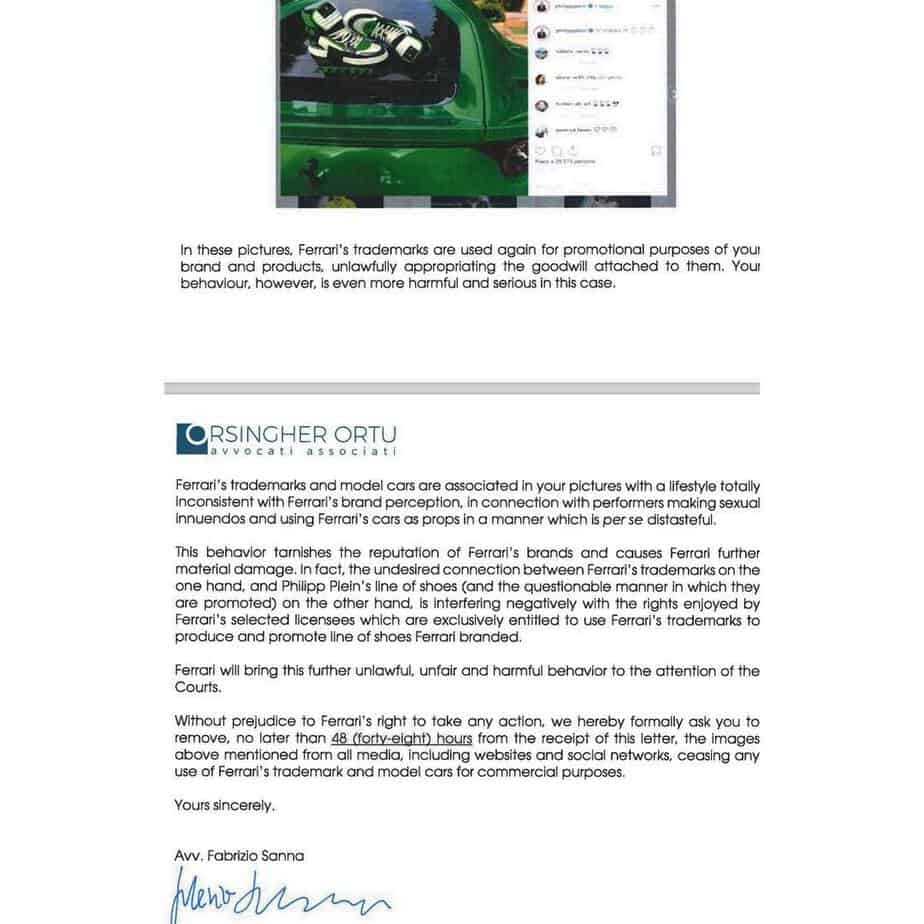 Exclusive Brand
What we should acknowledge is that Ferrari is one of the world's best-known and exclusive brands, not just in the automobile world but in industry and commerce as a whole. Association with the brand is prestigious indeed yet, as clearly stated in the letter, in commercial terms is strictly restricted to other brands that Ferrari deems worthy, and to which they have granted a licence.
Mr Plein, who posted the images on his private Instagram feed, could be considered guilty of using the brand to promote his own fashion brand with consent or approval, which is precisely what Ferrari has accused him of. On the other hand, he is not using them in a commercial advertising campaign, but on his own social media feed (which of course, he will be utilising to full effect brand-wise).
So, back to the question: the Ferrari is his, he paid for it and owns the title to it. Is he within his rights to post pictures with it, adorned with his own-brand shoes? It would appear not in Ferrari's eyes, but at the time of writing the 48-hours had passed, so we await with interest any further action.
Images Copyright of: philippplein