For many the Ferrari Dino has had a hate, love relationship. Yes, you read that correctly. When it was launched many turned their noses up at the model as it was designed to be a cheaper car, to attract the 911 type of owners. So cheap in fact that Ferrari did not even put their name to it, and so you won't find a prancing horse or Ferrari badge anywhere.
The big muscular V8s and V12 were also thrown out in favour of a 2.4L Six litre engine. The first time Ferrari used a V6 on a road car. This of course meant that it was never designed to achieve greatness on the track, and of course it never did.
When Ferrari launched the car they also chose to honour Enzo's son Alfredo Ferrari, or Dino as he was affectionately named. He sadly died in 1956 at the age of 24 of Duchenne Muscular Dystrophy (DMD), and the death impacted Enzo and his marriage greatly. It was a fitting name for the car, but many did not see it as a proper Ferrari, compromised in almost every way.

The Ferrari Dino
I say almost, because as the years went by, the love for the Dino started to grow. There was a time when the car could not be given away, resulting in prices hitting rock bottom as cars fell into a poor state of repair. But then people realised under all the pre-conceptions the Dino was not just a car that looked beautiful, but the handling was great too.
The car will never outpace the larger engine models on the track, but this will keep pace or out handle other cars on twisty country B roads. The chassis was well designed to be thrown from corner to corner, and all the Ferrari engineering magic was never watered down.
This particular beautiful example will be going under the hammer at RM Sotherby's auction in Monaco. Here is a little bit about this car:

The left-hand-drive, European-spec 246 GTS Dino offered here, chassis no. 07394, was completed on 2 November 1973 and finished in Blu Dino Metallizzato (106-A-72) over a Pelle Nera (VM 8500) Connolly leather interior. According to Ferrari historian Marcel Massini, the car was then delivered new to Swiss importer Société Anonyme pour la Vente des Automobiles Ferrari (SAVAF) of Geneva, Switzerland. It later found its first owner, a resident of Lausanne, Switzerland, in 1974. It reportedly stayed in Lausanne until 1983 when it was next registered in Geneva. Remaining there until 2011, it was offered for sale that year by Carugati Automobiles of Plan-les-Ouates and purchased by the noted collector Clive Joy. Mr Joy owned the car until it was purchased by the consignor.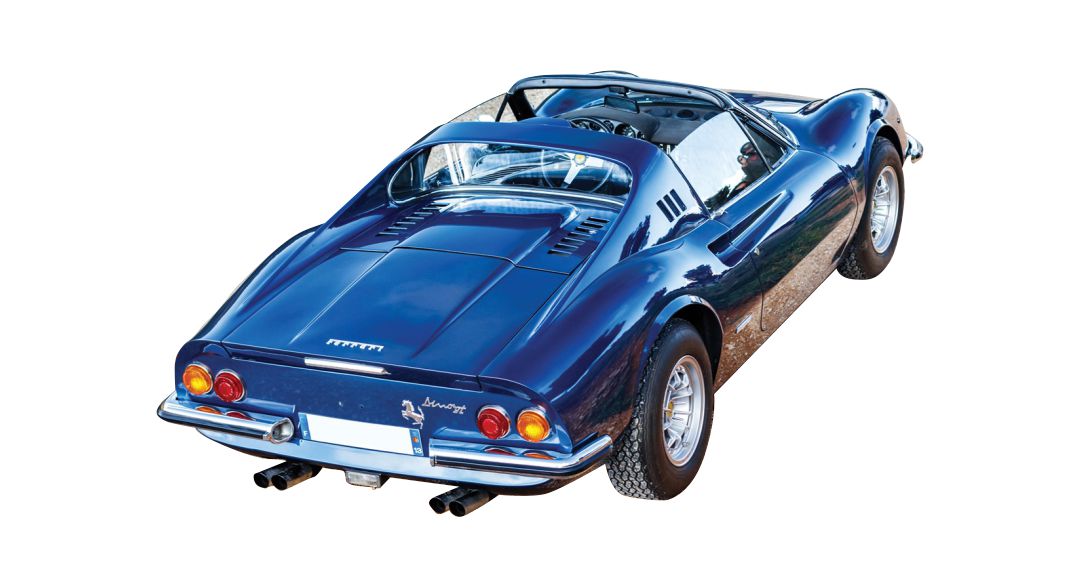 Throughout its life, the car was remarkably well preserved by its respective owners and remains highly original throughout, including its lovingly patinated original interior. Attesting to this quality, the car has received Ferrari Classiche certification, confirming that it remains exactly as it left the factory when new, apart from being fitted with the desirable 7.5 × 14 Campagnolo wheels. Furthermore, the car has been driven just 31,000 km from new. Included in the sale is a selection of documentation and maintenance receipts dating back to the early 1990s.
It's hard to image that these cars fell in value to about $10k at one point. The price now? Expected to hit the €400k mark. Nice to see that the Dino is finally getting loved.
The car is available at RM Sotheby's. Be Quick!