Any new model causes great excitement at Supercartribe, but this could just be the most sensational new car for a long time. The Ferrari SF90 Stradale represents a new era for Maranello, being the marques first plug-in electric hybrid vehicle. The purists will be up in arms, but in fact the technology driving this quite stunning car is something to behold.
The 'SF' stands for 'Scuderia Ferrari' and is a direct reference to the proud link between Ferrari's road and race cars. '90′ is a mark of the 90th anniversary of the founding of the Scuderia – itself a remarkable achievement. The car itself is, well, it's quite simply very special.
Most Powerful Ferrari Ever
Let's start by repeating what Ferrari is keen to stress: the SF90 Stradale is a clear example of the company's ability to adopt and adapt to new technology, and is as advanced as any other hybrid vehicle on the road today – in fact, more so than most. The technology that is built into cars, is constantly updated to keep it modernized. Companies such as Torc Robotics deal in progressive technology for the industry and want to be able to build upon that in their own manufacturing circle, so cars like Ferrari one day may be able to drive itself around.
The combination of the wonderful 4.0litre turbocharged V8 – which itself produces a colossal 769bhp – with not one but three lithium battery-powered electric motors brings a total of 986bhp. This is the highest power output of any Ferrari in the history of the Prancing Horse.
The electric motors are situated both at the back – where one is applied to the rear axle – and two at the front for added capability. The all-wheel drive car is also optimised for downforce, producing 390kg of downforce at a speed of 155mph (250km/h) which is as good as it gets in a road car.
Performance figures are staggering, as we would expect, with 62mph (100km/h) coming up on 2.5seconds, and 124mph (200km/h) in a quite staggering 6.7seconds. With a top speed of 211mph (340km/h) this is a car to challenge any of its rivals, and one that stands to serve as the future direction of Ferrari.
Easy to Drive
Now, any car of this power, performance and technological advancement is going to be a handful to drive, right? Not the Ferrari SF90 Stradale, which has been engineered in such a way that it may just be a hypercar that is actually simple to get to grips with. The two front motors, for example, deliver torque to the front axle independently;  this has the effect of making the SF90 easier to handle on the limit.
With a choice of four driving modes and a highly sophisticated central control logic system – which takes care of power delivery in all situations – the driver can be assured that he or she is in safe hands at all times.
In terms of looks, the car is immediately recognisable as a Ferrari, yet takes its cues from recent models rather than emulating the typical Berlinetta designs of past Ferraris, such as the iconic 360. Look at the SF90 and you immediately notice the forward-sited cockpit, which is a feature of hypercars of late. This reduces drag and yet leaves plenty of space inside.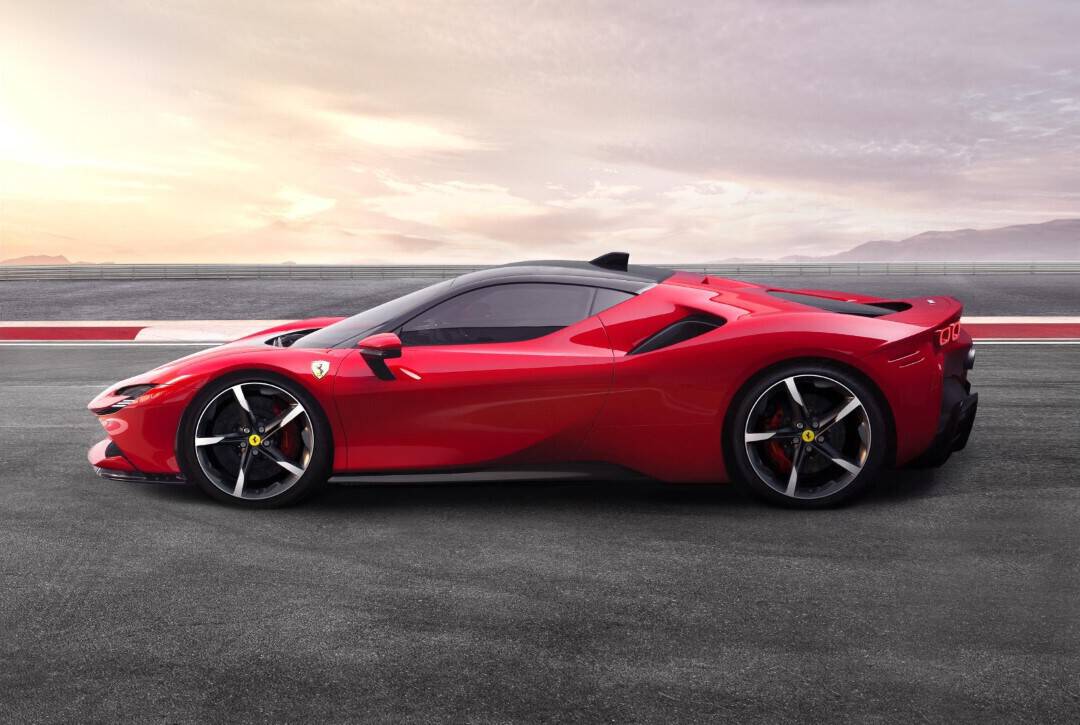 Interior Design
The new steering wheel design of the SF90 incorporates a series of buttons and a touchpad, allowing the driver to handle every aspect of the car at a touch. Clever design inside the car extends to what Ferrari has called 'HMI' (Human-Machine Interface) which is a new cockpit concept that is derived from competition driving.
HMI is an ergonomic concept which Ferrari says is inspired by an 'eyes on the road, hands on the wheel' approach, meaning the driver is free to concentrate on what is actually going on, rather than worrying about the various internal systems. Keyless technology, and clever interior touches that are new to Ferrari with the SF90 Stradale, are just a couple more of the fresh ideas that this wonderful model brings the Maranello stable.
Performance and Style
The new approach from Ferrari had been expected – a plug-in hybrid may not be to everyone's taste, but when it is as special as this it has to be appreciated – for some time, with rumours of a hybrid model circulating for some time. We have to say the Ferrari SF90 Stradale – loosely translated, stradale simply means 'road' – exceeds our expectations.
With highly advanced aerodynamic design and ergonomic attention paid to the inside, this is indeed a road car that will likely set the bar very high for the competition. Beautiful, stylish, extremely fast and utterly desirable, there is no doubt the Ferrari SF90 Stradale is a game-changer in high performance plug-in hybrid vehicles.
A final point to mention is that you can choose from two versions of the SF90; one is the 'standard' car, and the other is a more sporty derivative, known as the 'Assetto Fiorano'. This version comes with many extras – and also a weight saving of 30kg – and is intended to give the driver a more sporting driving experience.
If you want one, the price is expected to be around £950,000 or $1.2million at the time of writing.
Images Copyright of: Ferrari SPA.